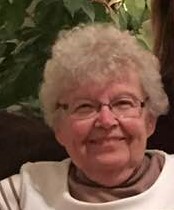 Beverly Ann Peiffer, 85
January 02, 2022
Beverly Ann Peiffer passed away peacefully on January 2. She no longer hopes but now knows "the eternal weight of glory beyond all comparison" for those who trust in Christ their Savior. She was 85 yrs of age. Born in Lebanon, Pa, she was the only child of Norman & Nancy Hemperly.
She had worked for Bell Telephone & Wells Fargo Bank but her greatest achievement & love was raising her three children: Karen Peiffer, Michelle Knight, wife of Victor Knight, and Douglas Peiffer, husband of Christie Peiffer; and sharing in the joy of her four grandchildren; Anthony Knight, Christopher Knight, Gabriella Peiffer, and Noah Peiffer.
Beverly is survived by her lifetime love and partner, Robert, also from Lebanon. While being a former member of Calvary Church, her current church family is Grace Baptist Church of Rohrerstown. Beverly enjoyed sewing, hosting family gatherings, and was an avid reader up until the last few years. She always put others before herself and is greatly loved by her family.
Services will be held on Sunday, January 9, at 3 PM with visitation beginning at 2 PM at Charles F. Snyder Funeral Home 3110 Lititz Pike. A private family burial will be held at St. Peters Lutheran cemetery in Neffsville on Monday. In lieu of flowers please consider contributing to a Christian outreach to Muslims at SAT7, P.O. Box 2770, Easton, MD 21601 or www.sat-7.org. Please indicate that your donation is in memory of Beverly Peiffer.
Watch the tribute video
Leave a condolence on this Memorial Page
Condolences to the Family
January 14, 2022
Sincere condolences. I have not seen Beverly since we were young children. I have several pictures of us together when we were very young. Her mother, Nancy, and my mother, Pauline Kreider were best of friends and were in each other's wedding, of which I also have pictures. Also have pictures of your grandparents with my parents in Stone Harbor, NJ from the early 1930's. Norm and my father also became good friends. I write this condolence message in case any of Beverly's family might be interested is seeing any of these old photos, please contact me at provided email – bolbachs@yahoo.com. My wife and I live in Farfax, VA.
January 07, 2022
I always liked Beverly so much. She and her family were my next door neighbors for several years, on Rayme Dr. I'll always remember her coming out of her house with a wooden spoon to fetch Dougie from his favorite playing spot, the drainage ditch!
January 07, 2022
I remember this smiling face from my childhood. She was a Landisville neighbor and good friend of my mom. My deepest sympathies to all of you.
January 06, 2022
As a former classmate, I never thought I would leave next door to you and the Superintendent of Lebanon High. You were wonderful neighbors. Sorry to see you move after meeting Bob, but happy for you. You had 3 beautiful children and of course Bob. RIP BEV. 1954 Alum
January 05, 2022
Michelle, we rejoice with you that your sweet Mom is now with her Savior, but we pray for you as you grieve her earthly presence. 💕
January 05, 2022
Our condolescenses- your smile and your presence will be missed.
Daniel and Laurie Gingrich
January 05, 2022
Oh Beverly, I adore you and admire you. Since I met you and Bob in 2008 when we moved next door to you I have loved every memory and moment with you,Bob,Karen,Doug and Michelle. You have shared you pool with me every year I can't even explain how much that meant to a mermaid like myself:) I am going to miss you very much "Mother" I loved that Bob fondly called you that. Your smile was huge and your giggle cracked me up when you laughed at my jokes. I loved seeing your eyes light up when I would bring you a sweet treat and if I brought you veggies or spice you would smile and say "Bob will love that" LOL…. your Honesty was hilarious! I Loved that I got to spend time with you the week before you got your angel wings. Thank you for being an amazing neighbor and I'm blessed to call you my friend. Much Love, Michele and Michael Moore
January 05, 2022
I'm sorry to hear of your mother's passing. I hope you have fond memories to ease your pain.

January 05, 2022
So sorry to hear, Karen. I remember your mom from our childhood. She was so sweet!
January 05, 2022
Praying for you and the rest of your family Karen. We are so sorry for your loss. Peace be with you.
With love – Carole, David and Seth Trostle ❤
January 05, 2022
We are so sorry to hear this. Your Mom was an amazing lady.
January 05, 2022
Karen and family. We are so sorry to hear of the loss of your mother. Our thoughts and prayers to you all.
January 05, 2022
Blessings and peace in your hearts for the love you have for your wife, mother and grandmother.
Visitation

Sunday, January 09, 2022
2:00 PM - 3:00 PM
Charles F. Snyder Funeral Home & Crematory
3110 Lititz Pike
Lititz, PA 17543

Map and Directions

Services

Sunday, January 09, 2022
3:00 PM
Charles F. Snyder Funeral Home & Crematory
3110 Lititz Pike
Lititz, PA 17543

Map and Directions