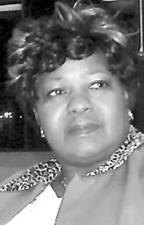 Bessie Mae Ward, 63
Bessie Mae (Brown) Ward, 63, of Lancaster, PA went to be with the Lord on Tuesday, August 16, 2011 at LGH. Born March 23, 1948 in Jasper, FL. She was a daughter of the late Edmund Brown and Rosalee (Robinson/Roberson) Cole. She is survived by her husband, Walter Ward, Jr., of Lancaster.
Mrs. Ward attended Brightside Baptist Church and Mt. Carmel Church of the Living God. She enjoyed gardening, decorating, cooking, baking and traveling. Most of all, she loved to spend time with her family.
In addition to her husband, she is survived by 8 daughters: Tina Lee Howze-Hernandez, wife of Victor, Lisa Marie Howze-Koroma, wife of Charles Dura Koroma, Trina Mae Howze, Mary Jenks, wife of Raymond Jenks Sr., Rev. Dr. Rosa Lee Stanford, Pastor wife of Ole Stanford, Doris Ann Wood, wife of the late Veteran Kendall Wood, Bessie Mae Ward, Emma Mae Ward, fiancé of Opotija Williams; 2 brothers, Nathaniel Wright, Ernie Brown, husband of Carla Gardner, sister-in-law, Morelee Mingle, 27 grandchildren, 8 great grandchildren.
Life Celebration Services will be held at Brightside Baptist Church 515 Hershey Ave. Lancaster, PA on Wed. August 24, 2011 at 12noon. Viewing from 10-12noon at the church. Interment will be in Mellinger Mennonite Cemetery. Repass Meal will follow the interment at Brightside Baptist Church. To send the family an online condolence, please visit SnyderFuneralHome.com. Charles F. Snyder Funeral Home & Crematory 717-393-9661
Leave a condolence on this Memorial Page
God Bless You Tina and your entire family.
Love,
Arlene Traore
May The Love Of Mrs. Bessie Live on in the memory your Hearts. I know she was very dear to you all But she also was very Dear to so many others.
God Bless You All!
An Angel Watching Over Your Family
I was able to attend the Funeral and Doris your words touched me. The beauty of your mother and spirit of God lives in you. Keep her spirit alive and remain to be true. It was A beautiful service and I know your mother was proud of her daughters.
Remember, You will be reunited with your mother again one day.
Love,Your Girl Till The End Sasha D.