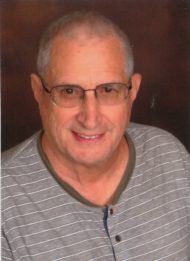 Bernard A. Thome, 81
May 08, 2019
Bernard A. Thome, 81, formerly of Elizabethtown and Milton Grove, departed from life at his home at Brethren Village, Lititz, PA, on Wednesday, May 8, 2019. He was born in Milton Grove, Mount Joy Twp. on November 24, 1937 to the late Bernard G. and Mary E. (Rutherford) Thome.
Surviving Bernie are his older sister, Mary Louise Gish of Elizabethtown and several nephews and nieces. His younger sister, Jo Ann Miller, and younger brother, John Winfield Thome, are both deceased.
He was a member of Milton Grove United Methodist Church and an affiliate member of the Brethren Village Chapel.
He attended Milton Grove Elementary School, Mount Joy High School, and was in the first graduating class of Donegal High School in 1955. Bernie graduated from Elizabethtown College (Bachelor's degree) in 1959, from Millersville University (Master's degree) in 1963, and attended Penn State University.
Bernie co-anchored the Elizabethtown College Cross Country Teams in 1957 and 1958 and ran in the Middle Atlantic States Cross Country in 1958.
He was a high school mathematics and computer science teacher, co-coached high school soccer, track and field, and Jr. High basketball. He also co-coached the Lancaster County All Star Soccer team that played against teams in the European countries of England, Austria, Switzerland, Germany, Italy, Spain and Portugal. He was a member of the Elizabethtown College Athletic Hall of Fame and the Donegal High School Athletic Hall of Fame.
Bernie terminated his public school teaching and coaching career in 1993. He had begun his high school teaching career at Bethel High School and taught there for four years and then taught and coached at Donegal High School for another 30 years.
Following teaching and coaching, Bernie devoted his time doing correspondence work that related to former students, former athletes, church personnel, missionaries and relatives and friends throughout the United States and overseas.
His simple life of love touched many lives through his teaching and coaching career, and his correspondences. Bernie's will is that each one of you simply remember him in your own heart, in your own way. Peace and God's blessings to ALL.
Following Bernie's wishes, there will be no services and interment will be private.
Leave a condolence on this Memorial Page
Condolences to the Family
June 03, 2019
On behalf of the Class of 1955 of Donegal High School, I am expressing our deep sympathy on the passing of Bernie. He was a "class act". Alway smiling, always had a good heart, and a truly nice guy. On a personal note, I think he gave the biggest "hugs" ever, and I know he was very philanthropic, especially with DHS sports and our Class. Kindest regards, Gail (Shelly) Hawthorne
May 26, 2019
We were saddened to hear of Bernie's death. We will remember Bernie as a kind hearted person who had a deep faith in Jesus Christ. It was a privilege to know him.
Dennis & Cindi Snovel
May 19, 2019
I am sorry to hear of the passing of Coach Thome. Earth's loss is Heaven's gain. As a high school soccer player I knew Coach was a good person, but did not realize how much he gave to the soccer program. I played for his first varsity team in 1970. He taught me so much about the game. His teachings provided a foundation that I later used to play college soccer. I am so happy that DHS honored him into their Hall of Fame and that he was alive to realize he was appreciated. I know he did not search recognition, but did whatever he did, in all phases of his life, because he saw a need that he could better.
Sincerely, Scott Zeller
DHS soccer 1970, 71, 72. ODU soccer 1975, 76, 77



May 17, 2019
My wife and I were saddened to hear of Bernie's passing. He was our good friend and my teaching and basketball coaching colleague at Donegal. You are all in our thoughts and prayers.

With deepest sympathy
Jim and Marlene Zuch
May 14, 2019
I was a classmate of Bernie's at Donegal, the first graduating class. Unfortunately, I didn't get to know him very well as we attended separate schools prior to that year. From the outpouring of comments it appears that I missed out by not getting to know him better. My recollection of him, however, is confirmed by the comments of those who learned from him and others. We did have a nice conversation a couple of years ago at a mutual friend's funeral and I was fortunate enough to spend some time with him at our class reunions. It is obvious that he will be missed my many. RIP Bernie……
Donald Raber
May 13, 2019
I had the priviledge of being taught and coached by "Mr. Thome" on a number of occaisions, and I place him into the category of "super teacher". He is one of a handful of teachers who impacted my life in ways beyond the academic subject or sport. We have lost a truly good man.
Phillip D Landis
May 12, 2019
I can clearly remember… on the first day of school each year… Mr Thome saying, "the purpose of mathematics is to make you think"
I also remember re-taking algebra, three days a week, Over the summer at his house in Milton Grove.
David Brubaker
May 12, 2019
Rest in peace Mr. Thome. You were a great teacher and humanitarian.
Douglas Spath
May 12, 2019
I wanted to add one more thought. As you think back on your school years, there are 2 or 3 teachers that really make an impact on your life, Mr Thome was one of those for me.
Keith OLeary
May 11, 2019
He was not only a great teacher but a fantastic human being!! RIP
Steve Meszaros
May 11, 2019
You will be missed Uncle Bernie!
Mindy
May 11, 2019
Bernie was a great man, coach and inspiration with bondless generousity. Rest in peace.

Tedd McKain
May 11, 2019
RIP Bernie. Great teaching with you. Our sympathy to the family.
Tom and Kitty Harmes
May 11, 2019
As my high school soccer coach, Mr Thome used his own money to buy every team member a soccer ball to practice at home. Thank you for everything Bernie, RIP.
Keith OLeary
May 11, 2019
As he requested no service, I'll leave my condolences here. You were a wonderful and caring teacher. Your heart was huge and your patience long. I will think of you w/find memories.
Marta Evans
May 10, 2019
Bernie was an excellent teacher. I have such fond memories. He touched so many students and we are all better for having been under his tutelage. I life well spent.
Deborah Torres Patel
May 10, 2019
Rest in peace, Bernie. You were a great math teacher and Sunday school teacher.
Kathy Reichard