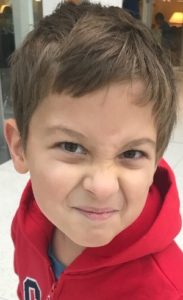 Benjamin Samuel Reinhold, 8
March 31, 2019
Benjamin Samuel Reinhold, 8 years old and a second-grade student at LPC, of Landisville, PA danced his way up to heaven the morning of March 31, 2019 surrounded by his mommy, daddy, and twin sister. Benjamin fought a courageous seven-month battle with DIPG (Diffuse Intrinsic Pontine Glioma), a rare and aggressive form of pediatric brain cancer. Even in his final days on earth, Benjamin never let his cancer redefine who he was.
Benjamin was the fun-loving and sweet child all parents desire. He cherished his time with family and friends, days and evenings typically filled with family dinner parties, watching videos, video games, swimming, and epic dance parties. Benjamin loved to eat, often asking for multiple dinners in a night, and his favorite foods included PB&J, peanut butter Oreo ice cream, tacos, Swedish Fish, gyros, crispy chicken, french fries, and fruit.
He was sweet, selfless, and sensitive. Throughout his life, Benjamin was happiest surrounded by family and friends. He loved to learn and explore the world around him but found comfort in the familiar. He was adventurous yet carefully calculated and cautious. His silliness was contagious; he loved to giggle uncontrollably, crack jokes, and snuggle on the couch or his chair with his Ellie and a fuzzy blanket (or two, or three…). His empathy, patience and relatable humor instantly made you want to be his friend. He was wise, always looking at the good in both life and people.
Benjamin is survived by his parents, Gina Hatzivasilis and Sam Reinhold, twin sister, Olivia, paternal grandparents Samuel and Lynn (Koons) Reinhold, maternal grandparents Paul and Sophia (Gerasklis) Hatzivasilis, Aunt ("Nouna") Maria and Uncle Shawn Geller, cousin Sophia ("Baby Soph Soph"), Aunt Ashley and Uncle Cory Snyder and cousins Cole and Emma Snyder.
Benjamin and his family are forever grateful for the outpouring of love and support given during this incredibly difficult journey. We would like to say thank you to our community, family, friends, and neighbors. A very special thank you – truly from the bottom of our hearts – goes to the incredible staff at Landisville Primary Center for helping to bring love, laughter, and happiness to Benjamin over the last several months. Thank you to CHOP, the Gilbert Family Foundation and the University of Michigan Hospital for the best possible care we could receive. Thank you to all of you who touched our lives – the visits, words of encouragement, homemade cards, care packages, videos, meals, and prayers – it helped him and us immensely and allowed him to keep fighting until he couldn't fight any more.
Family, friends and all those who loved Benjamin, including children, will be invited to The Annunciation Greek Orthodox Church 64 Hershey Ave. Lancaster, PA 17603 to pay their respects and visit with Benjamin's family on Tuesday April 2nd, 2019 from 6-8pm with the Trisagion service at 7pm and a second viewing will be Wednesday, April 3rd from 9:30AM-10:30AM at the church. Benjamin's Funeral Services will be held Wednesday, April 3rd at 10:30AM with The Rev. Hector Firoglanis and The Rev. Alexander Veronis officiating. Interment will be in Conestoga Memorial Park.
In lieu of flowers or gifts, Benjamin and his family asks for your help in furthering awareness and support in defeating DIPG through contributions to the ChadTough Foundation (www.chadtough.org) – a leading DIPG organization.
Benjamin, our sweet innocent boy. You are already so deeply missed. We celebrate you in our lives, living each day as you would. Remember, just keep swimming and we will all see you again someday soon.
Leave a condolence on this Memorial Page
Condolences to the Family
April 07, 2019
I am so sorry for your loss. Even through I was Ben's teacher when he was 3 years old at Kinderplatz he always had the greatest smile and laugh. My prayers and thoughts are with your family.
Christina Sager
April 06, 2019
Our very deepest sympathies to your entire family on your tragic loss. May God grant each of you His greatest peace and understanding at this very difficult time.
Randy and Fran Edgar
April 05, 2019
I am so sorry to learn of the passing of your son. March 10th was 1 year since we lost our son Camron to DIPG. I am originally from Pa but now live near Seattle. Our fight continues for the future families of this horrific disease. I'm sorry our efforts were not in time to save your son and keep your family together. Our prayers to your family for the peace and comfort your need in your coming days. God Bless
Paul Cozzi
Team Cozzi Foundation
April 04, 2019
Very sorry for your loss… My prayers are with his family RIP lil man…
Rodney W
April 03, 2019
From the bottom of my broken heart i was saddened to hear that heaven has gained another angel. Fly high beautiful soul. To the family Gina Sam Paul and Sophia my deepest sympathies to you all from Sydney. May he RIP
Christine Hatzikalimnios
April 03, 2019
So sorry for your loss, my heart breaks reading this. My Great-Nephew Peyton, 4 years old, was just diagnosed with DIPG – 5 weeks ago. We keep your family in our prayers. May God give you comfort & strength during this time.
Donnette Vogt
April 03, 2019
We are so sorry for the loss of your beautiful sweet boy. We will continue to lift you up in prayer, and hope that as time passes the pain of your loss will be lightened. Dear Benjamin, you will always be remembered by your family and your community.
April 03, 2019
Our prayers to all of your family. Remember love never dies….it lives in the hearts of those left behind. Peace sweet angel❤️
April 03, 2019
There are no words to express my feelings of this angel. He is beautiful the sweetest face, I love his smile. You will have so many beautiful memories. Thinking and praying for your family.
May his memory be eternal
Vaso Russo
April 02, 2019
Dear Reinhold Family, You have been in my daily thoughts and prayers, and I so believed this precious child would find healing and a miracle. My granddaughter, Maddie Frank, was a classmate of Benjamin's. Earth lost a precious angel. Thoughts and prayers continue for all of you, and especially for Olivia. Hugs, Ruth Frank
April 02, 2019
I am so sorry for your tremendous loss. Prayers for your family
April 02, 2019
So sorry for your loss hi is now with jesus I will be parying for you family .

Nadia

April 02, 2019
My heart aches for your family. Wishing you peace and comfort in the memories of your precious Benjamin! Prayers for you all.
Crystal Comer
April 02, 2019
I am so sorry for your loss. You are all in my prayers. God bless you all.
April 02, 2019
Sorry for your loss. He was taking way too early. Thoughts and Prayers to all that were Blessed to know and touched by him .
John B
April 02, 2019
So Sorry For Your Loss, Sending Prayers
Sharon
April 02, 2019
Words cannot express how deeply sorry we are for the loss of Ben! It is so difficult to understand what God's plan is, especially when ones life is cut so short. Ben put up a great fight and we are so sad to see him go! Prayers go out to you and your family. His spirit will live on in Olivia's hopes and dreams and his memories will remain in our hearts forever!
The Price Family
April 02, 2019
I am so very sorry for the loss of your sweet son. I had a very sick son many years ago. Cancer was his diagnosis. Please know he is safely in the arms of Jesus. I will be praying for your family.
Susan
April 02, 2019
You have been in my thoughts and prayers over the past few months, and will continue to be during this time of grieving. I wish every happy memory bring you peace during this hard time.
– Carrie Edwards
April 02, 2019
Gina – I am so very sorry to hear this. I can't stop thinking about Ben and your family. I remember always enjoying seeing pictures of the twins. I am so heartbroken for you. Please know that so many people are thinking of you. Sending my prayers.
Kari Esposto
April 02, 2019
Sending our love and prayers to Olivia and the whole family. We are with you. Jacob will always remember you dearly. We will all see you someday again Ben!

Jacob M. (classmate) and Family
April 02, 2019
Gina and family–my deepest sympathies to you and your family during this difficult time. Words cannot ease your pain, but praying that your memories and love for Benjamin will help in the days to come. Our prayers and thoughts are with you all. Fly high Benjamin
Sarah (Henkel) Traphagen
April 02, 2019
My condolences to the family I know this pain I lost a child some year ago God bless you all and peace for this beautiful angel.
Sonia Garcia
April 02, 2019
Olivia- Sending you the biggest of hugs and love. So very sorry you lost your twin. I believe Benjamin is with our twin girls in heaven, and they are all having a big dance party and eating ice cream! Our hearts are with you and your parents today. Love,
Becky, Tom, and Joshua M.
April 02, 2019
So sad for your loss, we from Chad Touch will continue to fight. Fly high Buddy!
April 02, 2019
We are so very sorry for your loss hoping the memories help ease the pain. God bless your family!
April 01, 2019
Gina and family,
I am so deeply saddened by your loss. There simply are not words. Please know that my thoughts are with you and that the Rasmussen family sends all of our love to you. Your grace and dignity in the face of such tragedy is truly remarkable. I did not know Benjamin, but it has been an honor to watch this special child's journey through your words and the stories of all of those who loved him.
Tawnie Cortez
April 01, 2019
Dear Mr. And Mrs. Reinhold I have never met you but I have walked in your shoes in having our son pass away a long time ago. What I can say to you even though it is twenty some odd years our son is not forgotten but the passage of time has made the pain much softer and talking about him is easier. May the Lord grant you courage and strength, and may his memory be eternal. Mrs. Demetra Patukas 🙏💜✝👼
April 01, 2019
Gina and Olivia,
May God forever Bless you. I wish I could hug you and give you Benjamin back. I know he will be forever looking out for you and guiding Olivia. You will never be alone.
Carey, AJ, & Alexa
April 01, 2019
Gina and family,
My heart just breaks for you all during this time. I'm praying for peace for you and for healing. I hope his sweet soul and time on this earth can be a reminder to all of us that life can be so fleeting and that we need to fill it with as much love as we can.
Jessika Warnick
April 01, 2019
My sincerest and deepest sympathies to all of you. My prayers are with you all ❤
Angie Heck
Visitation

Tuesday, April 02, 2019
6:00 PM - 8:00 PM
Annunciation Greek Orthodox Church
64 Hershey Ave.
Lancaster, PA

Map and Directions

Visitation

Wednesday, April 03, 2019
9:30 AM - 10:30 AM
Annunciation Greek Orthodox Church
64 Hershey Ave.
Lancaster, PA

Map and Directions

Services

Wednesday, April 03, 2019
10:30 AM
Annunciation Greek Orthodox Church
64 Hershey Ave.
Lancaster, PA

Map and Directions