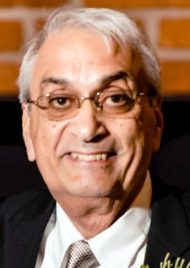 Benedict Richard "Ben" Sahd, 65
December 18, 2019
Benedict Richard "Ben" Sahd, 65, of Lititz, passed away peacefully at Hospice & Community Care on December 18, 2019. Born in Columbia, PA he was the son of the late Joseph G. Sahd and Barbara P. Sahd and the loving husband of Beth Ann (Evangelista) Sahd.
A graduate of Lancaster Catholic High School ('72) and Millersville University where he received both his Bachelors and Masters, Ben channeled his passion for math and education into a long and fulfilling career as a math, computer science, and statistics instructor at Penn Manor School District. In his 33 years of educating at Penn Manor, Ben was the first computer coordinator at Penn Manor School District, a senior class advisor, and a club advisor. Ben was a two-time recipient of the Outstanding Young Educator award given by the Greater Millersville Jaycees. Ben also worked as an adjunct instructor at Millersville University.
A devout Catholic, Ben was a member of St. James Catholic Church in Lititz and a 3rd Degree Knights of Columbus, now an honorary member.
Very politically interested and involved, Ben was a Republican Committeeman for Elizabeth Township and helped organize Ronald Regan's visit to Lancaster County. He was also a member of Robert S. Walker's re-election committee for his entire tenure in Congress. For all his dedication and service, Ben was honored with the invitation to a picnic on The White House lawn, which was attended by Ronald Regan, George H.W. Bush, and cabinet members with music performed by The Charlie Daniels Band.
The perfect start to Ben's day included morning coffee on his screened in deck, where Ben would plan his day and watch for deer and hummingbirds at the feeder. He enjoyed travelling and was fortunate enough to experience several trips to Europe and checked off seeing Mount Rushmore from his bucket list this past June. As an avid Yankees fan, family vacations included a Major League Baseball game whenever possible. His ability to mimic the echo heard in a baseball stadium was unforgettable to all his students and most anyone who had the pleasure to know him. When he wasn't traveling, spending time with his family was key and he was extremely proud of his children and their spouses. Family gatherings were the best when they included his amazing mashed potatoes and famous burgers on the grill.
Ben was kind, caring, positive, and encouraging to everyone he met. Ben's legacy will live through his family; his beloved wife and best friend of 36 years, Beth Ann (Evangelista) Sahd, son; Phillip Anthony Sahd and wife Kristen (Davies) Sahd, daughter; Laura Theresa Rodgers and husband Brett, siblings; Jerry Sahd and wife Mary-Lou, Ken Sahd and wife Deb, Dave Sahd and wife Cindy, Pauline Maksel and husband Ed, Darlene Sahd-Terranova, Greg Sahd and wife Janice, Patti Litwin, sister-in-law Soraya Sahd, Brian Sahd and Tony Wong. He is also survived by aunts, uncles, many nieces, nephews, great-nieces and nephews, and cousins and the Evangelista family including parents-in-law; Anthony J. and Cecelia Evangelista, and sisters-in-law; Christine (Evangelista) Bishop and her husband John, and Roberta (Evangelista) Grauer and her husband Kevin. He is preceded in death by his brother Peter Sahd.
A viewing will be held at Charles F. Snyder, Jr. Funeral Home 3110 Lititz Pike on Sunday, December 22, 2019 from 3:00-5:00PM. A second viewing will be from 10:00-11:00am at the church prior to Mass. A Mass of Christian Burial will take place on Monday, December 23, 2019 at 11:00am at St. James Catholic Church, 505 Woodcrest Ave. Lititz, PA 17543 with The Rev. James O'Blaney C.Ss.R. as Celebrant. Interment will follow at Witness Park Cemetery (Lititz). In lieu of flowers, memorial donations can be sent to Lititz Warwick Community Chest at LWCC PO Box 148, Lititz, PA 17453, or to the Warwick SD Student Services Fund or Student Food Fund by making checks to Warwick School District at 301 W. Orange St. Lititz, PA 17543 and placing "Families in Need/Student Services" or "Cafeteria" in the memo line, respectively.
Watch the tribute video
Leave a condolence on this Memorial Page
Condolences to the Family
February 24, 2020
Dear Sahd family,
I am very sorry for your loss. Ben was one of my track coaches in the '70s at Penn Manor High School and I remember him as a kind, caring, and compassionate person.
Ross Reed, Class of 1979
December 29, 2019
Dear Beth,
Our paths rarely crossed after meeting Ben while playing softball with a group of friends Dennis Fisher got together many years ago. But sometimes in life you meet someone whose humanity and compassion are so compelling that you look forward to knowing them better. We always had very meaniful conversations, and I will miss those chance meetings with Ben very much.
May God bless you and your family.
Sincerely
Ted Nichols

December 22, 2019
To Beth and Family
Sosorry for your loss. Ben was a wonderful person and his legacy will live on in your children. Take time to remember and heal, Deb
December 22, 2019
Very sorry for your loss. My prayers are with you and your family through this time. Ben was a great guy who was always positive and quite the encourager. When I would come to service his furnace we would always talk a few minutes which I enjoyed. He had a deep Faith in GOD which we shared as well as our interests in politics. This community will no doubt feel the loss of his passing but ,OH what a legacy he leaves behind!!
Harold Zimmerman
December 21, 2019
He was a great teacher
Donna Ditzler Reese
December 21, 2019
Ben was a wonderful person and will be missed by so many! He was one of the very best in LCHS' Class of 1972!
-Deborah (Aichele) Keys
December 21, 2019
Ben was one of the kindest people I have ever met.
Our paths always crossed at local Republican activities, where we talked of service to community. Ben was so committed to our community! And he was encouraging. I don't think there was a time we met when he didn't tell me I could accomplish a difficult task. Knowing he was sincere in his words was of great support.
I am so greatful that our paths crossed.
In sympathy,
Karen Weibel
December 21, 2019
I am so sorry for your loss.
Anne Lombardo (Class of 73)
December 21, 2019
I'm so sorry for your loss. I was blessed to have Mr. Sahd as my math teacher many times throughout high school from 81-84. He was a kind, committed teacher. I will never forget his sense of humor.
Hillary (Verdin) Kessler
December 20, 2019
Beth, Phil and Laura,
We were saddened to learn of Ben's passing. Dawn and I have many great memories of Ben, Beth and the kids. You both were so kind in welcoming us when we moved to the neighborhood from Indiana. Ben loved his family and there was no doubt about it. He loved Beth and thought the world of Phil and Laura. We were so blessed to call you not only neighbors but friends. You are in our thoughts and prayers.
Wade and Dawn Kreft
December 20, 2019
One of the greatest teachers I ever had.
RIP Mr Sahd
Jeff Nadu
December 20, 2019
Mr Sahd my math teacher many years ago and my daughters teacher while at Penn Manor. Super saddened to hear this sad news!!! My deepest condolences to the Sahd family.
Joanne Gabriel Fatta
December 20, 2019
We have so many great memories of Ben and his family. They were cherished neighbors for the 7 years we lived in Lititz before moving back to Indiana. He was a kind and loving man to all who knew him. Our family will always remember how welcome he and his family made us feel. We are all thankful for the opportunity and priviledge we had in knowing him. Our deepest sympathy to Beth, Phil, Laura and their families.

Wade and Dawn Kreft, Ashley, Sierra, Autumn and Hunter
December 20, 2019
Uncle Ben had a smile that showed he was a truely happy man. His love for his family was key and I always enjoyed hearing stories and sharing memories with him when I saw him. He could always make me laugh & appreciate what I had with my girls! He will be greatly missed and from my family to yours we offer prayers of healing and love. We love you Aunt Beth, Phil and Laura, so much. Love, Missy, Brian, Sara and Emma.
December 20, 2019
My deepest sympathy and prayers on Ben's passing. Memories of LCHS especially of 1972 include Ben.
Connie Wolf Scaringi
December 20, 2019
I have known Ben my whole life. He was in my brother Mike Wolpert's class at St Peters school in Columbia. I remember him singing at almost every Christmas party we had at that school. All my prayers and condolences to all his family and many friends.
Melanie M (Wolpert) Hollingsworth
December 20, 2019
We're so sad to hear of Ben's passing. I have so many good memories of the many years that we worked together at Penn Manor. He was a good co-worker and a great friend. I'm also so sorry that due to physical challenges we will be unable to attend the services for Ben. But we will be praying for the family during this difficult time. May God give you the strength, wisdom and comfort that you need during this time.
Barry and Dianne Kauffman
December 20, 2019
Dear Sahd Family,
I am so sorry to hear of your loss. My fond memories of Mr. Sahd include his unwavering support of my curriculum writing, text book approvals, international service trips with students, and to provide me with infinite support and valuable wisdom. Every time I saw him, he asked me about something that he knew that I was working on or had recently completed. Such a personable, kind man. The best gift he gave me was the opportunity to have his kids in class. Mrs. Sahd, you and your family are treasured people in my heart. My family and I wish you healing, peace, and togetherness at this difficult time.
Truly,
Nikki Rivera
December 20, 2019
Jerry, Dave
Very sorry to hear about Ben's passing. He was a year behind me at Catholic. I didn't know him that well but of course, he was a Sahd. I knew he as a good guy although I knew the Lancaster Sahd's better. To live in one's heart is to never die.
Joe Segro
December 20, 2019
So very sad to hear of Ben's passing. We taught together many years ago and had many happy experiences. A dedicated teacher and family man who always kept his fans smiling. I also had the pleasure of having some of his children in my classroom. Ben will be truly missed and never forgotten.
Sincerely,
Sam Stoler and family
December 20, 2019
Dear Beth and family,
i struggle for words to express my deepest sympathy to you all on Ben's passing. I will add my prayers to those of countless others to support you through the next days and what will be an especially poignant Christmas season. May your family, friends, and faith support you and may you find peace in this most difficult of times.
Ann Small
December 20, 2019
Our most sincere sympathy to you Beth, Laura and Phillip with the loss of Ben. What a wonderful and amusing man he was and we are so thankful to have known him. Our thoughts and prayers are with you during this difficult time. May God surround you with his love and peace in the upcoming days and weeks ahead. With deepest sympathy, Chip, Joanne, Adam and Alissa Mathias
December 20, 2019
Beth, Laura, Brett, Phil, Kristen and all,
I am beyond sad with you over this devastating loss!! So very thankful to have known this precious, fun, intelligent, caring, loving and giving man. You all will be in my thoughts and prayers often in the days, weeks and months to come. Whoever wrote the obituary did an amazing job. It really gave a snapshot of the kind of man he was. Love to all of you, Mama Mona for all of us Graham's
December 20, 2019
Our thoughts and prayers are with you all. Know he at peace and in God's loving Hands. Love, Chris and Barb
December 20, 2019
My condolences to your whole family! Mr. Sahd was a favorite teacher of mine because he passed on his love of math to me. He had the patience of a saint when teaching me and I have never forgotten his kindness. He then taught my daughters and I vividly remember him giving my girls their orientation tour of the high school where he gave us his echo National Anthem! He had such a contagious excitement for life in general and we will never forget him! So honored to have known him and he changed our lives for the better in so many ways. He will be missed.
Tracy Schneider Bryson
December 20, 2019
I was blessed with the opportunity to spend a remarkable day with this man and his devoted wife. His love of family was unmistakable and inspiring.
Mary Elizabeth
December 19, 2019
We love you Uncle Ben!! You ALWAYS placed the needs of others well before your own and your smile rubbed off on everyone who was fortunate enough to be around you. Paul, Alex and I tremendoulsy enjoyed growing up with Philp and Laura. You were not only one of Dad's older siblings, you were one of his very closest friends. Thank you and Dad for clearly showing us the path to our Father in Heaven, where we will all be united together one day. In Faith & Family, Soraya (& Peter), Paul & Kelly, Alex & Mai-Lynn and Joe & Erica
December 19, 2019
One of the sweetest, kindest "dance dads" ever. When Ben asked, "how are you?", he genuinely wanted to know and he really listened. He was right there in the audience with the rest of us, beaming and joyful as we watched our daughters light up the stage with their smiles and their steps for Many, many years. These are precious memories and he was obviously a proud papa! There is a special place in heaven for such a kind and caring soul.
Robyn Zikmund
December 19, 2019
Ben, I always wanted a brother and you were that and much, much more to me and my family. I will always remember our times golfing, Yankees games, and our VIP US Open experience. We love you and we will miss your kindness, beautiful voice, laugh, and amazing sense of humor. Thank you for loving my sister and giving Gina her precious cousins. God Bless You!
Visitation

Sunday, December 22, 2019
3:00 PM - 5:00 PM
Charles F. Snyder Funeral Home & Crematory
3110 Lititz Pike
Lititz, PA 17543

Map and Directions

Visitation

Monday, December 23, 2019
10:00 AM - 11:00 AM
St. James Catholic Church
505 Woodcrest Ave.
Lititz, PA

Map and Directions

Services

Monday, December 23, 2019
11:00 AM
St. James Catholic Church
505 Woodcrest Ave.
Lititz, PA

Map and Directions