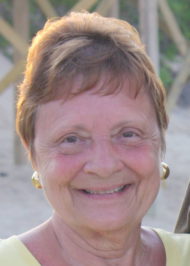 Barbara Miller Douglas, 77
April 02, 2019
Barbara M Douglas, age 77, of Lancaster, died on April 2, 2019, at Lancaster General Hospital. She was the wife of Larry Douglas to whom she was married for 59 years. Born in Columbia, PA, she was the daughter of the late Wilbur H. and Mabel S. (Sauder) Miller.
Barbara graduated from Penn Manor High School in 1959 and Lewis, Weinberger and Hill, Youngstown Ohio in 1960. She retired from Rettew Associates. She was formerly employed by Manor Township as Zoning Officer and Tax Collector.
Barbara was a Past Matron of the former Jay H. Clark #405 OES, Lancaster.
She was a member of several Historical Societies and served as Trustee for the Millersville Area Historical Society. She was a tour guide for Wheatland and Rockford Plantation for many years. She served on the Manor Township Zoning Hearing Board.
She worshiped at Grace Community Church Willow Street. Barbara was a member and had served as Historian of Grace United Methodist Church, Millersville. She had volunteered at the church's Mission Thrift Shop and had been involved in the Prayer Shawl Ministry and was a member of the visiting team for the homebound.
Barbara is survived by her husband Larry and three children: Lisa Ann, wife of John P. Horst, Lancaster, Lori Lyn, wife of H. Scott Sangrey, Millersville and Scott M. (the storybook child), husband of Lisa Ann (Zarzyczny), Millersville. Six grandchildren survive, they are Cassidy Gochnauer, Remington Gochnauer, Colby, Griffin, Mikiah and Lexington Sangrey.
A Celebration of Life will be held at 2PM on Wednesday, April 10, 2019 at Grace Community Church at 212 Peach Bottom Road, Willow Street, PA. Family and friends will be received from 1PM until the time of service. Interment will follow at Millersville Community Church, Grace Campus, 163 W. Frederick St., Millersville, PA.
In lieu of flowers, contributions in memory of Barbara may be sent to LancasterHistory.org, 230 North President Ave, Lancaster PA 17603 or Rock Ford 881 Rockford Road, Lancaster, PA 17602.
Leave a condolence on this Memorial Page
Condolences to the Family
April 10, 2019
Lisa,
I am so sorry to hear about Barb's passing. She was such a pleasure to work with and the best prankster ever. Her spunk and laughter was so special. Her family was her greatest love of all, she will be missed but will always be with you.
With Deepest Sympathy
Lori Groff

April 10, 2019
Dear Mr. Douglas, Lisa, Lori and Scott,
I am very sorry and saddened to hear about Barb's passing. Some of my earliest memories of "Mrs. Douglas" were in the late 70's when I was a youngster visiting the Manor Township municipal building where my Mom worked with Barb. It seemed like it would be a fun place to work, mostly because of Mrs. Douglas' vibrant personality and laughter every time I was there. Fast forward about 20 years when I had the pleasure to work with Mrs. Douglas at Rettew Associates. She was still her fun and high energy self! May you cherish all the good memories of your wife and Mom during this difficult time and the years ahead.

With Deepest Sympathy,
G.J. & Christine

April 10, 2019
To Barbara's family: My condolences to all of you! Barbara was a bright light in this world extinguished too soon! I was blessed to know her for many years, going back to OES when we were both preparing for eventually becoming Worthy Matrons of our respective chapters. We had many good times together as part of that organization and shared events. We have maintained a friendship all these years getting together several times each year to share memories and catch up on happenings in our lives! She was special and I will greatly miss her sunny smile and hugs! May your happy memories of your wife and mother and God's love sustain you in this sad time!
Betty Henny
April 09, 2019
So sorry for your loss.
Barry & Linda Doutrich
April 09, 2019
Dear Larry, Lisa, Lori & Scott,
I am so saddened to miss Barbara's Memorial Service tomorrow. I dearly loved her. She was a kind and gentle person and friend of mine for many years. I will miss her energetic smile and our annual Birthday Breakfast's together in May.
George and I extend our deepest sympathy to each of you and your extended families. May God Bless you all at this time of sorrow. Rest In Peace Barbara.
💕Rosanna & George
April 08, 2019
Barbara was a Worthy Matron with me in 1979-1980. She was a member of a Lancaster Chapter and I was a member of a Lititz Chapter of Eastern Star. She and others from that year have continued to meet every few months to eat out for breakfast or lunch. We were together March 20, 2019. We all will miss Barbara very much. Helen Heron
April 08, 2019
Larry, Lisa, Lori, and Scott,
We were so sorry to hear about your Barb's passing. She was a vivacious and energetic woman who cared deeply for those around her. She always had a smile on her face and a laugh in her heart. Treasure the many memories who have with her.
Tom and Louise Aument
April 08, 2019
Lisa and Lori, I am so saddened to hear about your mom's passing. Your mom was such a wonderful lady and such a character!! I missed her when she left RETTEW and I was always happy to see her and your dad at the Mart from time to time. Now I will miss seeing her there. Please know that you and your family are in my prayers.
jolynn Shenk
April 08, 2019
Dear Larry, Lisa, Lori, Scott
I was sorry to read about Barb's death in the paper. She is just a year older than I. It
makes me realize I am getting older. I enjoyed getting to know all of you while choir
director at Grace church. I am sure you will miss her. I will keep you in my prayers.
Sara Gable
April 08, 2019
So sad for your loss. Always enjoyed talking with Barb. Will miss her at our breakfasts.
Nany L Smith
April 07, 2019
I can't believe how much I will miss her on my visits to PA. Barbie did so much for everyone…. especially her friendship and care-giving to our Aunt Nancy. One of her legacies is the diligent research on family histoy and her efforts to establish twice yearly "cousin dinners." I thought we had many more years of PA meetings and emails about the family.
Her infectious laughter still rings in my ears and memory.
God Bless her and God Bless all of you.
Cousin Carol Miller Meibers
April 07, 2019
Larry, Family and dearest Friends,
Our love and prayers go out to you at this sad time. Barb had that spark of energy and motivation in everything she touched and will be missed by so many people, near and far.
Ed and Kathleen Hall
April 07, 2019
Larry I was very sorry to read of Barb's death. She was quite an active gal. I guess I never knew of her interest in County history , a mutual interest of mine. My sincere condolences to you and family. May she rest in eternal peace. Don Krushinski
April 07, 2019
Larry, Lisa, Lori, Scott,
There are no words to explain my deepest sympathy for the loss of Barbara. She had a huge impact on my life in my younger years, acting as my second mom. She will forever hold a special place in my heart. I know this is a very hard time for all of you and I want you all to know that I'm only a phonecall away. May God Bless you all.
Patty (Sheckart) Kofalt
April 07, 2019
Scott and family, we are saying a prayer for you. Our sympathy for your loss. Your mom was awesome. She always looked after all of us growing up. I always called her Mrs. Douglas to this day. She will be greatly missed.
Dan & Sherri Barber
April 07, 2019
Our deepest sympathy to the entire family on the loss of your beloved Barbara. I have many fond memories of your mother from my days in Girl Scouts and my childhood friendship with Lori. May your faith carry all of you in the days ahead.
Susan and Rick Shaub (Susie Stoll)
April 07, 2019
My deepest condolences to you all in the loss of such a wonderful woman! My thoughts and prayers are with you all!
Love, Erika Stetler
April 07, 2019
Dear Lisa, John & family, Many caring thoughts are with you at this moment. We pray that your treasured memories of Barbara will keep you strong. HUGS, Tom & Eileen Royer

April 07, 2019
Praying for you all.Condolences to my friends from church Cassidy Remington Colby and their family.I m praying for you. From
Marysue Perry
Visitation

Wednesday, April 10, 2019
1:00 PM - 2:00 PM
Grace Community Church
212 Peach Bottom Road
Willow Street, PA 17584

Map and Directions

Services

Wednesday, April 10, 2019
2:00 PM
Grace Community Church
212 Peach Bottom Road
Willow Street, PA 17584

Map and Directions