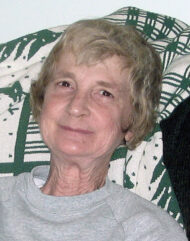 Barbara Ann Lauer, 75
September 27, 2021
Barbara A. Lauer passed away on Monday, September 27, 2021, at age 75 in Pleasant View Communities in Manheim, PA. She had been diagnosed with lung cancer in late July and entered Hospice care in mid-August.
Barb graduated from Lancaster Catholic High School, 1964, and then from the Notre Dame of Maryland University, in Baltimore, in 1968, with a degree in Chemistry. Most of her career was spent working for Warner Lambert, as a Chemist, in Lititz.
Barb loved traveling and being outdoors especially driving along the Skyline Drive and visiting the Smoky Mountains National Park. She also loved going to craft fairs where she collected many crafted wooden objects. Every year, Barb worked very hard on her garden and yard, and when she had to be indoors, she loved doing crossword puzzles, drinking Coca-Cola, and watching mystery shows.
Barb was the eldest daughter of the late Paul V. and Anna C. (Schaller) Lauer. She is survived by two sisters, Ann L. Schweitzer (wife of John), Ephrata, and Rose M. Dombach (wife of Fred), Lititz, and two nephews, John and James, and their spouses and a grandnephew and grandniece.
Family and friends will be received from 10AM to 11AM, Monday, October 4, 2021, at the Charles F. Snyder Jr. Funeral Home & Crematory, 3110 Lititz Pike, Lititz, PA 17543. Funeral Services will follow at the funeral home at 11AM. Interment will take place at St. Joseph New Catholic Cemetery, Bausman. In lieu of flowers, contributions in Barb's memory may be made to Hospice & Community Care, PO Box 4125, Lancaster, PA 17604 or to the charity of one's choosing.
Leave a condolence on this Memorial Page
Condolences to the Family
October 11, 2021
Barb was such a kind soul and good person. I remember her fondly as my classmate at Lancaster Catholic High, as well as, Notre Dame of Maryland University. I was so happy to have seen her at our 50th college reunion! I thought she was a brilliant gal and envied the ease with which she could "attack" her academic studies. I also recall, from college days, how much Barb LOVED her TV shows! Rest in God's peace, my friend!
Diane Hobday Cannizzaro
October 06, 2021
My dear friend, I am going to miss you so much. You have made a huge impact on my life and the lives of my children. We love you and we think of you all the time and all of our good times together. Love, Josie, Angie and Kenny
October 03, 2021
Dear Ann, Jack, Rose and Fred,
We are so sorry to hear of Barb's passing. We extend our condolences to you. You are in our thoughts and prayers.
May you many happy memories bring you comfort at this difficult time.
Aunt Marianne and Uncle Francis


October 02, 2021
I worked with Barb for many years and was so sorry to hear about her passing. I saw her several times after I retired and it was always at a craft show! My deepest sympathy to the family.
Brenda Raihl
September 30, 2021
I worked with Barb in the lab at Warner-Lambert during the 1990's. Barb ran the lab stability program on lab books, at a time before it was automated on computers; and she was exact and thorough with her work. It was during this time that Coke switched to "New Coke" and I remember Barb not being very happy at all about that change. She told us she was buying all the regular Coke she could find and had quite a stockpile at home. She also said she was writing a letter every day to Coca-cola, and I believe she did! When regular Coke was returned to the shelves as "Coke Classic" we credited her that she had single-handedly caused its return. There was a group of us that occasionally went out after work to shoot pool at either the YP in Lititz or the Town Tavern in East Pete and I remember that Barb shot a mean game of pool. Despite her sometimes gruff and quirky exterior, she was a kind person with a dry sense of humor who took great joy in her nephews and her cats. My sincerest condolences to her family on the loss of their sister and aunt.
Lisa R. Garrett
September 29, 2021
Barbara and I were classmates all through St. Joe's grade school and LCHS. I remember her as being always smiling and happy. May her soul through the mercy of God Rest In Peace.💕🙏

Ginny Fritz Anspach
September 29, 2021
So sorry to about Barb. I worked with her. She was always nice. I remember her trip to the Artic. She had a great time. Maybe you will get to see more. Nay God bless.
Audrey Lied
Visitation

Monday, October 04, 2021
10:00 AM - 11:00 AM
Charles F. Snyder Funeral Home & Crematory
3110 Lititz Pike
Lititz, PA 17543

Map and Directions

Services

Monday, October 04, 2021
11:00 AM - 12:00 PM
Charles F. Snyder Funeral Home & Crematory
3110 Lititz Pike
Lititz, PA 17543

Map and Directions