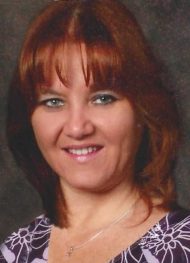 Barbara A. Stockton-Wyland, 55
May 08, 2019
Barbara A. Stockton-Wyland, 55, of Lancaster, passed away on Wednesday, May 8, 2019, surrounded by her family.
She was the wife of David L. Wyland and were married just last Thursday, May 2nd in the Lancaster General Hospital. Born in Lancaster, she was the daughter of the late Albert V. Stockton and the late Anna Marie McGuire Osborne.
Barbara had been a homemaker and had also been the manager of the Pocket Change Arcade at Park City for 15 years.
In addition to her husband, David, she is survived by her daughters: Tiffany Mull of Columbia ad Tiara Wyland of Lancaster; her two grandchildren DeVon Randolph and Molly Ann Marie Ness; her stepmother Ruth Stockton of Lancaster and her stepsister, Brenda Lowery of Bausman.
Friends will be received on Thursday, May 16, 2019 from 2:30-4PM at the Charles F. Snyder Funeral Home & Crematory, 441 N. George St., Millersville, PA, with the Funeral Service to follow at 4PM. In lieu of flowers, please make contributions in Barbara's memory to the American Cancer Society, 314 Good Drive, Lancaster, PA 17603.
Leave a condolence on this Memorial Page
Condolences to the Family
May 16, 2019
Sympathy to the family on the passing of a beautiful woman. Barb meant alot and was always a caring and gentile person. She will be close to my heart 💓 always.
Jackie Vickers
May 15, 2019
Condolences go out to The Wyland and Stockton families . Barb was a beautiful Woman and was loved by all whom knew her she was always smiling and always made others feal welcomed . She Will be deeply missed ! Barb and I met through Shelly and The travel log when I was a bouncer never had to throw her out Lol ! I also met Dave then too and worked with him at sensible portions ! It saddens me that Barb is no longer with us . But she is with Are Lord in heaven looking down on us . I'm sorry I can't be there for Barb's Service I will be out of town . But I am there in thoughts and prayer for Dave and his Family . God works in ways we don't understand but he has a plan for life we're born we live and grow and learn and in the end we Pass on . Are reward is heaven and to sit on the right hand of God ! We will see her again she will not be forgotten . She will always be in the heart's and minds of all who knew her and love her ! R.I.P Barb We will see you again in Heaven !!!
Edward Cannon
May 15, 2019
It was shocking to say the least hearing of Barbie's passing. Although I was very young, Barbie was my babysitter (1-2years of age) and I have fond memories of her. I always looked forward to eating Crispix cereal with her. At this time, please know that my thoughts and prayers are with the family, and she will always be remembered.
Dana McGinnis-Copeland
May 14, 2019
Tiffany and family we are so sorry for your loss. Our prayers are with you all. Erna and Steve Huber
May 11, 2019
Barb and family , I've know Barb when she worked at the arcade at Park City center and even thought we didn't hang out , when we seen each other we hugged , she is and was a Beautiful lady. Rest in piece my friend and ,God bless ur family .
Kim smith
May 11, 2019
Good bye my sweet friend. No more pain. You can now live in peace. God will wrap his loving arms around you so you have no fear. Love you. Til we meet again.
Stacey Moyer
May 10, 2019
Good bye my friend. You are now in the arms of God and his Angel's. No more pain, fly high my friend. My prayers to your family.
Dawn and Ken Sitkowski and family
Services

Thursday, May 16, 2019
4:00 PM
Charles F. Snyder Funeral Home & Crematory
441 North George Street
Millersville, PA 17551

Map and Directions