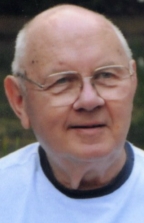 August H. "Gus" Gegg, Jr., 81
August (Gus) H. Gegg , Jr., 81, of Ronks, PA, passed away peacefully at the Essa Flory Hospice Center after a long illness on Tuesday morning, June 28th.
He was the husband of Shirley Y. Styer Gegg, with whom he celebrated 50 years of marriage this past November 12th.Gus was born in Lancaster and was the son of the late August H. Sr. and Amelia Hilbert Gegg. He was a 1947 graduate of Lancaster Catholic High School and a U.S. Navy and Korean War Veteran. He retired from Armstrong World Industries in 1992.
During his lifetime, Gus was a well known "handy man", having built the house he and Shirley lived in for 49 years. He was active in his childrens' lives, volunteering for many years with Cub Scouting and East Lampeter Midget Baseball. Gus was also an active member of St. Anthony of Padua Catholic Church in Lancaster. He will be greatly missed by many friends and his family. Gus was a loving family man who had a kind word to say to everyone.
In addition to his wife, Gus is survived by his 4 children: Stephen and his wife Diane Gegg, Lititz, PA; Michael and his wife Michele Gegg, Millersville; Scott and his wife Rayma Gegg, Altamont, KS; and Amy and her husband Kenneth Randall, Lancaster, PA. Gus is also survived by his sister, M. Margaret Gegg of Lancaster, 14 grandchildren, and 1 great grandson.
Friends will be received on Thursday, June 30, 2011 from 6-8PM at the Charles F. Snyder Jr Funeral Home & Crematory, 3110 Lititz Pike, Lititz, PA. Friends may call again on Friday, July 1, 2001 from 10-11AM at St. Anthony of Padua Catholic Church, 501 E. Orange St., Lancaster, PA, with the Mass of Christian Burial to follow at 11AM, the Rev. Daniel Mitzel as Celebrant. Interment in St. Joseph New Catholic Cemetery. In lieu of flowers, please make contributions in Gus' name to Hospice of Lancaster County, 685 Good Drive, Box 4125, Lancaster, PA 17604-4125. To send an online condolence, please visit: SnyderFuneralHome.com. Charles F. Snyder Jr Funeral Home & Crematory 560-5100
Leave a condolence on this Memorial Page
Shirley, Mike, Steve, Scott, Amy,
We are so sorry for your loss of a great husband and father. It is always hard to lose someone who is so dear and loved. May you all find peace knowing he is no longer suffering and keep all the wonderful memories of Gus alive in your hearts. I'm thinking maybe Gus and my dad are talking baseball and their adventure to Kansas! Our sympathy to each of you and your families.
Rick, Audrey, Alysha, Austin & Allyson Andrews
Our condolences to Shirley and the entire family.
Many fond memories of you all.
Gladys Stover
Mike and Michele,
You are in my thoughts and prayers.
Colleen
Dave has so many fond memories of Mike's Dad. He always treated you like you were special. He will be missed by all of us that were blessed enough to have known him. We are sorry for your loss & hope you will have fond memories of Mr. Gegg.
David & Denise Bolton