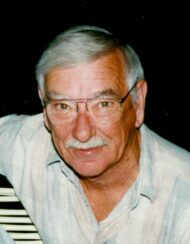 Arden Kopp, 92
January 07, 2022
Arden Kopp, 92, of Lancaster and former District Justice of the Conestoga Valley district, died January 7, 2022 at the Lancaster General Hospital of natural causes brought on by congestive heart failure. He was the husband of the late Helen (Miller) Kopp who died in May of 2016. They were married for 67 years.
Ardie, as he was known to his friends, was one of the most popular district justices in county history. He served from 1982-94 and was the sitting justice in two of the county's most famous murder cases – Laurie Show and Christy Mirrack. Fairness would be the best way to describe how he handled the job using common sense in his decisions. He had a soft spot for juveniles and would be known to give them a second chance when handing down his rulings.
Born in Brunnerville to Alvin and Ida Kopp, he grew up in Kissel Hill and went to Rothsville High School excelling in track, baseball and basketball.
While enjoying all sports, baseball was his favorite, and he played on many city-county teams and eventually ended up playing fast pitch softball, first for Tri-Town and then for the Ephrata Elks in the Ephrata Rec League. And in his later years, he played in the New Holland League mentoring the younger players. Although he originally was a center fielder, he became and all-star catcher. He caught some of the great pitchers of the sixties but he always said that Mel Denlinger was the best he ever caught. In his career as a catcher, he caught one no-hitter in hardball and two no-hitters in softball.
He also enjoyed playing tennis and in 1975, teamed up with his son, to win his first tennis tournament at Camp Conrad Weiser. He was also an active table tennis player and bowler where he also excelled. To say he was a fierce competitor would be an understatement as most people would agree. He enjoyed the competition whether it was shooting darts or playing trivia at a local bar.
And the older folks will remember Ardie for running Forest Hills Motors for his father-in-law Harry Miller who had a car lot and service station there in the sixties and seventies.
A complete free spirit, who loved nothing better than a good joke, he marched to his own drummer and was loyal to a fault. There was nothing he would not have done for his family. They always came first right up until the end. And he would defend them no matter what. As a father, he not only was the best, but he had no peers.
He was a rabid New York Yankees and Notre Dame football fan. His favorite Yankees were Joe DiMaggio, Mickey Mantle, Yogi Berra, Thurman Munson and Derek Jeter. He was also a huge boxing fan and would always argue that Joe Louis was the best boxer ever.
In addition to sports, his other passion was antiques and was known as one of the best at refinishing furniture. He took pride in his collection of crocks, many which were dated from the 1800's. He also enjoyed the company of dogs and had many over the years but his favorite was Dave who he adopted when he retired. And he always fed the birds and squirrels outside his window every morning.
Ardie is survived by a son, Dale Kopp, husband of Tammy Kopp (Welk) of Lancaster; three grandchildren, Maureen of Millersville, Rosemary of Carney's Point, NJ companion of Wes Schaeffer and Rory, husband of Jennifer Kopp (Siekierka) and their three children Aubree, Gunner and Brickton.
He is also survived by a sister, Josephine, wife of Charles Sheidy of Lititz. He was preceded in death by sisters Gladys Bachman and Joyce Foreman and brother Fred. He was also preceded in death by brothers-in-law Bruce Smith, Bud Bachman, Earl Foreman and Jack Parmer along with sisters-in-law Orpha Kopp and Margaret Parmer.
A Funeral Service will be held at 2:30 PM on Saturday, January 15, 2022 at the Charles F. Snyder Jr. Funeral Home & Crematory, 3110 Lititz Pike, Lititz, PA 17543. Guests are invited to attend a visitation from 1 PM until the time of the service. Masks are highly recommended. Interment will follow at Trumbauer Cemetery in Leola.
Please omit flowers. Donations can be made to Speranza Animal Rescue at 1216 Brandt Dr., Mechanicsburg, PA 17055, Raven Ridge Wildlife Rehabilitators, Box 38, Water St., Washington Boro, PA 17582 or any other animal organization of your choice.
Watch the tribute video
Leave a condolence on this Memorial Page
Condolences to the Family
January 21, 2022
wE WISH TO EXPRESS OUR SYMPATHY TO THE FAMILY, YOU ARE IN OUR THOUGHTS AND PRAYERS. GENE & sARA kUTZ
January 15, 2022
Dale and family – I was so sorry to hear of your Dad's passing. Ardie was always the consumate gentleman and a true professional. It was my privilege to have worked with him over the years. Godspeed Ardie. You will be missed.
January 15, 2022
RIP my friend – A true competitor, till the last out, the last tick on the clock and up to match point ! I'll state the obvious – Dale you had a great Dad ! Gordie
January 14, 2022
To all of Judge Arden's family & friends, please know how very respected he was in the Community he served and lived. We both started our separate careers together in 1981-1982. We enjoyed doing crossword puzzles in between filings, hearings, etc… Judge Arden was awesome in so many ways as was his beautiful wife, Helen. Arden always made me laugh even if I didn't want to. He truly cared about people. He was a special Man. Renee (Enck) Bougher-Retired ELTPD
January 13, 2022
We were neighbors and friends for more than 50 years. I also enjoyed competing in monthly pinochle games with the seniors. Now you will be happily back together with Helen. You and your joking personality will be greatly missed by me and many others.
Winnie Rambler
January 13, 2022
Dale and Tammy, I extend my sympathy to you in the passing of Ardie. I have sweet memories of Saturday morning laughter shared in the Brownstown Post Office. Dale, your dad always had a twinkle in his eye. I believe he lived life to the fullest. He was special. God Bless, Martha Shreiner
January 13, 2022
I loved Ardie since the time I was a 12 year old punk, walking down to Forest Hills Motors with my fuel jug, to buy gasoline for my mini-bike. For close to 60 years, we never strayed far from each other and remained the best of friends right to the end. He was the last of my "Old Guy" friends and I'll never forget him nor the memories of a life-long friendship.
God Speed Ardie and thanks for always being there for me.
John R. Lutz
January 12, 2022
Ardie was a joy and a blessing. He made my mom's last couple years a joy. He was a pleasure to be around and had a wonderful laugh.

Sharon (McCauley) Riggs
January 12, 2022
I am so glad I got to know this wonderful man. He was always fun to be with and enjoyed a good joke. I sure wil miss seeing him at the post office and I know Gus's will miss him also. He and I shared many a good jokes on that issue . Resy easy Ardie you earned it. Love Jeff and Sue Hall

January 12, 2022
Dale, please accept all my sympathy. i used to "hang out" at Forest Hills Motors and I loved talking and visiting with both Ardie and Harry.
Darrell Hoober
January 11, 2022
Our thoughts and prayers are with Dale and Tammy during this time of sadness.
The Centerville Branch of Northwest. Nicole, Kim, Luz and Angie
Visitation

Saturday, January 15, 2022
1:00 PM - 2:30 PM
Charles F. Snyder Funeral Home & Crematory
3110 Lititz Pike
Lititz, PA 17543

Map and Directions

Services

Saturday, January 15, 2022
2:30 PM
Charles F. Snyder Funeral Home & Crematory
3110 Lititz Pike
Lititz, PA 17543

Map and Directions