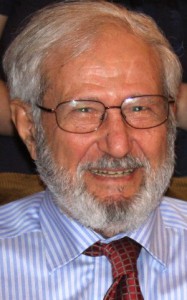 Antonino Genoese, 91
January 05, 2015
Antonino Genoese passed away on the morning of January 5th after a long and prosperous life. He celebrated his 91st birthday on Christmas day surrounded by those who loved him the most. Tony was one of 5 brothers and 6 sisters born to Antonina and Francesco Genoese in the Aspromonte region in the Province of Reggio Calabria, Italy.
His early life was idyllic in many ways, living in a beautiful spot amongst family as the lively and spirited younger brother with outrageous ideas of adventure and a life outside the provincial confines of a small village. At 18 he moved in with his favorite older sister Mica and her young family in Bussoleno, Italy in the Val de Susa to attend the Polytechnic University of Turinfor engineering. But his life swerved in a turbulent direction due to WW II. After fleeing to the mountains to avoid conscription into the Nazi army, Tony took charge of a large group of partisans. For 18 months they battled the Germans and Tony would suffer bullet and shrapnel wounds that would plague him his whole life. Details of his time in the resistance remained quietly dormant until his older siblings revealed some amazing tales of courage and valor some 30 years later. Tony's activities with the Italian partisans became some of the most covert and cunning of the resistance.
After the liberation, Tony lived in Val d'Aosta in the Alps working with Mica's husband, Rosario, and attending classes in civil engineering at the Polytechnic. Rasario's work in road construction set the ground work for his future work in heavy highway construction in the United States.
In 1950, Tony met the beautiful Mickina Roda, an 18-year-old American girl on a holiday trip with her mother visiting family in southern Italy. Theirs was a long distance romance until their marriage in 1956. After a short stay in Canada, the couple settled in Lancaster. Tony began working at Huth Engineers in heavy construction and made friends with a co-worker, John Eaby, who became his mentor. They soon left to form a company together known as G & E Construction which built multi- span bridges throughout the states of Pa. and Md. Tony continued to work in construction for many years, winning distinctions for his work. He also became involved in acquiring several nursing homes, the first one for special needs children in Abbotstown that cared for his son, Philip.
Tony was driven to succeed in his adopted country and particularly appreciated working with the congenial people of the area. He maintained working relationships with his construction crew, some for over 20 years, which was certainly a key to his success. He also loved the natural beauty of Pennsylvania and the attributes of Lancaster County and Lancaster City, particularly the West End where he raised his family. Tony loved the proximity of Philadelphia and New York City, traveling for all the cultural offerings of food and Opera. A particular highlight of his life was season tickets to the Metropolitan Opera where he could hear his beloved Pavarotti, live.
Perhaps the most exciting family experience was the first trip to Italy in 1972 to visit Tony's family. This return after 16 years was met by a mob of crying and happy relatives welcoming the return of a long absent son, brother, uncle, and cousin – a scene that is forever etched in the memory of his children. Tony's last trip to Italy was just two years ago when he was accompanied by his grandson, Samuel.
Tony and Micki had a wonderful and full life of 58 years before Micki's death in September 2014. His 9 grandchildren were his favorite people on earth. His favorite family gatherings were the summertime picnics at "the farm," their home in Conestoga for the last 20 years.
He leaves behind his children: Antonia, wife of Larry Hinnenkamp, and their daughters, Rachel and Caroline; Francesco, husband of MaryEllen Glah, and their children Samuel and Francesca; and M. Elisa, wife of Chris Fulmer, and their children, Joseph, Anthony, Paige, Filomena and Marcus and great granddaughter Ava Grace Fulmer. He is also survived by his 3 sisters, Violanda, Carmela and Angela, all in Reggio Calabria, and many nieces and nephews here and abroad, especially Giuseppe Genoese and his wife, Donna, of York.
He was preceded in death by his wife, Mickina, his daughter, Teresa, a son, Philip, brothers Leandro, Giglio, Erminio, Giuseppe and sisters Mickina and Giovanna.
Relatives and friends are respectfully invited to a Mass of Christian Burial at St. Philip the Apostle Catholic Church, 2111 Millersville Pike, Lancaster, PA 17603 on Friday, Jan. 9, at 11:00 a.m. with the Rev. Mark Weiss as Celebrant. There will be a visitation on Thursday, Jan. 8, at Charles F. Snyder, Jr. Funeral Home & Crematory, 3110 Lititz Pike, Lititz, PA 17543 from 7:00 to 8:30 p.m. and on Friday, Jan. 9 at the Church from 10:00 to 11:00 a.m.
In lieu of flowers, contributions may be made in Tony's memory to a charity of your choice or the Central Pennsylvania Food Bank.
Leave a condolence on this Memorial Page
Condolences to the Family
January 08, 2015
Sentrite condoglianze dal nipote Gianfranco e famiglia, la moglie Mariella e le figlie Mariangela e Giuliana.
January 08, 2015
Antonia and family,
Our hearts and thoughts are with you in this time of love and reflection in the loss of your father. May the warm, wonderful times shared over the years give you comfort and help in the long healing process…..in sincere sympathy and with our deepest condolences. Jeff LeFevre
January 08, 2015
Thank you for your great stories, Mr. G. Take care Franc and Lisa……………..
Nan and Dawn
January 08, 2015
In questo tristissimo momento Vi siamo vicini, un forte abbraccio a tutti, un grosso bacio a zio Nino, Maria Grazia Arfuso, Vittorio,Maria Rosaria e Francesco.
January 07, 2015
Le piu sentite condoglianze dal nipote Eduardo e famiglia( Domenica, Nina e Marta ); dalla sorella Carmela e dal nipote Francesco.
Visitation

Thursday, January 08, 2015
7:00 PM - 8:30 PM
Charles F. Snyder Funeral Home & Crematory
3110 Lititz Pike
Lititz, PA 17543

Map and Directions

Visitation

Friday, January 09, 2015
10:00 AM - 11:00 AM
St. Philip the Apostle Catholic Church
2111 Millersville Pike
Lancaster, PA 17603

Map and Directions

Services

Friday, January 09, 2015
11:00 AM
St. Philip the Apostle Catholic Church
2111 Millersville Pike
Lancaster, PA 17603

Map and Directions