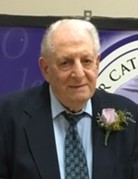 Anthony T. Arcudi, 87
July 27, 2019
Anthony T. Arcudi, 87, of Lancaster, passed away on Saturday July 27, 2019 at the Mennonite Home. Born in Lancaster, he was the son of the late Carmelo and Annuziata (Monti) Arcudi. He was married for 60 years to Mary Ann (Caterbone) Arcudi, who passed away in 2014.
Tony grew up in Lancaster and graduated in 1949 from JP McCaskey High School. After graduation, he enlisted in the US Air Force, held the rank of Airman 1st class and served during the Korean War.
Tony was employed at RCA as a department supervisor. He then worked for Woolworth Distribution Center, of Denver, PA, and retired as a supervisor. He then worked at the Manheim Auto Auction as a security officer. In addition, Tony was a study hall monitor at Lancaster Catholic High School.
As a young man, Tony played basketball for the Boy's Club of Lancaster travel team and played against Wilt Chamberlain and his team. Pop always had witty one-liners. One of them described the game against Chamberlain as a success — "We lost but held Wilt to only 60 points." Tony devoted 66 years of his life to coaching and assisting with youth sports. He was a long-time coach at St. Anne's CYO. He was also an assistant coach for the men's basketball team at LCHS. For many years after retiring he was in charge of paying all the referees and umpires at LCHS sporting events. Tony volunteered for many years at the LCHS Festival. Tony loved socializing everywhere he went, especially at LCHS sporting events. Everybody who knew Tony, called him, "Pop". He was a member of the North Side Cosmopolitan Club in Lancaster as well as a longtime member of St. Anne Catholic Church. Tony loved spending time with his family, especially with his grandchildren and great-grandchildren.
Surviving are his four children: Antonia M. (Toni), wife of David W. Wimer, Sinking Spring, PA, Nancy J., wife of Michael B. Shenk, Willow Street, PA, Stephen A. Arcudi, Torrance, CA, and Michael J. Arcudi, Lancaster, PA. Also surviving are his six grandchildren: Jennifer, Nicki, Emily, Eric, Renee, and Ian, and nine great-grandchildren. He was preceded in death by two brothers, Thomas and Santo (Sammy), and one sister, Stella Trenta.
Family and friends are invited to the viewing on Wednesday evening, July 31st, from 6-8PM at the Charles F. Snyder Jr. Funeral Home & Crematory, 3110 Lititz Pike, Lititz, PA 17543. Mass of Christian Burial will be held on Thursday morning at 11AM at St. Anne Catholic Church, 929 N. Duke Street, Lancaster, with the Rev. Tri M. Loung as celebrant. Entombment will be at St. Joseph Catholic Cemetery. In lieu of flowers, memorial contributions may be sent to LCHS Athletic Dept. 650 Juliette Ave., Lancaster, PA 17601 or to Mennonite Home Communities, 1520 Harrisburg Pike, Lancaster, PA 17601.
Leave a condolence on this Memorial Page
Condolences to the Family
August 03, 2019
I was very saddened to hear of the death of Coach Arcudi. I attended St.Anne's with Toni and Nancy, played football with Toni's husband Dave, and played basketball under the coaching of Coaches Arcudi, Russell and Caterbone. My years playing basketball for St. Anne's were some of the happiest times of my life and a lot of that hapiness was due to Coach Arcudi's wonderful style of coaching. He had high expectations for our effort, but never forgot we were just kids having fun. It was always a joy to play or him, as I'm sure all of his former players would agree, except for when Mr. Russell would break his clipboard! Even in HS, when something was bothering me, I could stop by and speak to Coach and he would give me sound advice in his own understated caring way. He had a greater positive influence than he realized on many young boys, and he will always be remembered as a kind, generous and caring man. My toughts and prayers go out to the entire Arcudi family.
Dave Plastino
August 02, 2019
Dear Toni, Nancy, Steve and Mike,
So many good memories of your dear parents with the Johnson's and Costello's. Wishing you all peace knowing your dad is finally with your sweet mom.
Terrie Johnson Finger

August 01, 2019
Very Sad to Learn of Coach Arcudi's Passing. What a Special Person to So Many People. He had so much influence on me with regards to Coaching Sports and how to utilize sports in teaching young athletes how to not only be a good player but how to be a Teammate, Leader and work together with others to achieve excellence in all that you do while having fun. LCHS a better place due to his work and spirt. Although I will be unable to attend his service because I am at Notre Dame Working Basketball Camp I will be there in spirit.
I enjoyed bringing Camp Gear to Coach as he was a great fan of the Fighting Irish.
Ken Gerber
July 31, 2019
Our sincere Sympathy and Condolences to the family. Frank and Barb Scheaffer. 🙏
July 31, 2019
My sympathy to the Arcudi family. I played on his first 2 basketball teams at St. Anne's when I was in 7th and 8th grade and I had the time of my life! Thank you Coach Arcudi! May you enjoy the reward of eternal happiness in the Lord's kingdom!
Dick Pillion
July 30, 2019
Condolences to the family.
John and Marianne Palko
July 30, 2019
Condolences to the Arcudi family, you have lost a wonderful man. I knew both Tony and Maryann they were great people and are greatly missed. Marilyn Cramer,LCHS basketball bus driver.
July 30, 2019
Tony has touch so many lives for the short time we have had to care for him on Wissler Run,, I will definitely miss goin to visit him on Lititz Run,, I pray that his soul have a resting place and may god grant his family the strength and togetherness they need in this difficult time. my sincere sympathy and condolences to the Arcudi family,,, Truly Ro..(Rohanie)
July 30, 2019
My Coach…My Mentor…My Friend…
Bob Blefko
July 29, 2019
I am so sorry for your loss. Anne Lombardo
July 29, 2019
Our thoughts & prayers to the Arcudi family. As parents of children who attended LCHS and involved in sports,we were blessed to have known Mr. Arcudi and his wife for their kind and caring ways.
With Sympathy,
The Wanchalk Family
July 29, 2019
Condolences to the Arcudi family. Tony was a wonderful guy. He was a positive influence on so many of us growing up. RIP Pop.
Phil McCaskey
July 29, 2019
The Arcudi Family; Prayers to you, I am so sorry for your loss. Mr. Arcudi was an outstanding man. He touched the lives of so many through his coaching and volunter work. I am grateful to have had him as a basketball coach and the pleasure of spending time with him. He will be deeply missed.
Matt Wentz
July 29, 2019
Sol sorry to hear of Tony"s death. He worked at the front desk at the Y when I was there. My sympathy to his family.
Alice Lehmann
July 28, 2019
My prayers are with The Arcudi family. I can't express enough what a great man your dad was and what fantastic people your parents were. I truly enjoyed talking to Tony and visiting with him when he came in to the athletic office. We always had a great connection and I appreciated that time together. He gave so much to LCHS and all of us are blessed to have known him and your mom.
May the peace of the Holy Spirit comfort you during this difficult time.

Rich Hinnenkamp
Visitation

Wednesday, July 31, 2019
6:00 PM - 8:00 PM
Charles F. Snyder Funeral Home & Crematory
3110 Lititz Pike
Lititz, PA 17543

Map and Directions

Services

Thursday, August 01, 2019
11:00 AM - 12:00 PM
St. Anne Catholic Church
929 N. Duke St.
Lancaster, PA 17602

Map and Directions