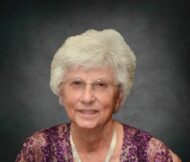 Annette M. Bossé, 83
March 05, 2023
Annette M. (Morin) Bossé, 83, of Lancaster, formerly of Newton, NJ, died Sunday March 5, 2023 at The Glen at Willow Valley. Born in Waterville, Maine, she was the daughter of the late Dana and Arlene (Bolduc) Morin. She was the loving wife of the late Gerard J. Bossé. Together they shared 51 years of marriage until his passing in 2010.
Annette was a resident of Willow Valley and spent time working in the Library or the Cash & Carry. In her spare time, she enjoyed sewing, quilting, needlepoint, and painting. She also enjoyed travelling.
Annette was a devout Catholic and active member of St. Philip the Apostle Catholic Church. She had a special devotion for Holy Love ministries. She was a strong advocate for the Pro-Life movement. Most of all, she was a loving mother and grandmother who will be very much missed.
Annette is survived by her children, Cheryl A. wife of Ronald Jordan, Hopewell Junction, NY, Dr. Christopher G. husband of Dr. Myhanh Bossé, Doylestown, Therese E. Bossé, Saratoga Springs, NY, Michael D. husband of Dawn Bossé, Mooresville, NC.; and her grandchildren: Dana wife of Brandon Rodriguez, Colin Jordan, Patrick Jordan, Valerie Bossé, Leslie Bossé, Justin Bossé. In addition to her parents and husband, she is preceded in death by her sister, Donna Libby.
A Funeral Mass will take place at St. Philip the Apostle Catholic Church, 2111 Millersville Pike, Lancaster, PA 17603 on Friday, March 10, 2023 at 11:00 AM. Friends and family will be received at the church starting at 10:00 AM to pay respects. Interment will take place at Indiantown Gap National Cemetery. In lieu of flowers, donations can be made to Pennsylvania Pro-life Federation, 4800 Jonestown Road, Harrisburg, PA 17109.
Leave a condolence on this Memorial Page
Condolences to the Family
March 14, 2023
I was so very sorry to hear about Annette. She and your Dad were special visitors here at Holy Love during events and we always looked forward to them coming and helping out. Your Mom always helped out in the bookstore and your Dad would be outside working with all the guys. They were both very special and devout people. We miss them terribly but know they are happily with our Lord and Blessed Mother now. You are all in our prayers! God Bless You.
March 13, 2023
I was so saddened to hear that my dear longtime friend Annette was passing, but so grateful to hear her dear voice one more time. Thank you to Myhanh and Christopher R. To all of her children and grandchildren, my deepest sympathy. Your mother and dad were our best friends from our first days next door to each other, and we loved them and their children. All of you are in my heart.
Jane Bultman
March 11, 2023
So sorry to hear the passing of Aunt Annette. Thoughts & Prayers are with all of you.May your mom rest in peace.Love Jim & Melissa Routhier.
March 11, 2023
Very sorry for your loss. I will remember Aunt Annette as a young, beautiful soul.
Jacqueline Day
March 11, 2023
Hi Chris, Myhan and family
we are deeply saddened by the loss of your mother. Our condolences to the family. Will pray for you and your family
Rajesh and Sonal Patel
March 09, 2023
I didn't see my great Aunt Annette very much. Only when they came to visit my grandparents in Waterville. What I knew of her she was a beautiful soul. I'm so sorry to hear of her passing. Love and prayers to the whole Bosse Family in PA. Karen Fournier daughter of Jim Bosse
March 09, 2023
I REMEMBER GREETING ANNETTE AND HER HUSBAND WHEN THEY FIRST MOVED TO WILLOW VALLEY. SHE AND HER SISTER-IN-LAW WERE DELIGHTED TO FIND THAT THEY COULD SEE EACH OTHER'S APARTMENTS FROM THEIR VALCONIES. ANNETTE AND I WORKED TOGETHER FOR MANY YEARS ON THE LINENS SECTION OF WILLOW VALLEY'S CASH & CARRY SALES. SHE WAS A CHARMING LADY, ALWAYS SWEET AND KINDLY TO EVERYONE.
MARIE CURRY
March 09, 2023
I had the honor & pleasure to clean for Mrs bosse' 14 yrs. She was very special to me. Thank u to her family for their kindness towards me during this hard time. Thoughts & prayers to each one. 💞🙏
Adrienne Trout Fellenbaum
March 08, 2023
Cheryl and Ron,
Our thoughts and prayers are with you and your entire family at this difficult time.. Sending our love from CT. Kathy and Bob
March 07, 2023
So sorry to hear of Aunt Annettes passing. May she rest in peace. Our thoughts and prayers are with you all. Love and blessings Mark ,Lynn and Brett Libby
March 07, 2023
All of our prayers to our dear friend, of many decades, as we watched all our children become adults and excel in their lives and careers. We are so sorry about the passing of you loving Mother. May God lead her soul into heaven where she will watch and pray for each of you. Prayers and blessings. Lorraine and John Mills
Visitation

Friday, March 10, 2023
10:00 AM - 11:00 AM
St. Philip the Apostle Catholic Church
2111 Millersville Pike
Lancaster, PA 17603

Map and Directions

Services

Friday, March 10, 2023
11:00 AM
St. Philip the Apostle Catholic Church
2111 Millersville Pike
Lancaster, PA 17603

Map and Directions