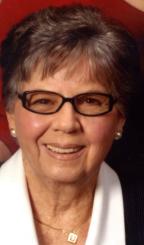 Anne F. Wascou, 90
Anne F. Wascou, 90, of Moravian Manor, Lititz, passed away on Sunday, November 13, 2011. She was born in in 1921 in Karlsruhe, Germany. She was happy growing up with her late parents, Elfriede and Max, and her brother, Arno, and sister, Ilse.
She was preceded in death by her husband Dr. Albert E. Wascou in 1980.
Anne was a homemaker.
In 1938 at the age of 16, Anne traveled to America on the S.S. St. Louis to escape the Holocaust. She was the only one of her family who survived.
Anne was very active in her community and had many wonderful friends. She belonged to Congregation Shaarai Shomayim and the Shaarai Shomayim sisterhood. From 1967-1969 Anne was the Lancaster Jewish Community Center Auxillary President, and was named the Lancaster Jewish Community Center Woman of the Year for 1965-1966. She also belonged to Hadassah, the B'nai B'rith Foundation, the World Jewish Congres Foundation, the Anti-Defamation League, the Simon Wiesenthal Center, the United States Holocaust Memorial Museum, and the National Museum of American Jewish History.
She is survived by two daughters, Marilyn, wife of Dr. Ronald Toplitz, of Lancaster, Ellen Wascou, wife of Daniel Weinhold, of Lancaster, a grandson, Loren Toplitz, husband of, Traci Ext, and a great-grandson, Winston Theo Toplitz, both of Cleveland Heights, OH.
Funeral Services will be held on Friday, November 18, 2011 at 1pm in the Chapel of the Charles F. Snyder Jr. Funeral Home & Crematory 3110 Lititz Pike with Rabbi Jack Paskoff officiating. Visitation with the family will be at Snyder's from 12noon-1pm. Interment will be in Shaarai Shomayim Cemetery. The Family respectfully requests no calling hours after the service on Friday. In lieu of flowers, memorial contributions may be made to Congregation Shaarai Shomayim 75 E. James St. Lancaster, PA 17602. To send the family online condolence, please visit SnyderFuneralHome.com. Charles F. Snyder Jr. Funeral Home & Crematory 717-560-5100
Leave a condolence on this Memorial Page
Dear Marilyn and Ron, and Ellen and Dan,
Please accept my condolences. Your Mother was a great lady and I really enjoyed knowing her. I'm sure she had found peace.
Sincerely,
Kelly V.E. Trach
Dearest Ellen.
My prayers are with you and Dan, Marilyn and Ron, Loren and Traci. I know its a sad time, but think of this…she's getting her eyes checked out by the best…Your Dad.
Most Sincerely,
Russell Allison
Dear Marilyn,Ron,Ellen,Dan, Loren and Family,
My thoughts and prayers are with you…My Mom has lost the dearest friend she has ever had…I always enjoyed your Mom's humor and her smile and remember her elegance…
Sincerely,
Fran Cohen
Dear Ellen and Dan, Marilyn and Ron, and Loren and Traci:
My prayers are with you at this difficult time. Remember that your loss is Heaven's gain. May peace and comfort find you, as she has found hers.
Vin Garcia
I am very sorry for the loss of your Mother. I have known you both for so many years and your Mom also as we have grown up for so many years. I really miss the family get together's we all used to have for the Jewish Holidays your Mom so enjoyed. I know that your Mom is in a better place now and she is not in anymore pain. I wish you both much Love and Happiness.
Love
Beth Style Russell
Marilyn, Ellen and family:
Our hearts go out to you at this time. I know that the last few years have been difficult and Anne can rest now. She was a wonderfully strong woman with a personality that made me smile. Memories of our Germany trip will always stay with me.
Memories are what will keep her with you forever, no one can take those away.
If there is anything we can do, please don't hesitate to ask.
Jeremy wanted me to send his deepest condolences also.
Regards,
Linda & Scott Brightbill
Ellen & Marilyn,
I was so sorry to hear about the passing of your mother. She was a wonderful woman and I enjoyed deviling her (the ring). I'll miss that as much as much as I'll miss her. The service and funeral touched my heart and will remember her fondly.
Sid