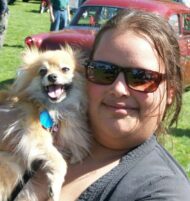 AnnaMarie Albert, 38
March 11, 1983 - December 27, 2021
AnnaMarie Albert, 38, passed away at her Lancaster Township home on Monday, December 27, 2021. She was born in Bronx, NY to John Albert and Anna I (Cruz) DeRosa.
A graduate of Walton High School, Bronx, she also took some courses at HACC, Lancaster Campus. AnnaMarie worked at Manheim Auto Auction, and then at Hershey Park and lastly at Dutch Wonderland as an accounting clerk.
She enjoyed doing crafts, watching Hallmark and Disney movies, baking and cooking, playing boardgames, and she loved animals.
AnnaMarie's surviving family includes her mother, Anna I. ReDosa, father John Albert, stepfather Dominick DeRosa, grandmother Carmen Perez, grandfather Angel Cruz, step-grandfather Elvin Perez; siblings, Christine DeRosa, Johnathan DeRosa, Jillyenn DeRosa and Serena DeRosa; Aunts, Marly Albert, Liz Ramos, Cindy Cruz and Gloria Cruz; uncles Angel Cruz and Tilson Cruz; nephews, Joezae Tirado, Micah Bolden and Jaime Cadena; nieces, Desiree Tirado, Jade DeRosa and Julie Cadena; and her cousin Santina Rivera.
Preceding AnnaMarie in death were her grandparents Elsa and Juan Albert, uncle Sandy G. Albert, and her loving dog Patsy.
A viewing will take place 3 to 4 PM, followed a celebration of AnnaMarie's life at 4 PM, on Monday, January 3, 2022, at the Charles F. Snyder Funeral Home & Crematory, 414 E. King Street, Lancaster, PA 17602 Interment will be in Serenity Meadows Memorial Park, Riverview, FL.
Kindy consider a contribution in AnnaMarie's memory to the Pet Pantry of Lancaster County, 26 Millersville Road, Lancaster, PA 17602 https://petpantrylc.networkforgood.com/projects/31897-general-donation-page
Watch the tribute video
Leave a condolence on this Memorial Page
Condolences to the Family
January 03, 2022
Anna this is Coretta I will miss your daughter I am out helping in Girl Scouts with Edie Meshey and Susan Meshey and I know I think Tiffany might know her to my daughter Tiffany what are you also and I am a grandma at my grandson's name is Carlos James tell me a stand for Santiago who is my phone number I have a code 717-368-1727 can you give me a call can you give me a call I like to talk to you all right thank you bye this is going on and I love you sorry with my deep is 70
January 03, 2022
All of our years of friendship could not prepare for our parting. I miss you so much from our days as little kids in PS 94 to being teenagers in high school to being adults, my heart aches. You were my first friend and I will never ever forget the kindness you and your family showed me. Heaven truly gained an angel. Until we meet again
January 03, 2022
Our deepest condolences to the family, may God give you all strength to go forward with the loss of your loved one. We will keep you all in our prayers.
January 03, 2022
AnnaMarie,
I will remember your kindness and your laughter. How pure your heart was; how you always wanted to make people smile no matter what was happening. I'm grateful to have so many amazing memories with you. My childhood best friend, I'm sorry we didn't get more time. I hope you will rest knowing what an incredible impact you had on the world. I will love and miss you always.
❤️ Kathy
January 03, 2022
My thoughts and prayers are with AnnaMarie's family and friends. May her family and friends be comfort during this time. Rest In Peace Anna.🙏🙏
January 02, 2022
My dearest niece Annamarie there are no words to express how much I will miss our talks though I was not fortunate to be a part of your whole life I was blessed 🙏 to get you back. I tried my hardest to be there when you needed me and give you the best advice I can give. Our talks were full of laughs and tears and reminiscing about tio Sandy and Grandma and grandpa. It hurts me very much that you are gone. You were called home before your light can truly shine on earth. God needed you more, you will shine now as the Angel you are in heaven. So when I look in the sky and I see that one bright star I know in my heart that it is you. As I always ended our talks I LOVE YOU MORE, your Aunt Marly.
January 01, 2022
I have many memories of Anna Marie. What stood out in every memory was her sense of humor and her outlook on life. My deepest and heartfelt condolences to all family, friends, and acquaintances. She will be so sorely missed. I came across a poem that catches her spirit and reminds us that her journey is just beginning. It reads:
Her Journey's Just Beginning
Don't think of her as gone away
her journey's just begun.
Life holds so many facets,
this earth is only one.
Just think of her as resting
from the sorrows and the tears
in a place of warmth and comfort
where there are no days and no years.
Think how she must be wishing
that we could know today,
how nothing but our sadness
can really pass away.
And think of her as living
in the hearts of those she touched.
For nothing loved is ever lost,
and she was loved so much.
You left us beautiful memories. You will live in our hearts forever. Sleep in peace Angel.
January 01, 2022
You were my only daughter, My Life, everything I lived for, I wanted to be the father you wanted, but life's cruel and unforgiving circumstances ripped that from us. I will love you forever, you're image is burned into my mind and heart forever, I will take care of Chumbs (stuffed animal) forever. Know that monthly donations will be made to animal shelters I. Your name always. I will always Love you
Your Popi
December 30, 2021
My thoughts and prayers are with Anna's family and friends. We started the same day at the auction. She was such a sweet person and soooo funny. The littlest things amused her and many times we almost wet our pants laughing at and with her! Just know she is with Patsy now and is at peace. She will be missed.
Susan
December 29, 2021
She came to live with her dad and me in NY. And I taught her how to drive. She was so scared in the begining and she was driving very slow. When she got her license, one day she gets a ticket. Her dad was surprised and I was happy. I told her, you are not driving slow any more. I took pictures of her ticket. We all Laughted. She loved driving in NY… She had a Great attitude in everything. We would watch Christmas Movies all the time. Watched one tonight in her memory.. We will see you again AnnaMarie…. You are In my heart, Forever..
Helen Sclafani
Visitation

Monday, January 03, 2022
3:00 PM - 4:00 PM
Charles F. Snyder Funeral Home & Crematory
414 East King Street
Lancaster, PA 17602

Map and Directions

Services

Monday, January 03, 2022
4:00 PM
Charles F. Snyder Funeral Home & Crematory
414 East King Street
Lancaster, PA 17602

Map and Directions