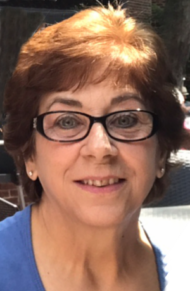 Anna M. Walton
August 27, 2018
Anna M. Walton, a long-time resident of Lancaster, PA, passed away, Monday, August 27, 2018. She was born in Lancaster, PA to the late Ruth (Dusch) and Charles Pletcher.
Anna attended Lancaster Catholic High School, and was a member of Calvary Church, where she participated in the "Study and Share: Women's Bible Study" program. She was employed at Financial Management Group for fifteen years until her retirement. After retiring, Anna enjoyed working for Visiting Angels. She appreciated spending time with her close friends, especially her friend of over 45 years, Jane Greiner. She loved to cook, make crafts, and travel. Anna will be remembered for her joking personality and love for family.
Anna is survived by her three sons: William Pletcher (Anne) of Reading, Paul Pletcher of Lancaster, and Keith Walton of Lancaster; her four siblings: Patricia High (Elvin) of Columbia, Robert Pletcher (Nancy) of Lititz, Raymond Pletcher of Manheim, and Marie "Bip" Pletcher of Lancaster; her sister-in-law Stella Pletcher of Lancaster, as well as
many nieces and nephews. She is preceded in death by her brother Charles Pletcher, and sister in law Deborah Pletcher.
A Celebration of Anna's life will be held at 11AM on Monday, September 10, 2018 at Calvary Church, 1051 Landis Valley Road, Lancaster, PA 17601. Friends and Family will be received at the Church from 10AM-11AM prior. Interment will be private at the convenience of the family. In lieu of flowers, memorial contributions may be made to Calvary Church, address above or to Hospice and Community Care, 685 Good Drive,
Box 4125, Lancaster, PA 17604.
Leave a condolence on this Memorial Page
Condolences to the Family
September 13, 2018
So sorry we couldn't be there, we were dealing with my moms illness and eventual death, at the time. She was a great neighbor and friend and will be missed. I take comfort knowing she is with her Lord.
Darryl & Jean Henry
September 10, 2018
My caring thoughts are with you , Paul. I don't think I can make it to the service but my.and Jen's deepest sympathy and love. Gail and Jen Smith
September 01, 2018
To her 3 sons, sisters Pat and Marie, and brothers Raymond and Bob, I send my sincerest condolcense in the death of your mother, and sister, Anna Pletcher Walton. Being a friend of the Pletcher for many years, it was a special enjoyment to be be around "Annie". She made friends so quickly and loved by each one of us. Rest In Peace Annie as your parents welcomed you as did Chuck waiting outside the gates of Heavens. Eternal Rest upon you. Blessings to the family who had so many get togethers all the time. Special memories indeed. Rita Boyer of St.Anne Church
September 01, 2018
Annie always treated us as extended family and we basically "adopted" the Pletcher starting with Chuck & Ruth and the successive generations producing Big Chuck, Middle Chuck, Little Chuck & Wee Chuck and right in the middle of all family celebrations was our Annie with her giant smile, sense of humor, and those unbelievable steel blue eyes. Annie, now, free of pain, we are all smiling FOR YOU, but crying because of OUR loss. Thank you for including us in your life. We love you.
Don & Sheila
August 31, 2018
I am so sorry to hear about Annie, you the family are in my prayers!!!! Love ❤️ Shirley A. Platt and family!!
August 31, 2018
I will keep your family and loved ones in my prayers ,, may you Rest In Peace ,,God Bless your family who will miss you dearly ,,
Best Regards
Joan Landis ( class 1973 )


August 31, 2018
I have so many good memories of Annie and our time working together and after. Annie was a part of so many things in my life. We experienced a lifetime of laughter and tears and she was definitely a good friend. I will miss her and her matter-of-fact wisdom and the funny comments she made. She loved God with all of her heart so I know that she is celebrating right now. The world lost a good soul. My condolences to her family and friends. I'm sure there is a tremendous hole left by her passing. My thoughts and prayers are with all of you.
Jackie Waterworth
August 30, 2018
I am so sorry for your loss.
Anne Marie Lombardo (Class of 1973)
August 30, 2018
I'm so very sorry for your loss. My thoughts and prayers are with all of those who loved Ann. May she rest in peace. Alexis
August 30, 2018
sending thoughts and prayers to the whole family Barry and Charles Walton,
August 30, 2018
Annie my best friend and "sister" we have been together since 9th grade and no matter what life through at us we made it! I miss you so much but I know you are not in pain and now can watch over all of us. My thoughts and prayers are with your sons and family in this time of healing we love and miss you!
Lynn Wilson
August 30, 2018
Our sincerest sympathy to the entire Pletcher family. Bob and Tracy Waugh

August 30, 2018
Bill, Paul, Keith,
The love you have for your mother is evident in the way you were there for her through out her life, but especially during her last months she was on this earth.
I will miss her so much but know that she is with her savior, Jesus. She will also get to see mom and dad and Chuck.
Love you. If you need anything you know where to call.
Uncle Bob and Aunt Nancy.
August 30, 2018
We are so sorry for your loss. Paul and Marianne Bozzo
August 30, 2018
Ann, my dear sister in Christ. I'm saddened to see you go yet I rejoice in the truth that you are enjoying the presence of our Savior, Jesus. I shall never forget your kindness, your wonderful laugh and sense of humor, and how you freely offered hospitality to Paul's friends, like myself. I look forward to laughing and singing together in Heaven. Enjoy our Lord's rest and healing and peace! Love you, great lady!
Marion Scrutchings Read
August 30, 2018
Bill,
Maureen and I offer our deepest and heartfelt condolences on the passing of your mother. Keeping you and your family in our prayers.

Sincerely,
Chris and Maureen Hess
August 30, 2018
My cousin & family so sorry for your loss….Darlene Dusch
August 30, 2018
Very sorry for your loss, Bill and family.
August 30, 2018
I REMEMBER ANNA AND HER WONDERFUL FAMILY. I ASK JESUS TO BLESS THEM ALL IN A SPECIAL WAY.
August 30, 2018
I love you mom and will miss you terribly. Thank you for loving me and for all the laughter we shared. Until we see eachother again i will hold you close in my memory and my heart.
Love always,
Hope
Visitation

Monday, September 10, 2018
10:00 AM - 11:00 AM
Calvary Church
1051 Landis Valley Road
Lancaster, PA

Map and Directions

Services

Monday, September 10, 2018
11:00 AM
Calvary Church
1051 Landis Valley Road
Lancaster, PA

Map and Directions