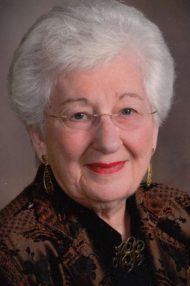 Anna Laura Thompson
January 03, 2017
Anna Laura (Neidert) Thompson peacefully passed away on Tuesday, January 3, 2017 at Hospice & Community Care, Mount Joy, PA. She was the wife of the late Lawrence M. Thompson who died September 2011. They lived at Luther Acres Retirement Community in Lititz, PA since 2000. Born in Reading, PA, she was preceded in death by her mother Laura W. (Spohn) Provencher, step-father C. Edward Provencher, and father, John A. Neidert.
Anna Laura graduated from Reading High School, Reading, Pa in 1946 and earned a BA degree in History from Beaver College in 1950, now Arcadia University. She also received a Master's Degree in Elementary Education from Millersville University in 1969, and in 1975 was awarded her Special Education certification. Anna Laura taught for the Lancaster-Lebanon IU13 as a learning disabilities teacher, retiring in 1983.
Anna Laura's life was one of commitment to her church, community and family. Before moving to Lancaster in 1960, she was an active member of St Luke's Lutheran Church in Reading teaching Sunday School and serving as Sunday School Superintendent. As a member at Holy Trinity Lutheran Church, Lancaster, she served in many roles including Sunday School Teacher, Confirmation Class Teacher, and elected Vestry member. She served on the Prison Ministries Committee and Stephen Ministries Committee. She was a proud and dedicated coordinator of the literacy program at Trinity, and taught English to immigrants and inner city children. After moving to Luther Acres, she served on the Board of Directors of Luthercare. She was a member of the Eastern Star.
Anna Laura was active in educational groups and with her college alma mater. She served for many years as the Alumni Association Chairperson for the Class of 1950 at Arcadia University where she recently received the Golden Disc Award for Meritorious Service for outstanding volunteer leadership service. In 2015, Anna Laura celebrated 40 years of membership in Delta Kappa Gamma Society (Chi Chapter) where she had served as chapter President. She also was a long time member of Pi Lambda Theta, an honorary society for educators.
As well as being an avid bridge player, Anna Laura enjoyed creating beautiful floral arrangements from the flowers she grew while living on Blossom Hill. She was a member of the Women's Garden Club of Lancaster County where she was instrumental in helping a local city elementary school obtain a grant that helped to underwrite a portion of the school's garden project to "help foster children's love of gardening."
She is survived by her three children, son, Lawrence M Thompson, Jr., husband of Sally (Buck) Thompson, Sunny Isles Beach, FL, and daughters Anne Louise (Thompson) Granfield, Machiasport, ME, and Lydia (Thompson) Klinger, Hershey, PA. She has five grandchildren, Jennifer (Thompson) Meller, wife of Daniel Meller, Evergreen CO, Marshall Thompson, husband of Lauren Thompson, Brooklyn, NY, Lesley (Singer) Rollins, wife of Brian Rollins, Palmyra PA, Daniel Klinger, Ft Collins, CO and Elizabeth Klinger, Blacksburg, VA , and two great grandchildren, Braden Cody Meller and Oliver Reid Thompson.
A Memorial Service will be held on Saturday, January 21, 2017 at Holy Trinity Lutheran Church 31 South Duke Street Lancaster, PA at 11:00 AM. Friends may greet members of the family following the service at a reception and luncheon in the Fondersmith Auditorium in the Fisher Parish House. Interment will be at the convenience of the family.
In lieu of flowers, donations may be made to Hospice & Community Care of Lancaster County, 685 Good Drive, P.O. Box 4125 Lancaster, PA 17604-4125.
Leave a condolence on this Memorial Page
Condolences to the Family
January 19, 2017
I have many fond memories of your mother from our times together at Trinity and the Trinity Bridge Group. We spent many enjoyable dinners together before social time and bridge. I regret that I can not attend her service and am sending my condolences. Her outgoing personality and positive outlook made her a very special friend and I appreicaited her freindship.
Ruth L. Rhoads
January 16, 2017
Larry and Sally and Thompson family,
I have fond memories of your father and mother at Trinity Lutheran Church. Their grace, strong faith and involvement in the church were inspirational. I am saddened by her passing but at peace that they have been reunited once again.
Best wishes to all of you,
Kim Kluxen Meredith
January 12, 2017
Anna Laura Thompson was a beautiful person, inside and out. Our friendship blossomed through Chi Chapter, of the Delta Kappa Gamma Society International. As a young teacher and member of Chi Chapter, I held Anna Laura in high regard, hoping to emulate her distinguished grace and beauty with which she taught children and interacted with those around her. May the seeds of love that she planted throughout her life continue to flourish. With much love and sympathy, Gisele Rinaldi Siebold
Services

Saturday, January 21, 2017
11:00 AM
Holy Trinity Lutheran Church
31 South Duke Street
Lancaster, PA

Map and Directions