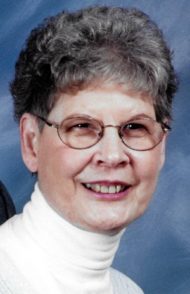 Ann M. Stief, 84
February 07, 2019
Ann M. Stief 84, of Lancaster, PA, passed away on February 7, 2019 at Lancaster General Hospital. Born in Lancaster, she was the daughter of the late Daniel M. and Anna Mary (Wagaman) Miller. Ann was the loving wife to Carl E. Stief.
Ann graduated from Lancaster General Hospital School of Nursing in 1955. She retired from the Mennonite Home in 1999. She and her late husband enjoyed spending time traveling and serving her Lord within the S.O.W.E.R.S. (Servants, on Wheels, Ever Ready) ministry. Ann loved scrap-booking and working on albums of their travels. She was a member of Calvary Church.
Ann is survived by a son, Brad Stief of Lancaster. She was preceded in death by a brother, Daniel W. Miller.
Services will be private and at the convenience of the family.
Leave a condolence on this Memorial Page
Condolences to the Family
February 13, 2019
Brad, I just learned about your mother's passing. I know you will miss her and yet we are comforted to know she is with the Lord. I would love to see you again but I have not been back to PA in some years now. If you ever get to South Carolina you are welcome here. If your mother had an address book, mine is the same as since 1988 but I do plan to move sometime this year.
February 12, 2019
I am so very sorry to hear of Ann's death.
We were good friends in nurses training and after. We played cards with Ann and Carl.
May God comfort you in her loss.
February 11, 2019
Brad, I was surprised to see the passing of your mother. I have so many fond memories of her while working at Maria Liss Bridal shop. Actually had dinner with her and Johanna Reed about a year ago. it was so nice to see her. You had a nice mother and father. Best to you. Bonita
February 11, 2019
Brad,
We extend our deepest sympathy to you. We will always recall your mother as the model for graciousness.
Doris & Steve Nolt
February 10, 2019
It was great working with Ann and knowing her for the 10 years that I worked at Mennonite Home. Also kept in tough with her these past few years. She was a great woman. Visited her last year while at the Rehab. Hospital. Often saw her at Oregon Dailry Resturant. My thoughts and prayers are with you at this time Brad.
February 10, 2019
Brad, So sorry for your loss. Your mom was such a special person and my parents both cherished her and your father's friendship. She graciously brought me a few more cherished years with my father thanks to her care! I am so glad she is in heaven with both my parents rejoicing in Jesus. My sincere condolences, Michelle (Tolan) Shertzer
February 10, 2019
Brad, our sincere condolences, prayers,& thoughts at this difficult time. May God bless you, give you peace & comfort and know your Mom is with your dad in heaven. Ann's love for God was shown through her professional career in nursing and helping others. Love & Prayers Stan & Lorraine Kemery
February 10, 2019
Brad I am so sorry to hear about Ann's passing. Have great memories of both your mother and father. Laughing in your living room being the highlight.
Be strong and know that she is in a better place.
Love you, John and Carol.
February 10, 2019
Brad, so sorry for the loss of your mother.
February 09, 2019
Dear Brad, please accept our sincerest condolences as you mourn your dear Mother's home going. I worked ten years with Anne at the Mennonite Home. She was a wonderful nurse and it was a pleasure to work with her. Her beautiful flower arrangements often graced the receptionist desk outside our office. Anne was kind enough to give us a tour of your appartment when we were considering moving to Old Hickory. I admired all her beautiful collections. She was a gracious lady and she will be missed. Sincerely, John and Carol Walls