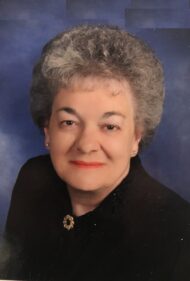 Ann G. Jablonski, 80
December 18, 2021
Ann G. Jablonski of Leola, wife of Louis J. Jablonski, passed away on December 18, 2021. Born in Mechanicsburg in 1941, she was the daughter of Mary and Laurence Yeager of Carlisle. Her siblings included Joan Polking of Charlotte, North Carolina and the late Thomas Yeager who passed during childhood.
Ann married Louis Jablonski on June 22, 1963, in services officiated by her uncle, Monsignor Louis Yeager. For over 58 years, Lou and Ann built a long life together and became parents and grandparents along the way. Their oldest daughter, Christine (Jablonski) Bland of Mountville and her husband, Jim have four children, Danielle, Andrew, Conor, and Zachary. Ann and Lou's youngest daughter, Elizabeth (Jablonski) Bowers is the, mother of Chloe and Cayden Bowers of Ephrata. Ann & Lou's son, Michael L. Jablonski, died on April 30, 2001. He was the father of Derek and Tiffany Jablonski. Ann and Lou also had a daughter, Theresa, who died in infancy.
Ann graduated from Shippensburg University, was a teacher, and eventually retired as Director of Religious Education for Our Lady of Lourdes Catholic Church of New Holland. She was much loved by parish children over her 30 years of service. Lou and Ann enjoyed volunteering with Marriage Encounter and helped in various ways within the church community.
A Mass of Christian Burial will be held on Thursday, December 23, 11:00 a.m. at Our Lady of Lourdes Catholic Church, 150 Water Street, New Holland, PA. A viewing for family and friends will precede the funeral at the Parish Center beginning at 10:00 a.m. Following the Mass, internment to be held at St. Joseph's New Catholic Cemetery, 70 Charles Rd., Lancaster, PA 17603. Masks are requested for all unvaccinated attendees. In lieu of flowers, contributions in Ann's memory may be made to the Lancaster County Food Hub.
Leave a condolence on this Memorial Page
Condolences to the Family
January 07, 2022
Lou and Family,
So sorry for your loss. Ann was a great lady and great DRE. Many families at OLOL owe her a debt of gratitude for all she did and accomplished for the parish. She will be missed.
AL & MARIE QUIGG
December 24, 2021
Lou and Family–We were so sorry to learn of Ann's passing. She was a great lady and dedicated to the kids in the parish. Both of my children (Gerry Jr. and Kristy) remember her with fondness. Even though they were not always happy to be going to CCD, Ann would always warmly greet them and make them feel special. She made a real difference in our parish community. You should be very proud of her life well lived. Best wishes, Gerry Huesken
December 23, 2021
Uncle Lou, Christine and Elizabeth-
Steph and I are so sorry to hear of Aunt Ann's passing. She was a wonderful person who had a great care for others. Although it's been years since I've seen you and your family, I have fond memories of the times we spent together. I enjoyed joking around with Aunt Ann and seeing her smile and making her laugh – the same as I did with Grandma Yeager 😉. Although I will not be able to join you for the service tomorrow, you and your family are in my thoughts and prayers. God bless, Jonathan and Stephanie Polking
December 21, 2021
Walt and I, along with Suzanne and Greg were so saddened to hear of Ann's passing. Unfortunately, circumstances prevent us from attending the services for her but please know that all of you are in our thoughts and prayers in this difficult time. May you find peace in the strong family bonds that tie you together. With love, Diane and Walt Jablonski
December 21, 2021
Lou, we were so very sorry to read of Ann's passing. Our deepest sympathy to you and your family. You are all in our thoughts and prayers.
December 21, 2021
Lou and family. We are so sorry to hear about Ann. I am glad I was able to see her and Lou here at Moravian Manor a few years ago.
Sincerely,
John & Dixie Smith

December 21, 2021
Chris: I am sorry to see your mother's passing. It sounds like she was quite a lady, which might explain why you were such a trooper when we worked together at Armstong, doing an almost thankless job for years without a complaint and always great to be around. I am delighted, I have to say, to see that you have four kids. I hope you are as well as can be. Larry
December 21, 2021
My thougts and prayers are with you.
December 21, 2021
I'm so sorry about Ann's passing I was a waitress at new holland family and waited on Lou and Ann many times may peace be with you at this season
December 20, 2021
My sincerest sympathy to Lou, Christine, and Elizabeth on the passing of your beloved wife and mother. Ann was truly one of a kind! She was fiercely devoted to her family as well as her parish family at Our Lady of Lourdes. I feel blessed to have worked with her in the Religious Education program for over 17 years and grateful that we stayed in touch and continued our friendship after her retirement. Ann made an impact on so many people by her devotion and service to her church. I valued her friendship and will miss her very much. Rest in peace, Ann!
Visitation

Thursday, December 23, 2021
10:00 AM - 11:00 AM
Our Lady of Lourdes Catholic Church
150 Water St.
New Holland, PA 17557

Map and Directions

Services

Thursday, December 23, 2021
11:00 AM - 12:00 PM
Our Lady of Lourdes Catholic Church
150 Water St.
New Holland, PA 17557

Map and Directions