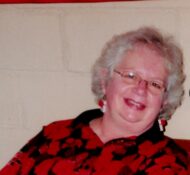 Ann E. Rote, 80
June 15, 2022
Ann E. Rote, of Willow Street, passed away peacefully at UPMC Lititz of natural causes on June 15, 2022 at the age of 80. She was born in Scranton, PA to the late Luther E. and Edna L. Neidermyer.
Ann helped run the family business, Richard P. Rote & Sons, and after the business merger in 2005, she continued working as a secretary at Hometown Provisions. She loved to cook, spend time with her family, and going on trips to the beach.
Along with her parents, Ann is preceded in death by her husband, Richard P. Rote.
Ann is survived by her children: Paul Rote (husband of Judy), Carol Eller (wife of Bobby) and Dan Rote (husband of Tammy); 2 grandchildren: Matt Krady and Mandy Dixon; and 3 great-grandchildren.
Services will be private.
In lieu of flowers or donations, Ann's family would prefer that in her honor you treat your family to dinner, homemade or at a restaurant, and enjoy the time with all of them. This was Ann's favorite thing!
Leave a condolence on this Memorial Page
Condolences to the Family
June 23, 2022
I am so sorry for your loss, my thoughts and prayers are with you and your family. She was a very kind and loving person.
Jamie Johnson
June 23, 2022
I am sad to read of Ann's passing. Friends since we met in 4th grade at Buehrle school, wehad many happy times together. unfortunately we life got in the way and I lost track of Ann and the family. I will do as you asked and keep my family close .
Barbara Kautz Schulter
June 22, 2022
So sorry for your loss. I was very sad to learn this news and am thinking of you all as you grieve your mom, mother in law and grandma. I enjoyed my years of working with Ann and how she cared for her family. Paul asking at work what was for Monday night dinner, or lunch, and the close relationship your family has is such a treasure! With fondness, Kristy
June 20, 2022
My condolences to her family. Ann was a jovial lady and I could see the joy in her eyes when she talked about cooking for her family. I enjoyed working with her for quite a few years. She will be missed.
Barry Mellinger
June 19, 2022
So sorry for your loss may she rest in peace. Frank Shuman
June 17, 2022
I will always remember her voice when I would call in my order! Even though I only saw her a few times in person, she was a very kind lady!
Prayers to the Rote family!
Jess Gutierrez
June 16, 2022
Ann would have loved the idea of people gathering around a dinner table in honor of her memory! My love and empathy to the entire family! God bless
Jody Herr