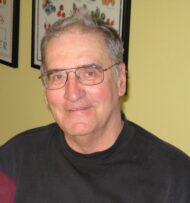 Andrew Michael Szymanski, 81
August 24, 2022
Andrew Michael Szymanski, (Andy), of Lititz, Pennsylvania passed away on August 24, 2022 at Landis Homes after a long illness.
Andy was born on March 8, 1941 in Cleveland, Ohio to Edmund and Ann (Oleksiak) Szymanski. He grew up on the East Side of Cleveland and attended Benedictine High School where he was in the Marching Band. He started working as a butcher at Blue Ribbon Meats and then A&P Grocery. He met the love of his life, Dolly (Smigrocky) Szymanski at A&P while she was working as the Eight O'Clock Coffee girl. Andy and Dolly were married on August 7, 1965 while Andy was stationed at Fort Belvoir, VA while serving in the US Army (1964-1966).
Andy is survived by his wife of 57 years, Dorothy (Dolly) Szymanski, his son Michael, daughter in law Emily, grandchildren Joseph and Kathryn and sister Marie Hersch. He was predeceased by his parents and his sister Carol.
Andy loved to fish since childhood, earning the nickname "Nature Boy" in his youth. He had many fishing buddies over the years including Dolly and he enjoyed fishing wherever he could go.
Andy worked for Hoyt Wire Cloth Company and was transferred to Lancaster, Pennsylvania in 1980. He started working for IDS-Ameriprise in 1987 until his retirement in 2009. He loved to meet people and help them achieve their dreams. Andy had many different job titles over the course of his life, just a few are: Canoe Builder, Fish Counter at Holtwood and Safe Harbor Dams, Riverboat Captain, Monorail Pilot, Train Engineer, Skyride Gondolier and Foodbank Christmas Tree Sale Yardmaster. He loved to make and break his own rules in pinochle. Andy will always be remembered for his amazing smoked Thanksgiving turkeys that he made for family and friends for many years, his very dry martinis and for the Silver dollar pancakes he made for his grandchildren.
We want to thank the amazing staff from the Oregon House at Landis Homes and the Hospice for All Seasons for their loving care for Andy and his family during his residence there.
In lieu of flowers, please consider sending a donation to the St. Vincent De Paul Consul at St. John Neuman Church, 601 East Delp Road, Lancaster, PA 17601.
Interment will be private.
A visitation will be held at 10:00 at St. John Neuman Catholic Church, 601 East Delp Road, Lancaster, PA 17601 and will be followed by a Mass of Christian Burial at 11:00 on Saturday August 27, 2020.
Leave a condolence on this Memorial Page
Condolences to the Family
August 31, 2022
So very sorry to hear about Andy's passing. We will always be grateful for the honest financial advice he gave us. May he live in your hearts and memories and the wonderful stories family and friends will share. Praying for peace.
Karen and Dan Heslink
August 28, 2022
I'm very sorry for your loss. I always enjoyed being around Andy from almost my first day at IDS/American Express Financial Advisors/Ameriprise Financial. I remember serving on the same jury in Lancaster. I will always remember and appreciate the fishing trips he included me on – from the Cape Cod trip during "the great blackout " in 2003 where we caught so many cod I was black and blue from reeling 'em in to the striper trip on the Chesapeake. He enjoyed fishing and I feel privileged to have joined him and Michael. I even remember seeing him at Dutch Wonderland after his retirement.
He was a kind man and liked to wisecrack. I know the last years were rough but I will remember the good ones and the good person he was. Peace to you all.
August 26, 2022
To Dolly and Family: Andy worked with me for several years at the Holtwood and Safe Harbor fish lifts and I enjoyed every minute he spent with me in the operator's room and the fish counting room. I was honored to be invited to your 50th Wedding Anniversary celebration and to share a meal with you and Andy after you settled into your new house in Lititz. My thoughts and prayers are with you now and I know Andy is now resting in God's love and peace. Sincerely, Ray Bleistine
August 26, 2022
I grew up on the east side of Cleveland and graduated from Benedictine HS in 1954. I am sorry I never met Andy. We are also members of St John Neumann Church.
RIP Andy.
August 26, 2022
Dolly, My sympathy to you and your family, my friend. And I am sorry for all you have been through as Andy and you went through the ravaging changes and finality of this awful disease. My heart is broken for you, and touched by your faithfulness and care through these years. May God bless you, may good memories live on, and peace be yours. Elaine Gibbel
August 25, 2022
Our thoughts and prayers are with Andy's family. Andy I will never forget working with you at Ameriprise you were a character and made us laugh often. Thank you for always telling my boss I could have a day off with pay! You will be greatly missed and my memories of you will make me smile. Bryan and Christy Schmalhofer
August 25, 2022
Dear Dolly and Mike,
Our sympathy and prayers for peace during this difficult time. Phil and I enjoyed seeing you all at Landis. I especially liked seeing Andy on Bingo Days and talking to Dolly about his understanding of her visits. May Andy Rest In Peace. God bless your family, Love, Peggy and Phil Gerhard
Visitation

Saturday, August 27, 2022
10:00 AM - 11:00 AM
St. John Neuman Catholic Church
601 East Delp Road
Lancaster, PA 17601

Map and Directions

Services

Saturday, August 27, 2022
11:00 AM - 12:00 PM
St. John Neuman Catholic Church
601 East Delp Road
Lancaster, PA 17601

Map and Directions