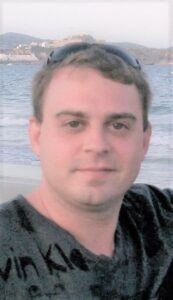 Andrew L. "Drew" Perry, 40
September 24, 2021
Andrew L. "Drew" Perry, 40, of Landisville, passed away after a brief illness on September 24, 2021. Born in Baltimore, MD he was the son of Denise and James Maloney of Florida and the late James Perry.
Drew received his diploma from Warwick High School and his HVAC training from Lancaster Vo-Tech.
Drew will be remembered as being very genuine and kind hearted. He did whatever he could to help others and expected nothing in return. He was a great friend who was loved by all who knew him. In addition to his HVAC work, Drew used his natural artistic talents to make unique crafts in his home workshop and doing home renovation projects. In his free time, he could be found snowboarding, camping, riding his motorcycle and spending time with his beloved rescue dog, Maya.
He will be sorely missed by his parents Denise & James Maloney; a sister, Lauren Perry of Puyallup, WA; a brother, Brett Maloney, husband of Alli of London; aunts and uncles: Theresa Geis, Betty Hemphill and Gerald Perry all of Maryland, and countless friends.
The outpouring of love, sharing of memories and well wishes the family has received during this most difficult time is appreciated. The family realizes that a service is an important part of the grieving process. However, we live in a different time and the fact of the matter is that Drew was taken from us by a disease that is very much prevalent, and continues to extract its toll and leave its mark on families, like ours, each and every day. Therefore, we have made the decision to forgo having a large service for Drew, as one of the only ways this grief could possibly get worse is if we were to be responsible for another family having to go through this themselves. There will be a small memorial gathering at some time in the not-too-distant future. In lieu of flowers please consider making a memorial contribution in Drew's name to the Humane League of Lancaster
Leave a condolence on this Memorial Page
Condolences to the Family
October 09, 2021
Denise, I am so saddened for you and your family. I pray that the memories you hold will eventually ease the pain of your loss. Our children are just not supposed to leave this Earth before their parents.
October 08, 2021
Denise and Jim, we are at such a loss for any words of comfort to you. Heaven gained a very handsome angel when Drew arrived. He is in God's hands now and ready for the next chapter of his life. When I see you in person, I will give you a huge hug. Until then, hang in there.

Love, Kelly & Tom
October 06, 2021
Denise and Jim,
So very sorry to hear of the loss of your son. It's been many years but I recall swapping fun stories of Andrew and all of our kids at work. Praying that God will grant you comfort during this time and many treasured memories.
Mary Jane O'Connor Hess
October 06, 2021
Denise, Jim, Lauren, Brett & Alli–I have been writing and rewriting what I could say to bring comfort to my family for the loss of my beloved nephew Drew. My heart is so heavy and I still cannot accept that I will never get anymore big hugs from him. I treasure the time he and I would spend a week together annually for several years. He would talk about his day at work and regale me with stories of events in his life. He kept me laughing with his raw humor. Drew loved to cook and was great at it. He made me dinners a few times during our week together. I will miss his phone calls he would make to me while he was walking his dog, Maya. This loss is so heartbreaking for all of us. Drew will always be remembered for his generosity, loving ways and fun to be around. Our God is with us and Drew.
Theresa Geis
October 06, 2021
Denise & Jim: The brokenness of my heart cannot be compared to your mourning with the loss of Andew. I would have hoped that we could have turned this situation around. Andrew is in the palm of the Lord's hand. Eventhough I didn't get to see my nephew very much, when he came to the garden center it was as if there was no time loss and to hear him address me as Aunt Betty warmed my heart. Love you
Bettyann Hemphill
October 05, 2021
Dearest Denise, Jim & family …. Our deepest condolences for this terrible loss to your family. With Drew passing away at such a young age and so suddenly, one can only shed tears of sorrow for what you must be feeling. Please know we are here for you & share your grief. Warm hugs….
Sally & Michael Moss
October 05, 2021
Jim and Denise, with deepest sympathy for your tragic loss. May the love and family and friends help you through this difficult time, and may God bless you and your family. Steve & Delia
October 05, 2021
Denise & Jim, Lin & I send our deepest sympathies on this tragic loss. Although not under the same circumstances, we know what it's like to lose a son. We never ever imagine outliving our children. Our hearts go out to you. Pete & Linda Hoyt
October 05, 2021
Denise, Jim and family – I am so sorry to hear this news. May you be comforted by the memories you hold.
Darice (Kreider) Grove
October 04, 2021
Denise and Jim – What a beautiful tribute to your son. I am so sorry for your loss. My thoughts are with you both and your family. Barb Hageman
October 04, 2021
Denise and Jim, my deepest sympathy goes out to you. I can't imagine the heartbreak you both are experiencing. My prayers go out to you in hopes it brings some comfort. Love, Leslie
October 04, 2021
Denise and Jim- Mark and I are so very sorry for your loss. No words can make you feel better but our thoughts and prayers are with ou. Mark & Pat Jilek
October 04, 2021
It was with incredible sadness that we recently learned of Andrew's passing. He was a very close friend of our son Tom for some 30 years. Drew was one of the kids we got to see grow up along with our son and he spent much time in our home in his youth and as a young man. He was always polite, engaging and fun to be around. Drew was always welcome in our home and during his youthful years, he was very much like a member of our family. So much so that he frequently called me "dad". It's the most terrible thing to lose a son no matter his age. To the entire family, and especially to Brett, we share in your grief and can only hope that the memories of the good times with Andrew will ease your grief and bring you comfort and peace.
Brent and Maryann Richmond
October 04, 2021
Thank you for his beautifully written obituary. May you find peace even in your sorrow.
Beth Gerlach
October 04, 2021
This world will never be the same without the light of Andrew Perry, he was an amazing soul that loved with all his heart. Until we meet again, brother ❤️
Chris and Lisa Blanshine
October 03, 2021
So sorr for your loss, this must be a very difficult time for you, Jim, & family. Love & prayers to all of you
Skip & Dawn Genco
October 03, 2021
Dear Denise & Jim, We send our deepest condolences and sympathies at this very difficult time. Please know that you're in our thoughts and prayers daily & we hope to see you soon upon your return. Much Love, Wendy & Shawn
October 03, 2021
So sorry for your loss Andrew's mailman
Frank Russo
October 03, 2021
Condolences to your family & friends ..You were truly someone special to many & always will be..see you soon "Perry" 🤍🕊
Ismael Dejesus-Maldonado
October 03, 2021
Dear Denise and Lauren, although we have not been in touch since you lived in Ephrata (30 years ago?), I remember you and your children as a bright light in our home, your home, and at school and at Salem. I remember Andrew as a sweet , kind little boy, that I wanted in our lives. Lauren was a good friend to Emily . Hope you are doing as well can be expected. Time and life have separated us, but I remember you with affection Mary Leader
October 02, 2021
Denise, Jim, Lauren and Brett. I am so sorry to hear of your loss of Andrew. He was entirely to young to be taken by such a terrible disease. My thoughts and prayers arewith you as you try to navigate thru your grief. He will always be in your heart❤️ Cynthia Stadel