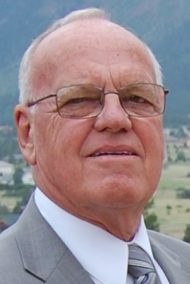 Andrew (Andy) C. Albright, Sr., 87
August 19, 2020
Andrew (Andy) C. Albright, Sr., 87, of Lancaster, PA, passed away on Wednesday, August 19, 2020 at his home surrounded by his loving family. Born May 22, 1933 in Maytown, PA, Andy was the son of the late Leroy R. Albright Sr. and the late Mary Jane (Smith) Albright. Andy married Jean D. Hilbert on July 30, 1955 and they went on to celebrate 50 years of marriage until her passing in 2005.
A proud United States Army Veteran, Andy honorably served in the Korean War as a Private First Class. He was a longtime employee of Flexsteel Industries where he served as the supervisor of plant maintenance for over 27 years and retired in 1998.
Andy found joy in woodworking and kept busy around his home with many projects through the years. He had a talent for building and fixing anything and was always the first to offer help to family and friends when something was broken or there was a project to be done. Most notably, Andy was a fierce competitor who loved a friendly rivalry. His favorite pastime was playing cards games, yard games like corn hole, and board games. His family and friends will forever cherish his friendly banter and the hours spent competing for bragging rights. Above all else, Andy cherished his family and will be greatly missed by many.
To cherish his memory, Andy leaves his son Andrew C. (Skip) Albright, Jr. husband of Barbara, daughter, Debra A. Lafferty, and her husband Randolph, Thomas E. Albright and his wife Catherine; and Shari L. Wolfe, wife of Eric; two brothers: Barry L. Albright and his wife Susan and Jack F. Albright and his wife Linda; and a sister: Beverly Albright. In addition, he leaves behind his dear companion and travel partner, Ellen, with whom he shared the last 5 years of his life. Finally, he will be greatly missed by his many grandchildren and great-grandchildren. He was immensely proud and supportive of each of them.
In addition to his wife, Andy is preceded in death by a daughter: Angela Wittlinger as well as several brothers and sisters.
A Memorial Service to honor Andy's life will be held at the convenience of the family at a later date. Inurnment will take place at St. Josephs New Catholic Cemetery.
In lieu of flowers, donations may be made in Andy's memory to Hospice and Community Care at 685 Good Dr., Lancaster, PA 17604.
Leave a condolence on this Memorial Page
Condolences to the Family
December 08, 2020
I just learned, today, 12/8/20, that Uncle Andy died. No one notified me that he was even sick. I am so sorry to hear. He was a wonderful Uncle and I loved him very much. Anyone who knew him couldn't help but like him. He was a sweetheart. I am sad for my cousins whom I know he loved very much. He is with Aunt Jean now so I know he is happy. He loved her so very much.
Bonnie Covey
August 28, 2020
My sincere condolences to Tom, Cathy, and Andy's entire family. I'm glad to have had the pleasure of knowing this fine gentleman.
Wayne Heim
August 27, 2020
We send our condolences to the Albright family. Andy was a very special person. The "friendly banter" at the card table is something I will definitely miss! He was so much fun to be around. Rest In Peace Andy…
Tim and Sue Roehm
August 26, 2020
Our thoughts and prayers go out to the Albright family, especially our good friend Tom. Rest in peace Andy.
Vince & Deanna Fischer
August 24, 2020
I enjoyed the lunches that U Ellen and I had together It really meant a lot to me.I will miss talking to u Rest In Peace Brother
Bev Albright & Family