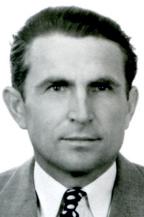 András "Andy" Toth, 95
András "Andy" Toth, 95, of Lancaster, PA, and formerly of Cleveland, OH, was escorted through the gates of Heaven on Thursday, November 24, 2011, at Lancaster Hospice Center. He was born in Kisvárda, Hungary to the late András and Borbála Toth.
Andy is survived by his wife, Theresia, with whom 62nd wedding anniversary was celebrated on November 26.
He and Theresia immigrated to the USA in 1951 after working for the US Army in post-war Germany following service with the Hungarian Army during WWII. He proudly served his country and was proud to be an American.
He retired from the Ford Motor Company, Cleveland, OH, after 29 years.
He enjoyed hiking, gardening, home upgrades, ballroom dancing, family vacations, bird-watching, playing bocce ball, and listening to classical and Hungarian music. He sacrificed many of his personal interests in favor of his family. Andy is remembered most of all for his humor, his zest for life, for being a devoted and loving husband, father, grandfather and great-grandfather.
Surviving in addition to his wife of 62 years, he will be lovingly missed by daughter, Teri Sclafani with son-in law Dr. Alan Sclafani DPM of Lancaster, and son, John, of Reno, NV.
Affectionately known as "Nagypapa," Andy is also survived by three grandsons whom he loved very much: Daniel, David and Adam. He also has a granddaughter Mandi by marriage to David, and a great-grandson Andrew born in September. Several nieces and nephews live in Hungary and around the world. He was predeceased by brothers Joseph and Mihaly, and sisters Erzsebet and Ilonka.
The family thanks the Patient and family Care staff of Hospice of Lancaster County for becoming part of our family with the kind and compassionate care during the last week of Andy's life.
Memorial Service will be celebrated on Saturday, February 4, 2012, at 11am in Ephrata Community Church, 70 Clay School Road, Ephrata, PA 17522 Tel (717) 733-4071. Friends will be received by his family following the service. A Mass in Andy's name will be celebrated February 5, 2012, at St. John Neumann Catholic Church, 601 E. Delp Rd., Lancaster, PA 17601. There are no funeral services as Andy chose cremation.
In lieu of flowers, memorial contributions to Hospice of Lancaster County, PO Box 4125, Lancaster, PA 17604-4125 ( www.HospiceOfLancaster) in András's memory are deeply appreciated. To send an online condolence to the family, please visit SnyderFuneralHome.com. Charles F. Snyder Jr Funeral Home & Crematory 560-5100.
Leave a condolence on this Memorial Page
So sorry for your loss, Teri. My sympathy, heart, and prayers go out to you, your mom, and the family. Your father was a handsome gentleman, inside and out.
Love~
Amy