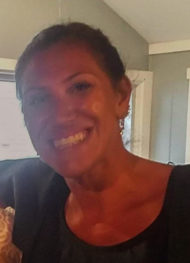 Amanda N. Waber, 34
Amanda N. Waber, 34, passed away on Monday, March 4, 2019. She was the daughter of Jack and JoAnne (Rizzo) Waber of West Grove.
She graduated from West Chester University with a Bachelor of Arts degree in Theatre. Amanda built a career as a Social Worker helping adults and teen boys through difficult times. She also served countless patrons at restaurants around Chester County.
Her love of the Eagles was boundless, finding pure joy in their Super Bowl win. She had a love of animals, with an affinity for cats that meant she never met one she didn't want to take home. Amanda was a caring and empathetic soul, often finding an outlet through poetry. Her desire to help meant she would give her last cent to others she felt were in greater need than she.
In addition to her parents, she is survived by a sister, Ann married to John Pak of West Chester and two brothers, Joshua married to Meghan Waber of Kennett Square and Christopher married to Susie Waber of Churchville, MD, and four nieces and nephews.
A Celebration of Amanda's Life will be held on Friday, March 8, 2019 at 11:00 AM in the Bachman Funeral Home, 7 South Decatur Street, Strasburg, PA. The family will receive friends from 10 until 11:00 AM. Interment is private.
In lieu of flowers, donations in her memory may be made to Lamancha Animal Rescue, 855 Doe Run Rd, Coatesville, PA 19320 or New Bolton Center, 382 W Street Rd, Kennett Square, PA 19348.
Leave a condolence on this Memorial Page
Condolences to the Family
March 08, 2019
Amanda a family friend since she was an infant, even then she was smiling and laughing. Her smile was grand just like her heart. We are truly blessed to know.
Rest in peace Amanda
sharon neumann haskins
March 08, 2019
Amanda was a life long friend whom I had the pleasure of working with, partying with, living with and spending lots of time with. She was a beautiful soul she will be sadly missed. May she forever R.I.P. It was truly a pleasure knowing her and being a part of her life.
Robert Aquilante
March 07, 2019
Amanda was a long time friend with whom I shared a LOT of laughs and good times over many years. I have many fond memories of our times together she was a really good person she was very very generous she is the type of person who would do anything for u and not think twice about it. She touched the hearts of many people and left footprints on there soul. I am so blessed to have known her? Reast easy my friend in tell we meet again.
Anita Rudolph
March 06, 2019
Amanda was a sweet child of God. I was fortunate to have known her and I will miss her beautiful smile and cheerfulness. Rest In Peace dear Amanda.
April Corvasce