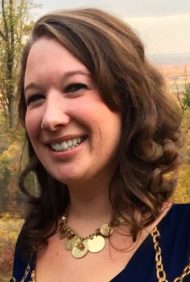 Alycia (Gorlaski) Andros
September 28, 2019
Alycia (Gorlaski) Andros entered into heaven amidst a spectacular lightening show on Saturday, September 28, 2019. She fought an 18-month battle against cancer with grace, class and heart, entering into rest with her husband holding her hand.
Born in Lancaster, Alycia was the daughter of Joseph M. and Joan (Long) Gorlaski.
Alycia married her soulmate, Nathan Andros, on October 7, 2017. They created countless memories together as they renovated and decorated their home, entertained their many friends and hiked wine trails.
Alycia earned her bachelor's degree at St. Francis University and her master's at IUP, becoming a nationally certified school psychologist. She was passionate about her job as a school psychologist at Garden Spot High School. During her illness, she frequently mentioned her desire to return to work in order to help her students. Alycia also enjoyed her time mentoring young teens through her involvement with Girls on the Run. Her caring spirit touched many youth in the county.
Alycia lived life to its fullest and always cherished her family, faith and friends.
In addition to her husband Nate and her parents, Alycia is survived by brothers: Matthew Gorlaski, Charlotte, NC and Justin Gorlaski, Oahu, Hawaii and grandmother, Kathleen Gorlaski, Lancaster, PA.
She was preceded in death by Maternal Grandparents Gerald and Verna Long and Paternal Grandfather Joseph Gorlaski, Uncle Richard Long and Cousin Catherine Lowe.
Friends will be received from 6-8 PM on Friday, October 4, 2019 at Charles F. Snyder, Jr. Funeral Home and Crematory, 3110 Lititz Pike, Lititz. A Mass of Christian Burial will be held at 11AM on Saturday, October 5, 2019 at St. James Catholic Church, 505 Woodcrest Ave. Lititz. Friends and family will be received at the church from 10AM until the time of service. Alycia will be laid to rest at Witness Park in Lititz, PA.
In lieu of flowers, contributions can be made to Girls on the Run (gotrlancaster.org) or CrossNet Ministries (elancocross.org).
Leave a condolence on this Memorial Page
Condolences to the Family
October 12, 2019
Dear Joan & Joe & family – I was shocked and so saddened to learn about Alycia's death. I only found out now (mid-October) and wish I had had a chance to hug & cry with you. My heart is breaking and I'm so so sorry for your loss. ❤️ Mary Gildea & Chuck Weyland
October 12, 2019
Gorlaski and Andros families,
We just found out about your heartbreaking loss of Alycia. Cherish all the precious memories and continue to live your lives in a way that would make her proud. You have our deepest condolences.
October 06, 2019
To the family of Alycia: Alycia was a student in my English class at Lancaster Catholic High School. I remember Alycia as always smiling, kind-hearted, and loving to everyone she met. She was always a bright light to my day. I pray for you at this time and I wish you only peace. I am so very sorry for your deep loss. My sincere condolences, Rachel Brumbach (formerly Gainer)
October 04, 2019
Those smiling eyes lit up a room everywhere Alycia went. I am honored to have known her even for the few years I could be her Aunt Dice. Such a beautiful person inside and out and her light will continue in all of us who had the honor to know and love her. We will miss you Alycia, but are so fortunate to have you watching over us with that beautiful soul…you are truly an angel💙
Aunt Dice
October 04, 2019
Dear Joan, Joe and the rest of your family,
My heart is broken over the loss of your beautiful, Alycia. You are in my thoughts and prayers. With our deepest sympathy, Diane and Eric
October 04, 2019
I did not have the pleasure to meet Alycia but I'm a friend of Carol Long. Alycia's journey touched my heart and I prayed for her in the mornings during my quiet time. What a beautiful, strong, brave and talented woman. Displaying Gods handiwork at best! Jean Bryan❤️🙏
October 03, 2019
Our family is so sorry for your loss. We met Alycia in 2011 in Maryland at a Long/Novajosky summer gathering, and in subsequent summer reunions in 2013 and 2015. In those few short visits, it was obvious to us how sweet and caring a person she was. We know her absence will leave a void for all of you. We won't be able to come this weekend to celebrate her life, but please know you will all be in our thoughts and prayers.
October 03, 2019
Joe, we don't know your wife, but our hearts ache for you both, and for Alycia's husband Nathan, and for all your family and all her friends who must have loved this beautiful and very precious girl. We are so very very sorry that you have to part with her. We wish we would have known her. She sounds just so special. It is obvious to look at her that she filled many hearts with joy in the short time she was with you. May God bless you and give you His peace as you struggle through your loss. With our love and sympathy, Jean and Ed Howell
October 03, 2019
We will always remember the support and kindness that she offered our son at school. May she rest in peace.
The Castillos
October 02, 2019
Oh Dear Joan and Joe, my heart feels for you, family and friends who knew Alycia. My deepest condolences and sympathies. May God comfort you and yours. In time Memories will become Treasures. Blessings, Denny Hines
October 02, 2019
Joe, Joan and family,
So sorry for your loss. Our sincere condolences.
Teressa Musser-Beard
October 02, 2019
Alycia will be forever missed by her Aunt Ruth and Uncle Tim.
October 02, 2019
The Gorlaski's and Andros Family,
I am saddened to hear of Alycia's death. My thoughts and prayers are with you and your family. I remember the memories I had with Alycia at school. It will never be forgotten. She was a wonderful woman and will be deeply missed.
Love,
Cristina Lancellotti Andrews
October 02, 2019
Our Dear Alycia,
We will forever miss your smile, your love for others and your zest for life. You met Nate, the love of your life and your time with him was way too short. We are thankful that you are no longer suffering and that you are in Heaven with God, His saints and angels and all of our family members who were there to greet you. However, ther will always be a void in our lives without you here and we look forward to the day when we can see you again. Give Cathy a big kiss and hug for us. Love, Aunt Linda & Uncle Bob



October 02, 2019
I am holding Alycia and her family in my heart during this time of transition and great loss. She was a beloved childhood friend and I will always remember her kindness and genuine sweet nature. Thank you for being a light in this world to me and to other children through your work. I know that you dwell with God in heaven.
Katelyn Foust
October 02, 2019
Joan, Joe, Justin, Matt, Carol, Linda, Bob and all of the Long and Gorlaski family, thinking of you and praying for each of you as you grieve the loss of such a precious daughter, sister, and niece. We love your family and pray for the Holy Spirit to grant you peace.
With much love,
Susan and Mark Davis
October 02, 2019
Nathan, there are no words I can say to ease your pain and it breaks my heart that this has happened to you and Alycia. As we believe in God, we know she is with him and in peace, and will always be with you, and as I get signs from uncle Doug, you will gets signs from her. I will be making a donation to one of the charities she loved. Love, Aunt Sandi
October 02, 2019
My deepest sympathy to Husband and family. My prayers and thoughts are with each and everyone as you go thru this lose!
Brian Immel
October 02, 2019
Our hearts are broken at the news of Alycia's passing. Love and prayers to your family at this unbearably difficult time. She was a true light in this world, and she will be greatly missed.
Love, Linda & Cal Cameron (Chris Cameron's parents)
Visitation

Friday, October 04, 2019
6:00 PM - 8:00 PM
Charles F. Snyder Funeral Home & Crematory
3110 Lititz Pike
Lititz, PA 17543

Map and Directions

Visitation

Saturday, October 05, 2019
10:00 AM - 11:00 AM
St. James Catholic Church
505 Woodcrest Ave.
Lititz, PA

Map and Directions

Services

Saturday, October 05, 2019
11:00 AM
St. James Catholic Church
505 Woodcrest Ave.
Lititz, PA

Map and Directions