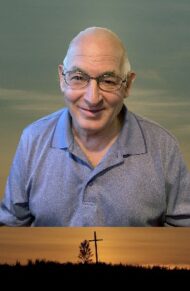 Alvin Weaver Nolt, 71
March 10, 2023
Alvin Weaver Nolt, 71, of Quarryville returned to the arms of the Lord, March 10, 2023. He was born to the late Ivan and Lydia (Weaver) Nolt in Reamstown, PA. He retired in 2017 from the United States Postal Service, where he was a mail carrier for 20 years. He also spent some of his career with Victor Weaver and Goods Furniture.
Alvin was a simple man who was quick to make a joke or entice a laugh from those around him. He was a hard worker and dedicated to any project, task or chore he picked up. Alvin often brought a smile to his beloved wife Fran and children's faces with his good nature and quirky personality. He loved spending time with his family, especially with his grandchildren. The Lord built Alvin's home and he was devout in his faith. It could also be said that Alvin was very pragmatic, and he took a common-sense approach to teaching his children the necessary skills they would need to succeed in life. In his leisure time Alvin enjoyed hunting deer. He was quite fond of animals and his dogs.
Alvin is survived by his wife of 52 years Frances Nolt; his children Denise Clements wife of Ted, Alvin L. Nolt husband of Bobbi Jo, Hope Nolt, and Holly Gonsalves wife of Andre; his grandchildren Randi Kelley wife of Bryan, Torri Nolt, Carson Nolt, Tyler Williams, Gabby Williams, Hunter Williams, Trenton Clements husband of Keriann, DeAndre Gonsalves, Arionna Gonsalves, Zahera Gonsalves, Xavier Gonsalves; and his great grandchildren Landon, Luke, Milo and Oscar; his siblings Ivan Nolt Jr, Rose Esch, Lois Esch, and Darlene Varner; and many nieces and nephews. Along with his parents he is preceded by his sister Evelyn Nolt.
A funeral service will take place Friday March 17, 2023, at Petra Church, 565 Airport Rd, New Holland, PA, at 1PM. Family invites guests to a viewing prior to service beginning at 11AM and concluding at 12:30PM. In lieu of flowers a memorial donation may be made in Alvin's name to The Student Life Fund at https://petra.church/ or by mail to 565 Airport Rd, New Holland, PA 17557.
Watch the tribute video
Leave a condolence on this Memorial Page
Condolences to the Family
March 18, 2023
Fran. Sorry to be read about the passing of Alvin. You two were always so nice to me when we had Union meetings. I always appreciated how pleasant you both were no matter how stupid or crazy life might have been at the PO.
March 15, 2023
We are very sorry for your loss. We are praying for the families for healing and comfort.
March 15, 2023
My Father and I are Praying for the Family in your time of reflection…Lean not onto your own understanding but look towards God…
March 14, 2023
Alvin is at peace in his forever home! We want to express our heartfelt sympathy to you, Fran, and to your family! May you experience God's comfort and ever-near presence in the next days. Ted and Nancy Riker
March 14, 2023
Gary: So sorry for the loss of Alvin. His peace has finally come. I remember him as a guy who was quick with a joke and wanted people around him to laugh. I enjoyed my time deer hunting with him and bear hunting at Stony Fork. He is now walking the streets of gold…
Darlene: I have the fondest memories of Alvin feeding his calf, holding his bunnies and guinea pigs in Reamstown. I also remember the great fun riding in his green Chevy II. He was always lots of fun to be around.
March 14, 2023
Ray and I are so very sorry for your loss thoughts are prayers to Fran and the family
March 14, 2023
What can I say. Prayers are with the family. He was a kind and generous man and I loved deer hunting with him , He will be missed tremendously and loved by many

Visitation

Friday, March 17, 2023
11:00 AM - 12:30 PM
Petra Church
565 Airport Rd
New Holland, PA

Map and Directions

Services

Friday, March 17, 2023
1:00 PM
Petra Church
565 Airport Rd
New Holland, PA

Map and Directions