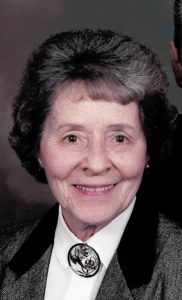 Alma Pike Duncan, 103
July 03, 1917 - January 01, 2021
Alma Pike Duncan, 103, passed away at the Mennonite Home on Friday, January 1, 2021. She was born on July 3, 1917 in Franklin County, PA to the late James F. Pike and Emma Florence Zimmerman Pike. Her husband, Dr. William H. Duncan, former president of Millersville State College, died in 2013. They shared 69 wonderful years together.
Alma knew the value of a smile and the value of education, and found enduring friendships and purpose in every phase of her life. Her greatest joys were her husband and children and she delighted in her grandchildren and great-grandsons—the bonus she said of a long life.
Rising Sun Elementary School, one room with grades one through eight, paved Alma's way both academically and socially. She graduated from Greencastle High School and Shippensburg State Teachers College with a degree in Elementary Education. Alma returned to the one room schoolhouse, this time for six years as the teacher. She did graduate work at Duke University and Penn State.
Recognizing her love of teaching younger children, Alma accepted a first grade position in Maytown, PA where she met fellow teacher William Duncan. A friendship developed, WWII and the draft interrupted, and through letters their romance blossomed. Such were the war years. Alma and Bill wed on Nov. 23, 1943, in the Maytown home of dear friends, the Hiestands. Then it was back to teaching, back to the base, and two more years of letter writing.
In 1946, Bill accepted a position with Millersville State Teachers College, his alma mater. Alma found in Millersville the community that would last her lifetime. Alma welcomed her role as faculty wife and mother of three. When her children were older, she returned to teaching, this time kindergarten. If Alma was ever your teacher, know that she loved you in her class. As Bill's positions at Millersville evolved, so did Alma's. She felt privileged to serve as First Lady of Millersville State College from 1968-1981.
Alma loved to sing and to dance and she loved people, especially children. She enjoyed crafts groups, bridge, book club, the beach, Elderhostels, and travel with family. A longtime member of Millersville's Grace Church, Alma's favorite positions were singing in the choir and teaching the Jr. High Girls Sunday School Class. She found friendship and motivation in the Iris club, the Cliosophic Society, and especially Millersville's Campus Club. Volunteer organizations included Meals on Wheels, The Adult Reading Program, and Lancaster General Hospital Gift Shop.
Family, faith and friends have been the strength and the joy in Alma's century plus of living. This angel has earned her wings.
Alma is survived by daughters: Vicky A. Dippold, wife of the late Tom Dippold, of Danville, PA, and Leni D. Kerekgyarto, wife of Peter J. Kerekgyarto, of Lancaster; grandchildren: Eva M. Telesco, wife of Jon Telesco, Rachel A. Kirkham, wife of Brad Kirkham, Peter D. Kerekgyarto, husband of Annie Schwartz Kerekgyarto, and step-grandson Sean Dippold, husband of Kathy Hunt; three great-grandsons: Pike J. Telesco, Colton P. Kerekgyarto, and Tyler J. Kerekgyarto.
In addition to her parents and husband, Alma was preceded in death by her son, William H. Duncan, Jr. Also preceding Alma in death were her siblings: Mary Divelbiss, Martha Garner, Esther Veley, Pauline Pike (infant), John Pershing Pike, and Hulda Stine Maloy.
The family wishes to thank the Mennonite Home Reed Run Unit for the affection and expert care provided to Alma.
Private graveside services will be held at the Millersville Mennonite Cemetery.
Please omit flowers, and kindly consider a contribution in Alma's memory to Schreiber Center for Pediatric Development, 625 Community Way, Lancaster, PA17603 or to The Cottage Ministries, Millersville Community Church, 163 West Frederick Street, Millersville, PA 17551.
Leave a condolence on this Memorial Page
Condolences to the Family
March 03, 2021
Just found out of your passing Alma you will be missed. How i enjoyed our talks about ur family when i cared for you. As we sat in your closed in deck and watched the birds and the squirrels eat out of the bird feeder. Condolence to the family.
Cindy Montanez
January 17, 2021
Dear Duncan Family: Prayers of peace and comfort for you as you celebrate Alma's life. I met her when my husband and I moved to Millersville in 1983 and I worked with her in Campus Club. She and Dr. Duncan were wonderful Christians and I appreciated the opportunity to know them both. Sincerely, Marilyn Beardslee
January 12, 2021
Hello Duncans,
A life well lived! Your mother did so many things and touched many.
We will always remember her from the Millersville days and our families as part of the faculty.
Now the bridge club in heaven will have the fourth they've been waiting for.
Our sincere condolences,
Molly and Alex Henderson
January 11, 2021
Mrs. Duncan was a beloved member of the Lancaster Iris Club since 1970. She was a shining light of kindness and inspiration to her many friends here. She and her husband will be remembered fondly for their contaigous drive to learn and grow.
The Iris Club
January 11, 2021
Mrs. Duncan will be missed by many. She impacted so many lives. In the obituary you talked about her teaching kindergarden, and how, "If Alma was your teacher, know that she loved you in her class". I was in her class in the fall of 1966. You are right. I knew! I still feel that! Later, she and Bill were on my newspaper route. I knew Alma and Bill then for many, many years through community and church. She always greeted me warmly and with great kindness. She and Bill were amazing people, and will be missed! The world is a better place because they were in it!
With fond memories,
Matt
January 11, 2021
Leni, Peter and Family,
Thinking of you as you celebrate your mother's incredible life. You are in my thoughts and prayers.
Becky Brown
January 10, 2021
Mrs Duncan was one of the most influential people in my life. Her Sunday School classes steered me to my career. Her kindness too was ever present. Happy to have grown up with this family in my life. Diane Dombach