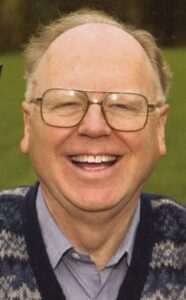 Allen L. Morehead, 86
February 21, 2023
Allen L. Morehead, 86, of Garden Spot Village, New Holland, passed away on Tuesday, February 21, 2023. Born March 12, 1936 in St. Paul, MN, he was the son of the late Laurel Allen and Mabel (Stordahl) Morehead. Allen was the loving husband of Barbara Ruth (Beisswenger) Morehead, celebrating 62 years of marriage last August.
Allen received a master's degree in electrical engineering from the University of Minnesota and began working for RCA in Lancaster in 1961. A devout follower of Christ, he was a longstanding member of Mt. Calvary Evangelical Lutheran Church, teaching Sunday School, serving as Youth Leader, Church Council, Congregation President and Elder for most of his life. Active in the community, Allen was a proud supporter of the Fulton Theater and served as President of the Optimist Club in Lancaster, where he and Ruth provided service and scholarship opportunities for many in the community. He led his life by example as a mentor to all.
In 1972, Allen went into business with longtime friend Charles (Charlie) McCourt at Ace Rents in Lancaster, which he helped to expand into several stores in the region. A member of the American Rental Association, Allen served as the Regional Director, two terms as the National President, Chairman of the Board, and the Council of Presidents. He was inducted into the National Rental Hall of Fame in 2015.
Along with his wife, Ruth, Allen is survived by three sons: David L. Morehead and his wife Marcy of Lancaster, Christopher F. Morehead and his wife Jerusha of Enterprise, AL, and Michael A. Morehead and his wife Deborah of Pleasant Hill, CA. Also surviving are six grandchildren and five great-grandchildren.
Our family is grateful for all who have touched and enriched the lives of Allen and Ruth. We would like especially to thank our extended families, Charlie and Julia McCourt, and Ron and Nancy Marshall, fellow church members and business partners, for their lifelong support, love and friendship to Allen, Ruth and their family.
Services will be held at 11 AM on Saturday, April 1, 2023, at Mt. Calvary Lutheran Church, 308 Petersburg Road, Lititz, PA 17543, officiated by Reverend Christopher Seifferlein. The family will receive guests beginning at 10 AM. Interment will follow in the Church's Memorial Garden. Services will be livestreamed and can be viewed on this obituary page, where a link will appear approximately 15 minutes prior to the service time. In lieu of flowers, the family encourages contributions in Allen's memory be made to the Mt. Calvary Lutheran Church Memorial Fund at the above address.
Leave a condolence on this Memorial Page
Condolences to the Family
March 29, 2023
Our condolences to the Moorehead family. When we moved to Lancaster and joined Mt Calvary, Dad n I joined the choir. Allen welcomed us and it was always a pleasure to listen to Allen tell stories. We pray for comfort for the family at this most difficult time. Rich, Rick, Barb n Shaun Meier
March 21, 2023
Ruth, sorry to read of your loss of Allen. He was a great neighbor, fellow Mt Calvary member and friend of the Warren family for many years. Hope you and the family are okay.
Jack Warren
March 18, 2023
Dear Ruth, David, Michael, and Chris,
more by chance I got to know about the passing away of Allen. I always remember the days I had the great opportunity of staying with all of you in the year 1968; and I still appreciate the frienly, humorous, and gentle manner of Allen. The way he lived ensures me that he will be somehow a prime member in heaven.
All the very best to all you. Ludwig
March 05, 2023
Ruth, David, Christopher, Michael and Family:I express my sympathy to you at the loss of your husband and your father. He was a face of Mount Calvary for many years, on Clay Street and Petersburg Road. I'm sure he will be missed. I hope your memories will help you through this time. Ken Barton
March 03, 2023
Our condolences to the Morehead family. We feel privileged that our paths crossed while we attended Mount Calvary. Our favorite memory is his portrayal as Martin Luther. He taught us all so much about living the faith in Jesus Christ. George and Christine McFarlane
February 28, 2023
My condolences to the Morehead Family. Allen was my youth advisor as a teen and my advisor and mentor during my adult years. I spent many hours with Allen learning about the rental business and how to live a life of faith. Allen had a great faith in God and taught me how to trust in Him. Allen is in heaven singing with the heavenly hosts. He will never be forgotten. Love you, Allen
Nancy Marshall
Visitation

Saturday, April 01, 2023
10:00 AM - 11:00 AM
Mt. Calvary Lutheran Church
308 Petersburg Road
Lititz, PA 17543

Map and Directions

Services

Saturday, April 01, 2023
11:00 AM
Mt. Calvary Lutheran Church
308 Petersburg Road
Lititz, PA 17543

Map and Directions