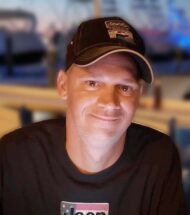 Allen "Andy" A. Perez, 47
October 02, 2021
Allen "Andy" A. Perez, 47, of Lancaster, PA passed away on Saturday, October 2, 2021 at Lancaster General Hospital surrounded by his loving family. Born in Lancaster, PA he was the son of Julio Alberto Perez, Sr. and Lorraine (Drake) Florian.
Andy enjoyed spending time at Ocean City, MD. He enjoyed riding his jeep on the beach at Assateague Island. He was a member of Outlaw Jeepers and Plum Loco. When at home he enjoyed taking care of his pond. Most of all he cherished spending time with his family.
Andy is survived by his companion, Karen Manno; his daughters Haley Embly (Joshua) of Wichita Falls, TX an Emily Perez of Lancaster; his 3 grandchildren: ChevyLynn, Kinslee and Michael; his brother Julio Perez Jr. (April) of Millersville and Augustina "Tina" Sorensen of Holtwood as well as several nieces and nephews. He is preceded in death by his brother Mark Perez, Sr.
In lieu of flowers memorial contributions may be made to The Columbia Animal Shelter, 265 S. 10th Street, Columbia, PA 17512. A Celebration of Life will be held at 7PM on Wednesday, October 13, 2021 at the Charles F. Snyder Funeral Home and Crematory. Family and friends will be received from 5PM until the time of service. Casual attire requested. Interment will be private.
Watch the tribute video
Leave a condolence on this Memorial Page
Condolences to the Family
October 10, 2021
We were saddened by the untimely passing of your beloved Andy. It's impossible to imagine your loss, and we will keep you and your family in our thoughts and prayers. May he rest in peace, until we all meet again.
October 08, 2021
So sorry for your loss, hold his memories close to your heart and he will always be you! Another soul gone too soon. RIP
JoBeth Smith
October 07, 2021
My heart felt prayers are with the family Andy was a great guy may he rest in peace forever ride high until we can ride together again u will be truly missed
Chanda Nesmith
October 07, 2021
Thinking of the Perez family during this difficult time. We are all so sorry to hear of Andy's passing. Prayers to the entire family. Ed and Crystal McKinney
October 06, 2021
sadden to hear the news the other day we went to school together. He was a gentle soul always out going tring to make you smile when ya down. His heart was so big. No matter what he was going threw he always give to whoever needed it. Andy you will be missed by so may. Sending prayers to his family

Jennifer (Reed) Davis
October 05, 2021
What a nice photo and tribute to Andy. So sorry for your family's loss. Prayers and comfort to you all.
Mike & Dawn Phillips
October 05, 2021
Sure did spend a lot of time together as kids. I remember playing matchbox and monster trucks with you in my dads front yard in our younger years. My grandmother used to take us to the Quarryville pool now and then. Played a lot of hockey in the driveway with the neighborhood crew. Rest easy, buddy. Condolences to close family and friends.
Nathan Martin
October 05, 2021
Andy was always such a helpful guy! If he liked you, you knew it! We'll all miss you brother! Until we meet again! Prayers for peace for his family! A. M. S.
October 05, 2021
Karen *my work wife* I am so sorry to hear of Andy's passing. I know that he is looking in on you and the girls and the grand kids. I hope that the pain of these past days and the days coming will be less when you look back to see all the great times you spend with Andy…
I will be thinking of you all and know that he lived the way he wanted and you all supported him that adventure.




Mitch Tough
October 05, 2021
Andy Is family, we didnt hang out much still remember him playing with his cous whenever I visit. Out of all the boys Andy was the most outgoing always giving me hugs . Love him Hes Familia and I love my Family. May the Lord embrace him in Heaven. Hes in the best place ever. He's happy there. Who wouldn't be no more hurts,no more tears, just rejoicing to be with the most high.Amen
Gladys Bosque
October 05, 2021
My condolences to all the Perez family. My god be with everyone during this difficult time.
olga rivera galati
October 04, 2021
I am so sorry to hear of this. Andy, sure has touched so many people's lives. He sure was ornery in his younger days. Rest In Peace Andy, please know you will never be forgotten
Jody Smeltz( Davis junk yard)
October 04, 2021
Gone way to soon, you'll make that big jeep rally in the sky brother.
Poppy
Services

Wednesday, October 13, 2021
7:00 PM
Charles F. Snyder Funeral Home & Crematory
3110 Lititz Pike
Lititz, PA 17543

Map and Directions