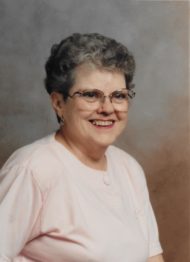 Alice Aleine Lennox Allen, 90
October 1, 1930 - November 14, 2020
Alice Aleine Lennox Allen, 90, late of Lancaster, PA, passed through the veil peacefully on Saturday, November 14, 2020, at the home of her daughter, with whom she had been living since 2015.
She was born on October 1, 1930, In Philadelphia, PA to William John and Ethel Elisabeth (Staats) Lennox. She graduated from John Bartram High School in Philadelphia in 1948. She was an active member of The Church of Jesus Christ of Latter-day Saints. There she met and married her beloved husband, Warren Forrest Allen, in 1964. They were married until his death on April 9, 2013, and she eagerly awaited the day when she would be with him again. Together, they were the proud parents of seven children.
Alice was never afraid of expressing herself, and she always let you know what she thought. She had a ready smile and wise counsel for those who came to her. She loved genealogy, and it was a treasured labor for her. Together, she and Warren served a short Latter-day Saint Family History Mission in Salt Lake City, UT. In addition, she was the founding director of the Latter-day Saint Family History Center on King Street in Lancaster, PA. Over the decades, she worked to ensure the remembrance of countless generations of her ancestors, and passed that love on to her children and grandchildren. Even as her mind and memory faded, a question about a relative would pierce the fog, and sometimes it was as if the decades fell away.
She was pre-deceased by her parents, William John and Ethel Elisabeth (Staats) Lennox; her husband, Warren F. Allen; a son, David F. Allen; and a grandson, Joshua Lennox Allen.
She is survived by her children, William J. Allen (Beth) of Collegeville; Mary Jean Allen (widow of David) of Provo, UT; Bruce M. Allen of Saratoga Springs, UT; Doreen Majus (George) of Gilbert, AZ; Chris N. Allen (Lisa), of Phoenix, AZ; Alicia A. Riddick of Lititz; and Barbara L. Wilson (Brian) of Springville, UT; 20 grandchildren, 19 great-grandchildren, and a sister, Barbara "Babs" Pratt, of Baltimore, MD.
A private graveside service is scheduled for December 3 at George Washington Memorial Park. In lieu of flowers, memorial contributions can be made by check to Aspen Senior Day Center, 3410 N. Canyon Rd, Provo, UT 84604 who helped provide such loving, tender care for Alice in her declining years.
Leave a condolence on this Memorial Page
Condolences to the Family
November 24, 2020
So sorry to hear of her passing. She was an amazing lady. Her obituary is right on point. She is now with her beloved Warren.
Wendy Calvert Kingsford
November 23, 2020
My deepest sympathy to all her family and friends. She will be remembered by wonderful memories I have of her from her parents home in Philadelphia. God Bless and R.I.P. ❤️
Susan Miller (Harper)