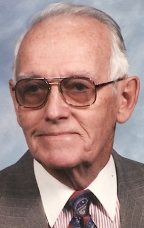 Albert J. Gegg, 90
Albert J. Gegg, 90, of Lancaster, formerly of St. Joseph Street, died peacefully Wednesday, May 26, 2010 at Lancaster General Hospital after an illness. Born in Baden Baden, Germany, Albert was the son of the late Martin and Catherine (Ruby) Gegg. He was married to Mary M. (Mutchler) Gegg for 64 years.
Albert was a 1939 graduate of Lancaster Catholic High School, where he played football.
A veteran of World War II, Albert served in the US Army in the North African and European Campaigns.
Albert was employed as a lab technician at Armstrong World Industries Floor Plant for 46 years prior to his retirement in 1985.
A life-long member of St Joseph Catholic Church, Albert served as a Eucharistic Minister of the Holy Eucharist and also volunteered at the church doing maintenance and repairs.
Albert was a member of Lancaster Leiderkranz, where he sang in the hobby chor and enjoyed dancing, and bowled in the Armstrong Bowling League. He loved the outdoors and the family dogs, and watching sports of all kinds. Albert enjoyed socializing with family and friends.
In addition to his wife, Albert is survived by his children, Mary Lou, wife of Philip McCaskey, of Mission Viejo, CA, Kathleen M., wife of Robert McGlaughin, of Lancaster, Judith A., wife of Barry Maney, of Lititz, John M. Gegg, husband of Kathy, of Tampa, FL, Joseph A. Gegg, husband of Audrey, of Columbia, 13 grandchildren, and 6 great-grandchildren. He was preceded in death by sisters, Catherine Grammer, Theresa Atzinger, Mary Shultz, and brother, Matthew Gegg.
Mass of Christian Burial will be held Tuesday, June 1, 2010 at 11 AM at St. Joseph Catholic Church, 440 St. Joseph St., Lancaster, PA 17603, with Rev. Msgr. Thomas H. Smith as Celebrant. A viewing will be held at the church from 10 until 11 AM. Interment will take place in St. Joseph New Catholic Cemetery. In lieu of flowers, contributions in Albert's memory may be made to St. Joseph Catholic Church. Arrangements entrusted to Charles F. Snyder Funeral Home. To send an online condolence, please visit SnyderFuneralHome.com.
Leave a condolence on this Memorial Page
Al was truly one of the most wonderful people I have ever had the opportunity to meet. He was a blessing to many people over the years and will be missed. May God give you peace.
Stan Snyder
I was shocked to read of Mr. Gegg's death. Please know that he is in my thoughts and prayers. Remember all the good times you had as a family and keep him in your hearts.
Always,
Cyndi McGeehan Conover
My thoughts have been with you all since pop pop's passing. "Expecially Mary." I just want to say that he was a wonderful man, and that he had touched my life in a special way, I've always had great respect for your father. In my eyes he was one of the strongest people I've met. My heart aches for you all, But know that he will always be with you in mind heart and soul.
Dorothy Tedder and family
Uncle Al has been one of the kindest, generous men I have known. He and Aunt Mary have been in my life forever. They have always set a good example of what a good marriage and family life should be. I will miss him greatly.
Marg
Al was a special human, as a friend and as a co-worker. When I first worked with him, he kept me afloat until I finally got my head above water in an unfamiliar setting. As our friendship grew, I got to know his always present, dry sense of humor and his gentleness toward everyone. Mary, I'm sorry I wasn't the help I should have been recently, but the two of you are in my prayers and I know God has a special place for Al.
George Adams
With our deepest condolences to the entire Gegg family.
Chas & Diane Conoscenti