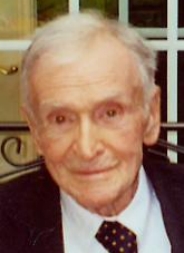 Albert A. Thibault, 96
Albert A. Thibault entered into eternal rest at his home in Lancaster on February 5. Dr. Thibault, 96, was the father of Paul Thibault, former Chairman of the County Commissioners of Lancaster.
Born in Lawrence, Massachusetts, in 1909, Dr. Thibault was the son of the late Elzear and Azilda Morin Thibault. He graduated from Boston College in 1931, having majored in French language and literature. After working in New York City, he pursued higher studies in Paris from 1935 to 1939 at the Sorbonne, while teaching English at the Jesuit college in Versailles and serving as a guide for British and American tourists.
Dr. Thibault met his future wife, Mary Marshall, of New York City, in Paris where she was also studying French. They were married in 1940. Following further studies at Harvard University and teaching at Tilton Academy, NH, Dr. Thibault worked for the Army during World War II, coordinating logistical operations for the port of Boston and debriefing enemy prisoners of war.
After the war, Dr. Thibault was Superintendent of Schools in Bliss, Idaho, and then taught at the University of Connecticut. In 1949, he became a professor of French at Laval University in Quebec City, Canada, the only American to hold this position. He obtained his Ph.D. from Laval and, from 1953, he was Professor of Modern Languages for some 24 years at the University of Windsor, in Ontario, Canada, before retiring in 1977.
For many years, he and his wife, who also taught French and Spanish, led numerous groups of students to study at summer schools in France, Spain and Italy. Several years after the death of his wife in 1983, Dr. Thibault came to live with his son and daughter-in-law, Paul and Sarah, in Lancaster.
Until quite recently, Dr. Thibault continued to travel widely and continue his scholarly interests. Blessed with a strong constitution and wonderful sense of humor, he was a constant inspiration and source of great delight to his children, grandchildren and great-grandchildren. He was a devout Christian all his life and a faithful member of St. Mary's church in Lancaster. He was also a great friend of Iglesia Catolica San Juan Bautista, on South Duke Street, Lancaster.
He is survived by six children, Albert Jr. (Caroline) of Charleston, SC; Anne-Marie Finger (Kerry) of Chicago; Claire Stracke (Richard) of Augusta, GA; Paul (Sarah) of Lancaster; Marc (Anita) of Dana Point, CA; and France (Denis Monnin) of Ottawa, Ontario. He had 18 grandchildren, one of whom, Paul Thibault, Jr., predeceased him. He was truly blessed throughout his life and never ceased thanking God for His many favors.
A wake and prayers will be offered at the family home at 1012 Wheatland Avenue, Lancaster, on Thursday evening, from 5:00 to 8:00. Parking available at the First Assembly of God Church, 1025 Columbia Avenue, Lancaster, PA. A Mass of Christian Burial will be said at 10:00 a.m. on Friday, February 10 at St. Mary's Church, 119 South Prince Street, Lancaster, Fr. Allan Wolfe, presiding. Interment will be in Windsor, Ontario, on Monday, February 13 at 1:00 p.m. in Heavenly Rest Cemetery, followed by a reception at Assumption University.
Donations may be made in his memory to San Juan Bautista Education Fund, c/o Fr. Allan Wolfe, 425 South Duke Street, Lancaster.
Leave a condolence on this Memorial Page