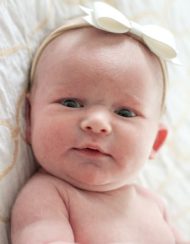 Adriana Joy Fittipaldi, 3 months
March 20, 2019
Adriana Joy Fittipaldi, 3 months old, joined the angels in heaven on March 20, 2019 unexpectedly. Born on December 22, 2018 she was the daughter of Joseph William and Jessica M. (Wanchalk) Fittipaldi, of Manheim Township.
Adriana's short life brought so much love and joy into this world.
Surviving in addition to her parents is a brother, Walker David age 3, maternal grandparents, Beverly and David Wanchalk, of Brownstown, paternal grandparents, Susan and William Southward, of Lancaster, and many aunts, uncles, and cousins.
A Mass of Angels will be held on Friday, March 29, 2019 at 11AM at St. Joseph Catholic Church 440 Saint Joseph St., Lancaster, PA 17603 with The Rev. Allan F. Wolfe and Rev. John McLoughlin, CSSR as Celebrants. A visitation will be held on Thursday evening at Charles F. Snyder, Jr. Funeral Home & Crematory 3110 Lititz Pk., from 6PM-8PM. Interment will be in St. Joseph New Cemetery, Bausman, PA. Memorial contributions may be made in Adriana's memory to A Week Away 941 Wheatland Ave. Suite 201 Lancaster, PA 17603
Watch the tribute video
Leave a condolence on this Memorial Page
Condolences to the Family
April 30, 2019
A beautiful child ..Thoughts are with the Fittipaldi family.
Dr. and Mrs Albert Price
April 01, 2019
Jess, Joe and family
My sincere sympathy in your loss. May memories live forever in your hearts and may you trust God to console your breaken hearts and find joy in your lives.
Brenda Braightmeyer
March 31, 2019
Joey, Jess and Walker – I feel as if I know all of you through Brenda. My heart is broken for all of you and your family and friends. As a mother who has lost her only child, I know your pain. I was lucky enough to have my son, Seth, for 17 years. The happiness that Adriana Joy brought to you in her short life is irreplaceable. You are a beautiful family and I know that you have a long road ahead. Please keep every memory, smile and moment close in your hearts. A pastor once asked…"if God told you that you could choose to have your child again knowing that it would only be for a short time…would you do it?" I know that I would because it is a love like no other. Please take care of yourselves, she is always with you.
Anitra Hampton
March 31, 2019
My heart is breaking for you and your entire family. My granddaughter Ariana is in the three-year-old class at Trinity. I was so sorry to hear of the loss of your little girl especially as I just had a great granddaughter born in December. May God keep his hand upon you at this time and give you peace and comfort.
Diana Lee LaRose
March 29, 2019
Dear Joe and Jess, our hearts ache for you at the passing of your precious Adriana Joy. There are no words that can express the depth of our sorrow for your loss. May all the love that surrounds you and Adriana help comfort you during this saddest of times. We love you.
Tom and Sharon Hudson
March 28, 2019
Joey and Jess,
We are so incredibly sorry for your loss and are praying for you. There are no words for what you are going through, just know we are thinking of you and hope you can find some peace through it all.
-Matt and Mary Ann
March 28, 2019
Please accept our sincere condolences. We wish you all comfort in the unbearable loss of Adriana. Tears in Heaven.
Love,
Mary Lynn and Mike DiPaolo
March 27, 2019
My thoughts are with you and especially Walker.
Miss Beth from Preschool
March 27, 2019
God bless you all and give you strength to face the difficult days ahead. You are all in our thoughts and prayers. We are so sorry for your loss.
You have our deepest sympathy,
Steve & Mary Dettinger
March 26, 2019
Heaven gained an angel
So very sorry for losing your angel
Judi weitzel
March 26, 2019
Our thoughts and prayers are with you and your family.

Suzanne and Barry Solodky
March 25, 2019
With deepest sympathy for the loss of your daughter. You are in my thoughts and prayers.
Donna Copeland
March 25, 2019
We are deeply sorry for your loss. We send you and your family our heartfelt prayers that you may find the strength you need to get through this awful tragedy. You will be in my prayers.
Vilma Burdis
March 25, 2019
Dear Joe, and Jess

I know you guy's don't know me. So when I was looking through the Obituaries I noticed your page came up of your little Angel. So out of respect I just wanted to send out my Prayers to you and the rest of your Families and Friends of your loss of your beautiful little girl. I know what it's like to lose a child. My daughter passed away too. So again I'm so sorry about your precious daughter.
Laura Pinkerton
March 25, 2019
I am so sorry for your loss. Praying for the family cant even imagine wat your going through so sad. We lost our little cousin wen she was ten months old due to pneumonia…. deepest sympathy.
Teresa angell
March 25, 2019
Dear Bill, So very sorry to hear of the passing of your precious little girl. Our prayers and thoughts are with you and your family at this most difficult time. God bless her. She is now in the palm of His hands.
Will and Gay
March 25, 2019
Joe and Jess – Thinking and praying for you both. So very sorry for the loss of your precious daughter, Adriana. Please let us know if there is anyway we can help during this very difficult time. We love you! ~ The Sahd family
March 25, 2019
Dear, Joe, Jess and the Fittipaldi & Wanchalk families,
Please accept our deepest and most heart-felt sympathies for the passing of your beautiful daughter, Adriana. You are all in our thoughts & prayers. We love you! ~ Your Lancaster Catholic High School family
March 25, 2019
I'm so incredibly sorry for your loss. My heart hurts for you and I've never even met you guys in person. Thinking of you and your family.
Heather (from Weaver Associates, Inc.)
March 25, 2019
My deepest sympothy to you and all your family, my heart breaks for you and all you family. My God be with you and help you find peace, all my love
Cheryl Groff
March 24, 2019
I am so sorry for the loss of your liitle one. Praying you and your family will be comforted by God's love during this difficult time. with love and prayers, Loree Martin
March 24, 2019
Dear Jess and Joe, My heart aches for you both, please know your family is in my prayers. There are no words I can offer that will give comfort, but I can tell you with honesty that God and your faith will guide you on this journey. With heartfelt sympathy, Wendy Lefever
March 24, 2019
My deepest condolences to the parents of Adriana Jo. The hardest thing for parents to handle is the untimely passing of their precious little one, especially at such a tender age. May you find comfort and peace for your hearts from God's word the Bible. When words fail us, we can always turn to his word to ease our pain and bring us a measure of happiness from his beautiful promises of seeing our loved ones again very soon. Promises such as found at Revelation 21:3, 4 where he promises 'death will be no more.' May the God of all comfort be with you at this time. (2 Corinthians 1:3, 4, Phillippians 4:6, 7)
Karen Schickner
March 24, 2019
Joe and Jess,
I wish there were some way to bring your little girl back to you. But always cherish the brief, wonderful time you had with her, I hope those memories help to sustain you through this terrible time.
Justin Fisher
March 24, 2019
Jess, I am so sorry for your loss . Know nothing can really help except time . Just wanted you to know we are thinking of you and your family. Kathleen Lyet
March 24, 2019
My Deepest Heartfelt Sympathy Goes Out to You and Your Loved Ones. I am so sorry for the loss of your beautiful Angel. May Gods Hands Comfort you in this very saddened time of your Life.
God Bless,
Sincerely,
Carol O'Donnell
March 23, 2019
I am so very very sorry for your loss….there are no words. Rest assured that the Fittipaldi and Southward families and especially your dear sweet Adriana are in my prayers. With my deepest condolences. Kate Dolhi
Visitation

Thursday, March 28, 2019
6:00 PM - 8:00 PM
Charles F. Snyder Funeral Home & Crematory
3110 Lititz Pike
Lititz, PA 17543

Map and Directions

Services

Friday, March 29, 2019
11:00 AM
St. Joseph Catholic Church
440 Saint Joseph St
Lancaster, PA

Map and Directions