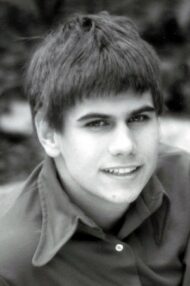 Sean Hagen, 42
September 16, 2023
Sean Hagen, 42, formerly of Tucson AZ, passed away September 16, 2023. He was a beloved son, brother, and friend. Born in Lancaster, Sean was the son of Pamela and the late Edward J. Hagen, Jr.
He graduated from Lancaster Country Day School in 2000 and continued his education in graphic design at the San Francisco Institute of Art. Sean was a man of many talents and passions, especially photography for which he had an eye. He pursued a career in print design at Cinderbloc in San Francisco where he designed logos and prints for musicians such as Green Day, The Killers, the McGraws, & at the Gloo Factory in Tucson. In his short time in Lancaster, he was working at Farm Fresh. Outside of work, he found solace and beauty in the great outdoors, whether it was hiking through Mt. Gretna, or taking photos of nature through which he traveled. In his free time, he enjoyed gaming, listening to electronic music, and using the Octatrack. Sean also loved his cat Max, with whom he traveled from Arizona and refused to be without.
Left to treasure his memory is his mother Pamela, his brother E.J Hagen, his girlfriend Elizabeth Leakway, his Aunt and Uncle Bob and Doris Nussey and their children Lisa, Robert, and Robert's family.
A memorial service to celebrate Sean's life may be held on a later date. In lieu of flowers, the family kindly requests donations be made in Sean's name to Pet Pantry of Lancaster at petpantrylc.org or the Lancaster Food Hub at lancasterfoodhub.org.
As we say goodbye to Sean, let us remember him for his infectious smile, the joy he brought into our lives, and the indelible mark he left on our hearts. May his soul find eternal peace, and may we find solace in the memories of the time we shared with him.
"In one of the stars I shall be living. In one of them I shall be laughing. And so it will be as if all the stars were laughing when you look at the sky at night.." "The Little Prince" by Antoine de Saint-Exupéry
Leave a condolence on this Memorial Page
Condolences to the Family
September 20, 2023
Dear Family,
Sean was a kind and gentle soul. I pray that your family will find comfort within your memories and the times you shared with him. He will be greatly missed. I am very sorry for your families loss. Jennifer Weiss
September 20, 2023
Our hearts go out to Pam at the loss of her son. May you remember him always and know that he loved you. We shall pray for you and your family. Edward Nescot
September 19, 2023
Dear Pam and EJ:
It is hard for me to put into words, my deepest sympathy goes out to you EJ, you have been family to me most of my life and all of you have meant a great deal to me. You are in my thoughts and prayers and I am here for you in anyway you need me. Should you have a memorial service for Sean , Doris and I will be there. God Bless you and EJ. Love Bob

September 19, 2023
Dear Pam,
Our hearts ache for you. Your Sean was a beautiful spirit and may you find comfort in the stars. Ann and Lee Ober