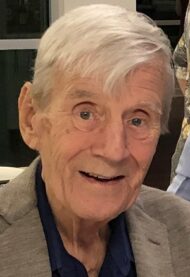 Hugh Ostrowski
May 31, 1935 - March 10, 2023
Hugh Ostrowski, Millersville, died March 10, 2023. He was the husband of Joan Ostrowski who predeceased him in 2021.
Born in Scranton, PA, May 31, 1935, he was a graduate of South Scranton Catholic High Class of 1952 and attended the University of Scranton from March, 1955 to February, 1957. As a member of the US Army, he was stationed in South Korea for 13 months after the ceasefire agreement.
Hugh and Joan were married April 25, 1959 and spent a wonderful life together. They raised six children: Mike (Lorraine) of Harrisburg, Jeff (Peggy) of Glen Mills, Jim (Marcia), Lynne Groff (Brian) both of Lancaster, Andy of Hazelton, and Dan (Melissa) of Millersville. Jeff predeceased him in 2020.
His fantastic grandchildren are Caitlin Ostrowski, Curtis Ostrowski, Carly Ostrowski, Adam Ostrowski, Laura Ostrowski, Ben Zanowski, Mary Zanowski Givler, and Lydia Ostrowski.
His entire working career was in sales, with the final forty-plus years in the floor covering business in Central PA.
In his retirement, he was an active member of the Sertoma Club of Lancaster and a driver for the Road to Recovery program for the American Cancer Society. Over his life, he also donated over 15 gallons of blood.
That was the obituary he wrote for himself. True to form, it was simple and stuck to the facts but doesn't tell the whole story.
Dad lived a life far deeper than the surface facts. He was a devoted husband to Joan, putting her health and comfort above his own in her final years. Raising six children, putting them through 12 years of Catholic School and seeing they all went to college was a huge challenge for them both; weathering those challenges to enjoy their golden years together was rewarding for Dad and inspiring for his family.
Dad played down his service in the army, not wanting to overshadow the valor of others. He served in a tense time and faced many fears, like standing guard at night unsure if the noises he heard were the water of a nearby stream or an unknown enemy coming through the brush. He earned his valor and his combat credentials, including a life membership in the VFW. He also developed a deep love for his country which he fed later in life reading countless books on US history, including many stories of the Founding Fathers.
His career in sales was an extension of who he was and what he loved–socializing and making friends. He finally retired at the age of 75 to make room for others he said needed the job more, but he loved selling until the end. Selling, to him, was driving around all day to see friends, old and new.
Mom and Dad were part of a loving group of friends, with some relationships going back nearly 60 years. Dad would still get together with his surviving buddies until recently; no longer up for the late nights of their wilder days, they would spend afternoons together sharing a meal, stories, laughs, and a glass or two of wine. They were a hoot, we could write comedy skits from some of their recent gatherings.
When raising the family, Dad was a father, not a friend. He instilled discipline, accountability, and responsibility in his children. We are forever grateful for this.
Later, he became our friend. The stories from that friendship are endless and priceless and will continue to shape each of us. They'll serve as an ongoing reminder of the joy of spending time with loved ones full of good food, good drink, warm laughter, and conversation ranging from silly and simple to deep and philosophical.
There is more to Dad than we can fit here, from the simple (he loved Heinz Ketchup more than anyone you've ever met) to the complex (he recently completed his memoirs, leaving a written legacy of a life well lived). To know him was to love him.
A Mass of Christian Burial will be held Friday, March 24 at 11:30am, preceded by a visitation at 10:30, at St. Leo the Great Catholic Church, 2427 Marietta Avenue, Lancaster, PA 17601.
No flowers, please if you wish to honor his life, send a contribution to a military veteran's organization of your choice or to the Leukemia and Lymphoma Society.
Leave a condolence on this Memorial Page
Condolences to the Family
March 23, 2023
My deepest and most heartfelt condolences to all of the Ostrowski family. Hugh/'Cue looms large in my childhood memories. His and Joan's friendship with my parents was a treasure and they felt more like family than friends. Thank you Lynne for making it possible to see your Dad when I was home visiting–I am grateful that I could have one last laugh and one last hug. We can all only hope we leave this life as he did in his way and surrounded by the love and care of his family and friends. You are all in my thoughts and prayers.
March 21, 2023
"Two for flinching" I never asked Hugh where this game originated but I can say Hugh rarely flinched. A truly great man who married a wonderful woman and raised an amazing family. I am grateful and consider myself fortunate to have known Hugh and his family over the years. My condolences to all grieving his passing.
Paul J Kline
March 19, 2023
To the beautiful Ostrowski Family,
It is with our love and deepest sympathy that we share your pain and loss. The years we had together will never be forgottten.
March 19, 2023
He was wonderful.
Peter Zanowski
March 18, 2023
Dear Friends I was in Texas when your Dad passed but my tears flowed and my heart broke a little more. He was a wonderful friend and companion
God Bless you all he will be missed
Mike
l
March 17, 2023
I am sorry to see the loss of your father. It sounds like he had an amazing life and will be missed.
Deb Rock
March 17, 2023
Deepest condolences to your family. I will cherish forever the happy memories I have of both your parents.
March 16, 2023
All love to the amazing Ostrowski family. You are in our thoughts and prayers.
March 16, 2023
Love and prayers to you all. The story of his life continues to be written. ❤️ Steve and Jackie Bareuther
March 16, 2023
We send our heartfelt sympathy to your family. We met Hugh and Joan through mutual friends, and Bob says, breakfast at Louie's. Keep your memories close and be thankful that THEY were YOUR parents. Our love, Ann and Bob
March 16, 2023
My sympathies to you all,
Lora
Visitation

Friday, March 24, 2023
10:30 AM - 11:30 AM
St. Leo the Great Catholic Church
2427 Marietta Avenue
Lancaster, PA

Map and Directions

Services

Friday, March 24, 2023
11:30 AM
St. Leo the Great Catholic Church
2427 Marietta Avenue
Lancaster, PA

Map and Directions