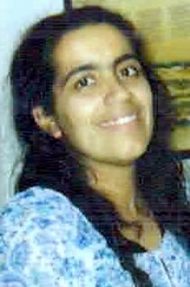 Rosalina (Rivera) Pineda, 43
January 06, 2019
Rosalina (Rivera) Pineda, 43, of York passed away on Sunday, January 6, 2019, surrounded by her loving family. Born in Brooklyn, NY she is the daughter of the late Rosa M. Rivera and Ricardo Rivera, Sr. She was the loving wife to Manuel Pineda for over 20 years.
Rosalina enjoyed helping family and could often be found assisting her father in pastoral services. She loved to sing and spend time with her family.
In addition to her husband, she is survived by her children: Ericson and Karen; her brother Ricardo, Jr. of California, her sisters: Amber Rivera, and Alesia Rivera.
Family and Friends will be received from 5PM to 8PM on Monday, January 14, 2019 at Charles F. Snyder Funeral Home and Crematory, 414 E. King Street, Lancaster, PA 17602. A service will be held on Tuesday, January 15, 2019 at 12Noon at the funeral. Family and friends will be received prior to the service from 9AM-12Noon. Interment will follow at Mellinger Mennonite Cemetery.
Leave a condolence on this Memorial Page
Condolences to the Family
January 21, 2019
My condolences to the family see you in paradise Rosalina I love you with all my heart ❤️
January 14, 2019
My cousin I wish I was there more i love you and please give tio Grandma and grandpa my mom and all those who are at peace now with you. May the lord bless our family and know that all the way from North Carolina I'm sending my love to your husband and children. Rip my dear cousin.
yahaida santiago Rivera
January 12, 2019
May she rest in peace and blessings to you and your family. In ✝✝💞✝✝
January 12, 2019
Mi mas sentido pésame a Manuel, los nenes y a toda su familia. Me da mucha tristeza al saber que Rosalina ("Lina") haiga fallecido. Conocía a Lina y su familia por muchos años desde que asistíamos a la misma iglesia. No sabemos por qué Dios hace las cosas pero Dios decidió llevársela ya que le hacía falta otro angel a su lado y a ella la señalo 👏🏼 QEPD. DLB.
January 11, 2019
No world will describe the feeling you and your family have and I have no words the can made the pain go away but I want you to understand I would like to express my sorrow and condolences to you and your family, and I will pray for you and your family.
January 11, 2019
Sorry to hear that may she rest in peace🌹👼😇
Visitation

Monday, January 14, 2019
5:00 PM - 7:00 PM
Charles F. Snyder Funeral Home & Crematory
414 East King Street
Lancaster, PA 17602

Map and Directions

Visitation

Tuesday, January 15, 2019
9:00 AM - 12:00 PM
Charles F. Snyder Funeral Home & Crematory
414 East King Street
Lancaster, PA 17602

Map and Directions

Services

Tuesday, January 15, 2019
12:00 PM
Charles F. Snyder Funeral Home & Crematory
414 East King Street
Lancaster, PA 17602

Map and Directions