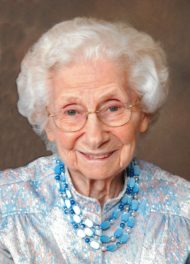 Lorraine Eleanor Koskela, 92
April 18, 2017
Lorraine E. Koskela, 92, of Lancaster went home to be with the Lord on Tuesday morning, April 18, 2017, at Calvary Fellowship Homes, Lancaster. Born in Buffalo, NY, she was the daughter of the late Clyde and Irene (Schmitt) Taylor. She was married to Harold J. Koskela for 58 years until his passing in 2012.
Lorraine was a homemaker and very active in church ministries. Most recently, she had attended Grace Baptist Church in Lancaster. She previously was a member for many years of Independent Bible Church in Willow Grove, PA. Lorraine was a woman of deep, committed faith to her Lord and Savior, Jesus Christ. She served the Lord as a Sunday School, Junior Church and Vacation Bible School teacher. She was a committee member of Child Evangelism Fellowship, Good News Club teacher and host, and Good News camp counselor. She was passionately involved in local and global missions. Lorraine and her husband generously supported many missionaries and faithfully prayed for them.
She really enjoyed reading, especially about the lives of missionaries. Lorraine also enjoyed listening to Christian radio programs. Being out in her garden and sharing its beauty with others brought her joy.
Lorraine will be deeply missed by her two sisters, Joan Hopper, of Kentucky and Claudia Clark, of California; two children, Craig Koskela, and his wife, Judy, of Elizabethtown and Sharon (Koskela) Rentz, and her husband, John, of Lititz; two grandchildren, Tim Rentz, and Michelle (Rentz) Wolf, and her husband, Devon; and two great-grandchildren.
Relatives and friends are invited to attend Lorraine's celebration of life service at 12PM on Monday, April 24, 2017, at the Charles F. Snyder, Jr. Funeral Home & Crematory, 3110 Lititz Pike, Lititz, PA with Pastor Kevin Brown officiating. Friends will be received from 11AM-12PM at the funeral home on Monday. Private Interment in Indiantown Gap National Cemetery. In lieu of flowers, memorial contributions may be made to Child Evangelism Fellowship, 4305 Winthrop Drive, Harrisburg, PA 17112.
Leave a condolence on this Memorial Page
Condolences to the Family
April 24, 2017
It was wonderful to see Aunt Lorraine this past summer when we were staying in Washington D C. We always had such wonderful times when our family got together with her. She had a glean in her eye and a smile as she gave my little boy a small hug. A great moment in my Mom's life to see her older sister again. It is a blessing for all those she taught in Sunday School and the early Christian childhood development. God Bless you all, Jim, Anny and Alex Clark
April 24, 2017
Dear Craig and Sharon and Family,
You will be in my thoughts and prayers at this time of sorrow and that you will experience God's love in a very special way.
I have many beautiful Memories of my Sister Lorraine who was my Role Model and Mentor my whole life. I loved her dearly and thankful for her patience with me and her faithfulness serving her Lord and Saviour.
She will be missed in our Family but we know she is now in Heaven, Praising and Glorifying our Father in Heaven.
My love to each of you, Aunt Claudia
Blessed are the dead who die in the Lord from now on. Yes, says the Spirit, "that they may rest from their labors, and their works follow them". Revelation 14:13
April 22, 2017
Dear Craig,
Precious indeed is the memory of your mother Larraine Koskela. My condolences to all your family.
I can hardly remember a time when I saw your mother apart from your dear father Harold. In the years that Ruth and I knew them, mostly between 1978-1981,they would drive together to nearly every service of the church, The Independent Bible Church of Willow Grove. Harold so dignified, Larraine so serene, never ever without a smile, indeed a heavenly smile.
Why they would show an interest in Ruth and I, I don't know, but they often had a word of encouragement for us, as for so many others also.
And they could pray! And you knew the Lord heard in His heavenly throne, and you could expect something to happen.
They prayed for us, and we want to thank the Lord for this opportunity to remember them.
Thanks to Nancy Hamersma for passing the news on to us.
May the Lord bless all who attend Lorraine's funeral, and all her loved ones, and all who remember her.
Isaiah 26:19 "Your dead shall live, their bodies shall rise."
Mark and Ruth Harbour
Taiwan Harvest 119
Dalin, Taiwan
April 22, 2017
Dear Craig and Judy,
I am so sorry about the passing of your mother. I am so sorry I never had the opportunity to meet her. May it comfort you knowing that she is with her Lord and Savior and completely at peace.
My thoughts and prayers are with you. Patty Shenk
April 22, 2017
Craig and Judy: Your mother/mother-in-law is in my prayers. We know she is in a beautiful place, wating for you, just around the corner. I miss seeing you, Judy.
Josie Rice
April 21, 2017
Dear Craig and Judy, What a nice obituary for 'Mom Koskela'. What a treasure she was to all who knew her and what a faithful servant of our Lord. What joy beyond what we can comprehend she must be experiencing now!!! Her legacy lives on through all the lives she touched.
Pat Lohr
April 20, 2017
Dear Craig and Judy: Your mother is at peace now. She was blessed by your constant care and concern for her. God bless you now as she will always be a part of your heart.
Sylvia Houser
Visitation

Monday, April 24, 2017
11:00 AM - 12:00 PM
Charles F. Snyder Funeral Home & Crematory
3110 Lititz Pike
Lititz, PA 17543

Map and Directions

Services

Monday, April 24, 2017
12:00 PM - 1:00 PM
Charles F. Snyder Funeral Home & Crematory
3110 Lititz Pike
Lititz, PA 17543

Map and Directions