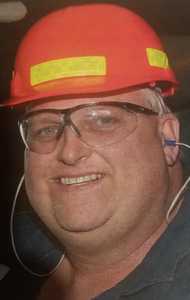 Kevin E. Suess, 54
December 26, 2018
Kevin E. Suess, 54, of Ronks, passed away Wednesday, December 26, 2018 at Lancaster General Hospital after a brief illness. Born April 24, 1964 to Richard "Whitey" Suess and Lorraine Parmer wife of Roy, all of Lancaster.
Kevin was self-made. He will be remembered as ambitious, hardworking, humble, and selfless. His work ethic was unmatched. Much like the Wizard of Oz, he was the man behind the curtain, always available whenever there was a need. Much of his success is a direct result of the relationships that he built with people. He had very high standards, but could always lighten the spirits of those around him with his smile, a joke and a good laugh. Known as the "Gentle Giant," Kevin truly believed in putting others before himself. He took care of those around him and never asked for anything in return. Kevin was a loving son, husband, brother, father, and friend. His circle of friends reached far and wide. Many of Kevin's friends and colleagues sought him out for wise advice or help when they were in over their heads. Kevin saw the good in people and was always willing to barter a deal to help. He was always just a phone call or text away. He has made a positive impact on many lives. Kevin's work and his family were his driving forces in life. Kevin worked hard, but he played hard too and had a fascination for all things with big engines and lots of horsepower. Many great memories were made as he visited the Horseshoe Curve in Altoona with his father, driving the Loop in Lancaster and racing his 68 Dart GTS at Maple Grove with his high school friends, or pulling the sled with his modified 4-wheel drive truck with a 650 cubic inch Donavan Chevy turning 1400 horse power under the hood at the Buck with his family cheering him on. He loved being a father, and would consider his three daughters his greatest achievement. Kevin will be missed greatly by those who loved and knew him.
Kevin was a 1982 graduate of Manheim Township High School, an Entrepreneur and President of Kevin E. Suess Inc./Motion Leasing. Kevin had a unique talent to see opportunity. He could fix anything and had a knack of being able to find a way to make things work out. He was an engineer of many avenues. Kevin turned many of his business relationships into long term friendships. Ken Myers and Jim Wolpert were a large part of Kevin's life and he considered them family.
Kevin won the National Truck Pullers Association East Coast Title three times. "Locomotion" was his 1st modified 4-wheel drive pulling truck and "Fare Game" was his 2nd truck. He was an avid Ice Hockey fan and followed the Boston Bruins, Washington Capitals and the Hershey Bears.
Kevin is survived by his loving wife, Tina M. Suess and they recently celebrated their 29th wedding anniverssary; his daughters, Allyson T. Suess, Mykayla R. Suess, and Adrianna M. Suess; his siblings, Randall S. Suess companion of Robin L. Hoffman, and Kimberly A. Almodovar wife of Anthony; his nieces, Morgan, Hannah, and Bethany; and his nephew, Kris S. Suess.
In honor of Kevin, the family is establishing a memorial fund to recognize individuals at the Arconic (formerly Alcoa/Alumax) plant in Lancaster PA. Please follow the link below to make a donation in Kevin's memory. https://www.gofundme.com/kevin-suess&rcid=r01-154605804272-81319f6e6ba7446a&pc=ot_co_campmgmt_w
A Celebration of Life Gathering will be held at a later date at the convenience of the family.
"FULL PULL KEVIN FULL PULL"
Leave a condolence on this Memorial Page
Condolences to the Family
January 16, 2019
To Tina and Daughters,
I'm so sorry to hear about Kevin's passing. Losing Kevin is a huge and an overwhelming loss for you and daughters. I can't imagine your grief right now.
I have many great memories of Kevin – especially growing up. We always seems to find some kind of mischief to get into. Randy was the ringleader and Kevin, my brother Tom, and I, etc, got involved. As I read the obituary, I was also reminded of the time Kevin took me for a ride in his Dart.
You and your family are in our thoughts and prayers.
God bless you and family, Charles and Anne Marie
January 09, 2019
Dear Suess Ladies,
Remembering your grief and loss on this day two weeks ago! I've loved the pictures and heartfelt love expressed to Kevin. Prayers continue for each of you as you cherish your memories and find a closeness to him everyday. Love you all 💕💕💕💕
January 05, 2019
Tina and Family,
I'm so sorry to hear about Kevin. My thoughts and prayers are with you, the girls and his family.
Todd Hall
January 04, 2019
Heart felt sympathy for the whole familly and many friends. sorry to hear about Kevins passing. I remember kevin at Newells garage, Ken would tell me to take my truck there and ask for Kevin and he will fix it. Years later Kevin put the airhorns on my truck the night before the Make a Wish parade. I was usually serious when i would talk to him and he always found a way to make me laugh and look on the bright side. Many times we sat in that little pick up truck and talked about all kinds of stuff. i remember he told me that he likes to help people to be sucsessful. tried to send Christmas cards…glad i did this year. Friends for about 30 some years. Will miss you but won't forget. Thank you Kevin. Mike leaman
January 02, 2019
Just like to say my Condolences to Kevin family..when I had read Kevin obituary about the Oz man behind the curtain was just wonderfully said about him, Kev worked for my parents at Newell's garage when he got out of high school, fresh face enthusiastic young person then as he was now.. Just like to say I wish he would had visited us more at the garage after he bought it from my Mom, thank you for keeping me on at the office as I had done for 36 yrs for my parents, you could make me chuckle out loud , you could aggravate me at times, but in the end you were good hearted person will miss you Kev RIP.. Tell Pop Newell & Mom hi and miss them !!

January 02, 2019
~Tina & Family~
My deepest condolences to you and your family. Although I know that no words can ease the loss you feel, please know that you are in my thoughts and prayers.
Wishing you peace to bring comfort, courage to face the days ahead and loving memories to forever hold in your hearts.
Becca Mahuren



January 01, 2019
Although I have never met Kevin, I have come to know him from my dear friend and Kevin's Mom, Lorraine. For years, Lorraine has told me so many wonderful stories about Kevin and his family. She was always so proud of everything that Kevin had accomplished but most of all she said he was such a generous and kind man. He was truly a wonderful son, father and husband. My heart aches for his family and my dearest of friends Lorraine.
January 01, 2019
Tina and family – I am so very sorry for your loss. My heartfelt condolences, prayers and thoughts are with you.
Jane Glover
January 01, 2019
Tina and family,
Your mother talked endlessly of what Kevin did to support her and the family. Your mothers love of your father was evident everyday in our conversations. It is abundantly clear he loved to help others and family was the first priority.
Im so sorry for your loss. The love of your lives is now a memory and a treasure at the same time. His impact will never leave any of you.
Prayers of peace, comfort, and wisdom moving forward.
Judi Brendle
December 31, 2018
Wow. I know I write these words for many more than just myself. Kevin, you and I have dealt with tons of messes that were neither yours or mine to clean up. Mainly fixing problems on the manufacturer standpoint. We worked closely together and probably spoke, texted or emailed each other at least 3 times a week and that's a conservative guess. What I'll always remember is we always ended our calls laughing. You were a pleasure to work with sir and I will miss you. My condolences to your family.
chris m.
December 31, 2018
So terribly sorry for your loss. Did not know Kevin but know his Mom Lorraine. My heart felt sympathy. You are in my prayers. God Bless
December 31, 2018
Dear Tina and girls,
Sorry to hear of Kevin's passing. Kevin was a great guy and will be missed by all. We have many fond memories of Kevin. Our thoughts and prayers are with you and your family.
Sincerely,
Craig, Ellen, and Ben Collister
December 31, 2018
My deepest sympathies to you and your family. I had the privilege of meeting and doing business with Kevin a couple of years ago. Just a great guy with a larger than life personality!!! Praying that you find peace and healing. He will be missed.
December 31, 2018
Kevin-was a hilarious guy and great to joke around with on the phone or in person. I always joked with him that he reminded me of The Great Wrastler Dusty Rhodes. I've only known Kevin for 15years through Alcoa/Arconic but I will truly miss him. My prayers go out to his wife and especially his daughters who he talked about all the time. God Bless all of you at this time. He was a good man…..
December 31, 2018
My sincere condolences to Kevin's family. I was emplyed by Arconic early in 2018 and as a member of the EHS staff at the lant I had many contractual and coordination interfaces with Kevin. After reading his obituary I can also attest to how frendly and professional Kevin was in every one one of the many intefaces we had this year. I can see how we will be truly missed. My thoughts and prayers go out to Kevin's family friends and co-workers during this time.
December 31, 2018
So sorry for your loss. Our thoughts and prayers to the family. PA RIDGE RUNNER FAMILIES.
December 31, 2018
Our deepest sympathy to Richard & his family . We knew Kevin from his early years when he was a good friend It.sof our son Kevin.They were riding their cycles together the night our son was taken from us by a drunk driver. It ,s So sad to lose a good son/ way too soon!
December 31, 2018
My best friend I miss you ! Who is going to text me at 4 am ? No one to talk about Jim. I could write a novel on here about all of our good times ! You truly are a best friend ! I actually think I will write a book about you ! will have to discuss that with the Suess girls ! You have three Queens there ! I am watching them for you BIG DADDY !
I drove passed Newell's yesterday and the tears started flowing ! Yes it still says Newell's Garage ! You were so humble !
Nothing beats the jokes you would send. The rolls of toilet paper I would get in the mail.
I am so glad we had the KP truck in the Buck Pulls !

Pictures I will cherish the rest of my life !

I appreciate all your guidence with our fleet. YOU know I always left it all up to you !

I wanted to sell apples and banana's and you handle what you did best !

By the Doc I still do not have that snow plow 🙂
Kevin you truly are the greatest !

I can not wait to talk to Lebon Levi and show him what a fan you were !

I already showed Esther… Levi will be at our services at KP ! So will Esther ! Amish Mafia loves you brother !
Yes there goes my next cry for you Doc ! Boy do I ever miss you !

Remember when we would call Jim's wife ? lol…

The fun we had with Weinstein and Jack. and many others… it was fun… but we loved them all ! and that right Fella… now who says that ????? lol….




December 30, 2018
My deepest sympathy to his family and to Whitey, Randy and Kris who I had worked with. He will surely be missed by all at Arconic, even though not an employee it was as if he was. Praying you find comfort and strength during this difficult time from your faith, family and friends.
December 30, 2018
My sincere sympathies to you and your family.
Kevin was a pure joy to be around and he will be greatly missed.
December 30, 2018
🙏🏻🙏🏻🙏🏻 Kevin, May god bless you and may you rip.
December 30, 2018
I wish to exend my sympathy to Tina, the girls, family and friends.
May you find the support and strength needed to face the days ahead with the same focus on relationships and work ethic that made Kevin stand out as such a wonderful person.
Sincerely,
Melody C. Dillman (Mel to Tina)
Co-worker from LGH
December 30, 2018
I was very sad to hear of his passing away. sad to hear of his passing. A great friend and has always helped me, when I needed his help. I was lucky to meet him at Alcoa and work with him there for 2 years. I will miss him greatly. I hope to see him on the other side someday. He always was willing to help anybody and everybody. I will see you again someday my friend.
December 30, 2018
I retired June 1 of this year from arconic,37 1/2 years. I knew Kevin my whole working career. Boy,could we get a good laugh from just about anything, espicially from the tribulations at the big"A". Kevin and I had everything in common and would talk about anything.If i knew him and the boys were coming in,I made sure I did everything I could do for him,because he would do the same. I was always a Dodge man,and boy would I hear about that! 2016 I bought a Chevy,I think Kevin was more excited than myself. As you travel thru life you meet special people you always think about,Kevin was at the top of my list. My deepest condolences to the family and his workers. I write this with a heavy heart,and never will forget Kevin. It was a gift to know him.
December 30, 2018
I had known Kevin ever since he worked for Newell's Garage down the street from Arconic. It's not hard to believe how he started as a mechanic and worked himself in creating a very successful business. I'd get test messages or phone calls at the latest hours when I was working and wondering why he wasn't in bed. It's because he was catching up on paperwork, doing work plans or something for someone. He will be sadly missed.
December 30, 2018
I never met Keven but it sounds like he was a person that I would have loved to meet. It sounds like he and his wife Tina were a match made from heaven because she too has a heart of gold. It's so sad to lose such a loved individual but apparently heaven was in need of another angel…My thoughts and prayers are with the wife, daughters, and family…R.I.P. Kevin
December 30, 2018
My sincere condolences to the entire Suess family for the passing of Kevin. I'm sorry that I've not seen Kevin too much in the last couple years since my retirement, but we communicated via text fairly often. I was fortunate to interact with him very often at Alumax/Alcoa. We always had a good laugh together. I loved him like a brother. May God Bless his soul.
December 30, 2018
Sent Ken and I are sending our condolences Kevin and I work very closely at Alcoa I was the forklift shop foreman our thoughts and prayers are with you and family Ken Sample
December 30, 2018
Keeping you and your daughters close in my thoughts and prayers . I am so sorry .
December 30, 2018
Thank you for all the memories and the laughs… Love and prayers…