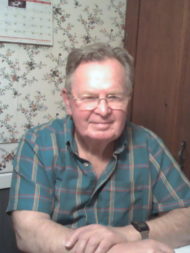 J Earl Foreman, 90
April 30, 2019
J Earl Foreman, 90, of Pleasant View Communities, went home to be with his Lord and Savior, Tuesday, April 30, 2019. Born in Warwick Twp., Earl was the son of the late Vernon Foreman and Kathryn (Keenan) Wilson. In 1948, Earl married the love of his life, Joyce A. (Kopp) Foreman and would have celebrated his 71st anniversary on May 22.
Earl was a lifelong resident of Lancaster County, formerly residing in Lititz. He worked as a maintenance foreman for Alumax Mill Products until his retirement in 1993.
Earl was a devoted Christian and was a member of Lancaster First Assembly of God where he taught Sunday School for many years. He loved his family dearly and enjoyed spending time with his wife, children, grandchildren, and great-grandchildren. Earl enjoyed traveling with his wife to all 48 Continental States and 7 European countries.
In addition to his wife, Earl is survived by six children: Dennis Foreman, of Lititz, Gerald Foreman, husband of Sandra, of Lititz, Beverly Foreman, of Manheim, Melinda Tshudy, wife of Terry, of Lititz, Patricia Moore, wife of James, of Port Orange, FL, and Rebecca Kimmich, wife of the late Ulrich Kimmich, of Kona, HI. He is also survived by 11 grandchildren and 19 great-grandchildren.
Funeral Services will be held at 11AM on Monday, May 6, 2019 at Spacht-Snyder Family Funeral Home & Crematory, 127 S. Broad St., Lititz, PA 17543. Family and friends will be received at the funeral home one hour prior to the service. In lieu of flowers, the family requests that contributions in Earl's memory be made to Lancaster First Assembly of God, 1025 Columbia Ave. Lancaster, PA 17603, earmarked to YWAM – Becky Kimmich. To leave the family an online condolence, please visit:
Leave a condolence on this Memorial Page
Condolences to the Family
May 05, 2019
Our condolences to the Foreman family. I worked with Earl for years at Alumax. Lots of old school memories. Knowing he is in Heaven is comforting. Our prayers are with you all.
D. Lowe
May 04, 2019
My sympathies to all of you. He was a wonderful friend and neighbor to my parents. Lots of fond memories
Bev Brown Hershey

May 03, 2019
Joyce, i am so very sorry to hear about the passing of Earl. My thoughts and prayers are with you and the entire family. May you find comfort and peace knowing that Earl is home with his Heavenly Father rejoicing in his Glory.
Harry Landis
May 03, 2019
To Joyce and Family:
Mother (Colleen Gregg) and myself (Mary Francis) wish to extend our condolences. We know that Earl is with Jesus and with this we rejoice. May God's Peace and Comfort be with you today.
May 02, 2019
Becky and family. I am so sorry for your loss. It was such a pleasure meeting and knowing your parents. They were always smiling and saying hello everytime we would see each other. My prayers are with you and the family.
God Bless,
Wanda (Mackey) Myers
May 02, 2019
My love and prayers are with all of you. Earl was a true gentleman Dawn McKinney
May 02, 2019
Our deepest sympathy to the Foreman Family. To Joyce and all the children may our prayers and sympathy be felt with love.
Jenny and Martin Hammond
Visitation

Monday, May 06, 2019
10:00 AM - 11:00 AM
Spacht-Snyder Family Funeral Home
127 S. Broad St.
Lititz, Pennsylvania 17543

Map and Directions

Services

Monday, May 06, 2019
11:00 AM - 12:00 PM
Spacht-Snyder Family Funeral Home
127 S. Broad St.
Lititz, Pennsylvania 17543

Map and Directions