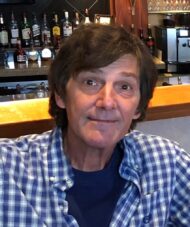 Gregory Allen Sechler, 62
September 7, 1959 - November 11, 2021
Gregory Allen Sechler, 62, of Lancaster, PA, formerly of Mount Joy, PA and Happy Camp, CA, passed away peacefully at his home on November 11, 2021. Born in Chicago, IL on September 7, 1959, he was the son of Diane (Bleeker) Sechler and the late Charles L. Sechler.
Greg graduated from Manheim Township High School in 1977 and attended the University of Chicago before enjoying a long career in software development for companies such as Rock-Ola, the Chicago Board of Trade, and Turkey Hill Dairy. Greg was a man of many varied interests, obtaining his pilot's license, frequently mining for gold and precious stones, founding the online bakery MoJoBaKo, and sometimes rollerskating. He also enjoyed gardening, playing guitar, and camping and hiking with his beloved dog Bongo.
Greg is survived by his mother Diane Sechler, brother Philip Sechler (Charlotte), stepmother Sara Ann Sechler, stepsister Regina Kleckner, and stepbrothers David Hoster (Maryanne), Brian Hoster, and Chuck Calhoun (Michele). Also surviving are nieces Rachel Sechler, Sarah Sechler, and Sara Hoster, and nephews Daniel Hertzog (Amanda), D.J. Hoster (Marti), Drew Hoster, Charles Calhoun III, Ryan Calhoun, Jared Calhoun, Samuel Sechler, and Jacob Sechler.
Greg will be greatly missed by all who knew him. Family and friends are invited to attend a funeral service which will be held at 11:00 AM on Friday, November 19, 2021, at the Charles F. Snyder, Jr. Funeral Home & Crematory, 3110 Lititz Pike, Lititz, PA 17543, where the family will receive guests beginning at 10:00 AM. In lieu of flowers, please make donations to Greg and Bongo's favorite cause, the Central Pennsylvania Food Bank, centralpafoodbank.org.
Watch the tribute video
Leave a condolence on this Memorial Page
Condolences to the Family
November 20, 2021
On behalf of my parents (Jim and Evelyn Schaefer), I extend my deepest sympathies to Greg's family. I was fortunate to have the chance to see and speak with Greg at Barbara Sechler's service. Unfortunately, my parents were unable to attend that service. However, I later shared with my dad that I had the opportunity to see and speak with Greg. My dad was very excited to hear that and had hoped to get to talk with Greg soon. I am sorry that they never had that opportunity.
November 17, 2021
Greg and I shared an office at Turkey Hill Dairy for 15+ years where I (being 10 years his senior) served as his "office Mother"! We had great times together. He helped me a lot in my role by thinking things through with me when I would get stuck on something. He was a brillant developer. He once figured out how to create a very complicated report in about an hour that it had taken another associate and I over a week to create with an extensive amount of research via Google. After that we put up a sign in the office that stated "Greg is smarter than the Internet". He was his own person, he loved life to the fullest and was a total hoot to be around.
November 15, 2021
Greg will be remembered by the Turkey Hill team. Greg was a creative genious in his work to develop the code and architecture of the I.T. backbone at Turkey Hill. I always enjoyed Greg's love of life, hearing of the adventurous vacations and new experiences. We will miss him please accept our sympathies in your loss.

November 14, 2021
I miss you so much already, big brother. You have been looking out for me since before I can remember, and I treasure each moment we spent together. I also really appreciate how devoted you were to Mom, and how much you loved my children. You were the best Uncle a kid could have. We will miss your tender heart, your humor, and all your great stories. You are gone way too soon, but thanks for being an awesome brother and a dear friend. Rest in peace brother Greg. Love you so much, your little brother Phil.
Visitation

Friday, November 19, 2021
10:00 AM - 11:00 AM
Charles F. Snyder Funeral Home & Crematory
3110 Lititz Pike
Lititz, PA 17543

Map and Directions

Services

Friday, November 19, 2021
11:00 AM
Charles F. Snyder Funeral Home & Crematory
3110 Lititz Pike
Lititz, PA 17543

Map and Directions