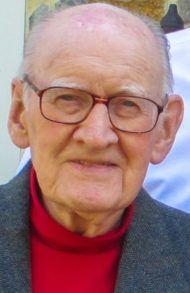 Eugene E. Kegel, MD, 93
April 13, 2018
Eugene E. Kegel, MD, passed away on Friday, April 13, 2018 at the age of 93. He was the husband of Charlotte O'Brien Kegel, with whom he recently celebrated 70 years of marriage. He was born in 1925 to the late Earl P. Kegel and Dorothy Klos Kegel.
Gene was a 1943 graduate of Lancaster Catholic High School, a 1948 graduate of Franklin & Marshall College where he was a member of Phi Beta Kappa, and a 1952 graduate of Jefferson Medical College. Gene served in the Army Signal Corps in Burma during WWII.
Gene was an incredibly gifted man. He was a respected physician in the Lancaster community, practicing Obstetrics/Gynecology for 35 years, delivering over 10,000 babies before retiring in 1991. An accomplished artist, Gene's hobbies included architecture and carpentry. He loved skiing and waterskiing, and he was an avid boater on Lake Winnipesaukee, where his beloved vacation home is located.
In addition to his cherished wife Charlotte, Gene is survived by five children; Dorothy (Kegel) Cullinan, wife of Kevin of Wellesley, MA, Daniel Kegel, MD, husband of Regina (Schwartz) of Lancaster, Margaret (Kegel) Szerejko, MD, wife of James of West Hartford, CT, Mary (Kegel) Stankiewicz, MD, wife of Geoffrey of Lancaster, Felicia (Kegel) Bechtel, wife of Timothy of Lancaster, ten grandchildren; and two great-grandchildren. He was preceded in death by his granddaughter, Katherine Silke Cullinan.
Friends and family are respectfully invited to attend his Mass of Christian Burial at 11AM on Wednesday, April 18, 2018 at St. Leo the Great Catholic Church, 2427 Marietta Ave, Lancaster, PA 17601 with Rev. Peter I. Hahn as Celebrant. Private interment will be in St. Joseph New Catholic Cemetery. Family and friends will be received from 6-8PM on Tuesday, April 17, 2018 at the Charles F. Snyder Jr. Funeral Home & Crematory, 3110 Lititz Pike, Lititz, PA 17543 and again at the church on Wednesday from 10-11AM. In lieu of flowers, contributions in his memory may be made to Lancaster Catholic High School, 650 Juliette Ave, Lancaster, PA 17601, Thomas Jefferson Medical College, Office of Institutional Advancement, 125 S. 9th St, Suite 600, Philadelphia, PA 19107 or Franklin & Marshall College, Office of Advancement, Attn: Advancement Services, PO Box 3003, Lancaster, PA 17604-3003.
Leave a condolence on this Memorial Page
Condolences to the Family
May 08, 2018
Dear Kegel's,
So very sorry to hear that Gene passed away. Just heard the news. Know that you are in our thoughts & prayers.
Sincere Sympathy,
Tom & Jane Burger



May 01, 2018
Always it's belated, I wanted to express my deepest sympathy to Dr. Kegel's family upon his passing away. I was a former patient of Dr. Kegel's and he delivered our daughter Jennifer in 1969. Although I hadn't seen him in years, I was privileged to meet up with him again when we were both taking physical therapy. It was such a pleasure to see him again and will always remember him as being a kind and caring person. May God give Mrs. Kegel and your entire family comfort in the days ahead. I know myself and countless others who were his patients feel a deep sense of loss.
With sincerest sympathy,
Nancy and John Straw
Lititz, PA
April 18, 2018
Dear Kegel's, Diane and I were deeply saddened to learn of Gene's passing. His wisdom and humanistic spirit will endure with his beloved family as well as the institutions he helped create and improve, notably the Beaver Island community.
Our lives were enriched by having known Gene, especially by his kindness for all who came into his orbit.
Sincere Condololences, Di and Bob Bibby
April 17, 2018
Dear Kegel Family,
On behalf of the entire Power 7 Team, please accept our most sincere condolences on the passing of your father. His service to God, country, community, and family cannot be understated and his legacy will endure through the lives he touched, influenced, and shaped.
With our deepest sympathies,
Kevin, Bob, Terry, Woldai, Candy, Stacey, & Jake
April 17, 2018
My family and I have so memories of so many happy times with the Kegels, our neighbors and friends. Dr. Kegel was a wonderful man, and a dear friend of my parents. I send my love to you all. Susan Simpson Brown.
April 16, 2018
The Kegel Family
There are many fond Kegel memories from over the years. Condolences on the passing of your father, "one of the good guys." He left a legacy that will be hard to match!
Blessings to you all,
Connie Waltz and Meredith Lombard
April 16, 2018
Felecia..so sorry for your loss. You and your family are in my prayers. Cheryl Amey
April 16, 2018
My thoughts and prayers to the family.
Wanda Baynard
April 15, 2018
My name is John Sayer and I was a patient with Dr Mary Kegel.Please accept my heart felt condolences to you and your family.May your memories of your dad sustain you during this time of your life . You are often in my thoughts as I miss you very much as my number one dermatologist.
April 15, 2018
My sincere smpathy to the entire Kegel family. Dr Kegel was a kind person. I worked for him for 14 years at OB/GYN Assoc of Lanc. He always said good morning and used your name. His patients didn't mind having to wait for him for their appointment. Then we would talk about those good old days when he became a patient at General Internal Medicine. Rest in peace. Bonnie Herr
April 15, 2018
My condolences to the entire Kegel. The Radcliffe House won't be the same without him.
– Ben Hayes
April 15, 2018
Sorry for your loss! I was a patient of his in the seventies when my children were born. Always enjoyed my prenatal visits with him. He was such a kind, caring, professional doctor. Thoughts and prayers are with his family!
Carol Kelly
April 15, 2018
I will never forget dr kegel when i started my family practice in lancaster at st joes hospital. May he rest in peace. Dr john and karen palumbo.
April 15, 2018
Dear Kegel Family,
I am so sorry to read the sad news in today's paper. Sending peaceful and loving thought to everyone.
Patsy Heilbron Lavinia
April 15, 2018
I am a patient of OBGYN OF LANCASTER it seems from the very beginning. I had the pleasure of having Eugene Kegel delivered my daughter, then his son came along after that. I always felt I was in great hands. Both of these men are wonderful doctors, but, I want you to know his memory will be in a lot of hearts for the great person he was. I am sorry for your loss and I am thinking of you all.
Rosemary Crouse Mohn
April 15, 2018
Dr. Kegel was my mothers OB/GYN in 1968. He was such a good man and doctor to her that when I was born and my parents had only determined my first name at birth; that they honored him with his name as my middle name, Eugene, true story. I am 49 years old. Thank you Dr, Kegel on behalf of the many lives you have welcomed into the world.
April 15, 2018
I want to take a moment to offer my condolences to the Kegel family on the loss of their patriarch, Dr. Eugene Kegel. He dedicated his life to helping bring new life into this world and that, along with his children, will be his legacy that will continue to live on. I recall many times when his son Dr. Daniel Kegel would talk about his father and you could tell that he was and is very proud to follow in his fathers footsteps. I often heard the stories of how Dr. Dan started from the ground up from cutting the grass and emptying trash cans to taking over the practice his father started in the building he designed on Columbia Ave. in Lancaster. It will be those stories that all his children and grandchildren have to share that will keep the memory of Dr. Eugene Kegel forever present. My thoughts and prayers are with you all at this difficult time and I know he will watch over the family he loved from the Heavens above. Dr. Eugene may be gone but he will continue to live on in the hearts and in the memories of his family and every patient he ever took care of as a practicing physician. Take care
Dee Englehart
Former MA to Dr. Daniel Kegel at OBGYN of Lancaster

Visitation

Tuesday, April 17, 2018
6:00 PM - 8:00 PM
Charles F. Snyder Funeral Home & Crematory
3110 Lititz Pike
Lititz, PA 17543

Map and Directions

Visitation

Wednesday, April 18, 2018
10:00 AM - 11:00 AM
St. Leo the Great Catholic Church
2427 Marietta Ave
Lancaster, PA

Map and Directions

Services

Wednesday, April 18, 2018
11:00 AM
St. Leo the Great Catholic Church
2427 Marietta Ave
Lancaster, PA

Map and Directions