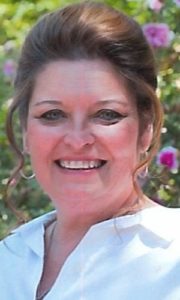 Beth M. Enders, 52
March 17, 2017
Beth M. Enders, 52, of Conestoga passed away Friday, March 17, 2017 at Lancaster General Hospital. She was born in Lancaster to the late Harvey and Mary M. (Conrad) Penwell. Her Aunt Mabel and husband Albert R. "Butch" Lightcap raised Beth after her parent's deaths.
She was a 1982 graduate of Hempfield High School, where she played in the band. After high school, Beth attended the University of Delaware. She worked as a financial service representative for Susquehanna Bank and more recently as a personal caregiver at Brereton Manor. Along with her boyfriend Robert Brown, Beth was a stand holder at the Columbia Market House.
Family and friends will remember her genuine cheer, hugs, and bright smiles. Beth surrounded herself as often as possible with her favorite flowers and her adored pets; Ramsey, Dexter and Rascal. She enjoyed cooking, gardening and crafts, such as crochet and cross stitch. She was a member of Mary Mother of the Church in Mount Joy.
Beth is survived by her daughter Christina, wife of Alex Kruger of New Providence, boyfriend Robert Brown of Conestoga, sister, Ruth Penwell of Columbia and her son Johnny; and her Aunt Mabel Lightcap of Columbia and her children Amanda, Bonnie and John.
Mass of Christian Burial will take place 11 AM Wednesday, March 22, 2017 at Mary Mother of the Church, 625 Union School Rd., Mount Joy, PA 17552, with Rev. Father Pang S. Tcheou as Celebrant. A viewing will be held from 10 to 11 AM at the church. Interment in Laurel Hill Memorial Gardens, Columbia, PA. In lieu of flowers, memorial contributions may be made to the Lancaster County SPCA, 848 S. Prince St., Lancaster, PA 17603.
Leave a condolence on this Memorial Page
Condolences to the Family
March 24, 2017
I am so sorry to hear of Beth's passing. Beth and I used to sing together years ago in the church band at West Willow UMC and we also had both worked for Susquehanna Bank but in different areas. My deepest sympathy to the whole family and loved ones. I know how hard it is. May God comfort you during this difficult time.
Jill (Rupert) Brown
March 22, 2017
So sorry to hear of Beths passing. My deepest sympathy to her family and loved ones.
Melissa Molina
March 22, 2017
Christina, I'm sorry I never had the opportunity to meet you, but your mother was a sweet person. I came to know her and Rob at Columbia market where we held stands. Rob, and Christina, I am so sorry for your loss, I know how you will miss her. May God wrap his arms around both of you and guide you in his gentle care. Blessing to you and the family. Pam Barto
March 20, 2017
Christina, So sorry to hear of the passing of your Mom. She was truly a gem and I will always remember her smile. She was my "sweetie". She will be missed. May the healing gifts of time and the timeless love of God carry you gently through the loss you are feeling now. With heartfelt sympathy and caring prayers for you and your family at this difficult time. Your former Susquehanna Account Services/CIF co-worker, Gail Martin and family If you need to talk: gmar1207@dejazzd.com.
March 20, 2017
To the family of Beth Enders My deepest sympathy to you. May God be with you at this time Brenda Heisey
March 20, 2017
To the family of Beth Enders My deepest sympathy to you. May God be with you at this time Brenda Heisey
March 20, 2017
What a beautiful person with a heart ful of love and caring….you reached out to so many people…. and we will never forget how you helped me and my son's as I went thru a turbulent divorce….Beth became my kids " other mother"…and Christina became your only sister….years pass….and we met up again and re connected….after my girlfriend and I helped her move into her then Mountville apartment….it always stick in our heads…how you took a book…put it on top of a table…and stuck a simple large sea shell on the top….what a beautiful…elegant decor…but left us in awe….your style and taste was impeccable. Bless you all as you heal your hearts…and Beth…until we meet up again….?
March 19, 2017
Rob, Christina & family ~ My heart is so heavy at the loss of this beautiful person. I couldn't stop crying when I heard the news. I am tearing up writing this now. I am so sorry that you are all going through this. I meet a lot of people in my journey of selling homes – there are a few that really inspire me, bring me so much joy & touch my heart & Beth was certainly one of those people. She truly could light up an entire dark room with her smile and her genuine love for life. She was a very inspriing person! So many times I thought – Gosh I just want to be like her! It brought me so much JOY to see her making home made jelly, pies & her notes to me with all the things she was doing to the house. She loved all of you so much. I am lifting your family in prayer for strength & may you feel the arms of love around you during this difficult time. May God bless each and every one of you. Fly high beautiful angel!
Nancy Kreider
March 19, 2017
My deepest condolences to the entire family for the passing of Beth. She will be greatly missed. Ronnie Dunn
March 19, 2017

So sad to hear of the death of Beth, she now resides in the arms of God. Her journey will not be a lonely one since her mother and father will be there to escort her to heaven gates to be with God and one of his newest angles. RIP Beth, you will surely be missed.

Kenneth and Stphanie Lightcap

March 19, 2017
We are so sorry to hear of your loss. Beth was an awesome person who could inspire a team. We will miss her. Your family is in our prayers.
Hope and Michael Gebhart
March 19, 2017
Christina and Robert, I am so sorry to hear of your loss. Your Mom Brighten up a room as soon as she walked into it and had such a wonderful attitude toward life. She was loved by so many and will be missed by all. You are in our thoughts and prayers. God bless you.
March 19, 2017
I'm so saddened to hear of Beth's passing. I was truly shocked and heartbroken when Brittany called me to tell me she passed. Beth was the true epitome of constant positivity, cheer, and happiness! She was the ultimate cheer mom who adored, loved, and supported Christina with her entire being. She had such a beautiful smile and infectious personality! She filled a room with fun and energy! May the Lord comfort Christina and other family members during this time of loss! I will never forget you Beth, and your Pixie Dust Dreams? ❣ My heart goes out to you Christina❤️ Love and Hugs ❤️
Wendy Roeser

March 19, 2017
Robbie. Christina and family,
I will always think of Beth smiling, talking about her Prince Charming Robbie and loving her daughter Christina. She was so generous with her love. She was also very creative even making my dogs treats. I had the pleasure of meeting her through Mary Mother of the Church where we shared our faith.
Her death is such a shock and creates a loss for all who knew her but especially for all of her family. I am so very sorry. She will be missed.
Carol Ann Sahady




Visitation

Wednesday, March 22, 2017
10:00 AM - 11:00 AM
Mary Mother of the Church
625 Union School Rd.
Mount Joy, PA

Map and Directions

Services

Wednesday, March 22, 2017
11:00 AM
Mary Mother of the Church
625 Union School Rd.
Mount Joy, PA

Map and Directions