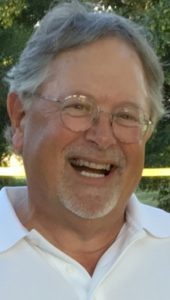 Gregory H. Soles, 65
May 12, 2018
Gregory H. Soles, 65, of Penn Twp. Passed away unexpectedly at UPMC Pinnacle Hospital, Lititz on Saturday, May 12, 2018. He was born in Landstuhl, Germany to the late Hugh Earl and Sally (Haines) Soles. Greg shared 42 years of marriage with his wife Rosemary "Rose" T. (La Via) Soles.
A graduate of Franklin Regional Senior High School, Murrysville, PA, Greg earned a bachelor's in political science and minored in education from Waynesburg College in Waynesburg, PA. He worked as a key account manager in new product development for Darwin Perennials, a division of Ball Horticultural Company, based in Chicago. Greg's work took him throughout the U.S. looking for new perennials in trial gardens and production nurseries. He was also a consultant to these nurseries in order to aid them in the production of their crops.
He loved spending time with his family, especially his grandkids. Cherished times were family vacations to Sandbridge Beach, VA. Greg had a tremendous love of family, was always positive, happy, smiling and teaching. You always knew where he stood on issues. Greg was hardworking and a great provider.
Greg was an avid golfer, playing Overlook, Iron Valley and many other courses. He enjoyed bicycling and exercising at the Lititz Rec. He was a parishioner at St. James Catholic Church.
In addition to his wife Rose, Greg is survived by their three children, Stephanie, wife of Mark Fitzgerald of Landisville, Elizabeth, wife of William Ziegler, II of Lancaster and Jon Soles, husband of Katherine of Morgantown; five grandchildren, Avery and Liam Fitzgerald, Will Ziegler and Bennett and Harry Soles; and his brothers Jerry Soles, husband of Margaret of Delmont, PA and Harry Clayton Soles of Export, PA.
Greg's family will greet friends from 10-11 AM, followed by a Mass of Christian Burial at 11 AM with Rev. James O'Blaney, C.Ss.R. as Celebrant, on Friday, May 18, 2018, at St. James Catholic Church, 505 Woodcrest Ave., Lititz, PA, 17543. Interment will be private. In lieu of flowers, memorial contributions may be made to Rock Steady Boxing Lancaster, 76 James St., Leola, PA 17540.
Leave a condolence on this Memorial Page
Condolences to the Family
May 21, 2018
Rose & Family,
I was deeply saddened to hear of Greg's passing. He brought joy with him whenever he entered a room, and I'll miss him greatly. I will always remember his smile and his stories. So sad I won't get to hear them anymore. My deepest condolences. -Bob Blew
May 18, 2018
Dear Rose,
I just heard about your tragic loss this morning. I showed up at St. James to lend support, but when I saw the line of people I knew you had a lot of support. Because of the line I went in for Mass. So sorry I did not get to speak with you, but your son gave a beautiful eulogy. So sorry. Mae Wolf



May 18, 2018
Dear Mark & Stephanie,
My deepest sympathies to you both at the passing of your father. Praying for you as you walk through the difficult days ahead. Mark – your FNB family is thinking of you and yours.
Warmest regards,
Rose Schlegel
May 18, 2018
Dear Rose & family, Jerry & Clay,
My heart was so saddened when I heard that Greg had passed away. He was such an amazing, fun loving guy who as I remember always had a smile on his face! He was a kind man with a huge heart & loved his family above all. Greg made my wedding day much more beautiful than I could afford, my flowers were so very beautiful because Greg wanted me to have what I wanted not what I could afford, that's the kind of man he was, and I will be forever grateful! May Gods loving arms be wrapped around each of you as you lay him to rest & may the memories you created together always stay in your heart.
My deepest & sincere sympathy to all of you.
Love,
Wendy Nedley-Flinn
May 18, 2018
My deepest condolences to the family. I worked with Greg at Star Roses. He was always brilliant vibrant figure who pursued his job with a passion, and filled every room with his presence. We will all miss him dearly.
Mike Dobres
May 17, 2018
Rose & Family, I was so sad to hear that Greg passed away. I saw pictures the kids had on FB & I also remember Greg as a very happy & genuinely nice guy! We go way back to vacations in Canada with our parents' group of friends. We always had so much fun! I'm sure it will be very difficult for all of you to move on without him. I'm so sorry for your loss.
Melinda Barbour Shuey
May 17, 2018
My deepest condolences to the Sole family I knew Greg for many years in my work with Perennials in the Uk. So sad to hear of his passing it is a great shock he will be missed in the Plant world. I will miss meeting him at trade fairs, nurseries and trial gardens across Europe and the USA
Paul Gooderham
United Kindom






May 16, 2018
Our deepest sympathies on Greg's passing. Jay and I can't think of Greg without thinking about what a lovely job he did for us on the flowers and greenery for our wedding. Heaven will be a more bountiful place with you there, Greg.
Cathy and Jay McKelvey
May 16, 2018
My deepest sympathies on Greg's passing. The green industry mourns along with you as he was such a warm and happy plant geek who was always willing to humbly share his vast plant knowledge. I count myself very lucky for having known him and to have been a recipient of his great plant generosity.
Maria Zampini
May 16, 2018
A good man has left this world but with all the good things he did, all the love he gave, he will stay in our hearts forever. Under tears I realize, I should have said this earlier and more often: Thank you for all Greg! – You will be unforgotten till we see each other again. Please find my dad up there and bring him greetings from me, we will follow one day!
Dear Rose and family,
in these sad hours and days we wish you strength and the faith that Greg is in god s loving hands.
Josef and Ina with Jan and Maria
May 15, 2018
Dear Rose and Soles family,
My deepest condolences. We lost a great man too soon. Many happy memories of my dear friend. He will be missed.
Elizabeth Dahlheimer
May 15, 2018
Our condolences to the Sole's family for your loss. Our thoughts and prayers are with you at this time of sorrow.
Russell and Michelle Martzall
May 15, 2018
I am so sorry for your loss. I knew Greg in highschool, plus he was a neighbor. I always liked Greg. Good man. My thoughts & prayers are with you all. Rose Russell
May 15, 2018
Dear Rose and family,
I am so very sorry to hear of the loss of Greg. Words don't adequately express my deep sympathy. Your family will be in my thoughts and prayers.
Holly Campadonico (Curves)

May 15, 2018
Un muy querido amigo Gregorio !!que descanses en paz y nuestro más sentido pésame a la familia desde Costa Rica les mandamos un gran abrazo
May 15, 2018
It breaks our hearts to hear of the sudden loss. Greg was such a fun and caring person to be around…that rare type of person who always made you feel like you were a long-lost friend and close family, upon your very first meeting and every one after. We send our thoughts and prayers to Rose and their family. There is surely a vast ocean of wonderful memories.
Stephen, Norma, and the girls
May 15, 2018
Rose, I'm truly sorry for your loss. Keeping you in my thoughts.
Jan Morgan
May 15, 2018
I have known Greg for many years, we worked together in the horticultural industry and spent enjoyable time discussing plants.
His enthusiasm, passion and dedication was infectious and inspirational and his product knowledge was significant which he shared with all of us. He definitely made this is a better world and we will cherish and carry on his passion for the plant world and people!
Vaughn N Fletcher
May 15, 2018
Dear Rose and family, I am so sorry. It is through our common careers in horticulture that I have knows Greg for many years. He is dearly missed.
Nanci
May 15, 2018
My deepest condolences to the Soles family. My thoughts are with you in this time. With all my love. Ellen Evangeliste
May 15, 2018
It's devastating to hear of the passing of a loved one, especially when it's someone that has made a great impact on the lives of so many. I didn't know him, but based on what was written about him he lived a very fulfilling life and was very much loved and admired. I hope that your family finds comfort in this trying time. My heart goes out to your family. A verse that has help me is in (Revelations 21:3,4) It reminds me that God is watching our suffering and that he will take soon action by removing all of our suffering including one of the greatest causes of our suffering; death. It also reminds me that the trials that we face are temporary but the blessings that we will receive in the future are eternal.

May 15, 2018
Bon voyage Greg !
Tes Amis des Roses en France

Bernard chez Meilland

May 15, 2018
Eines morgens wachst Du nicht mehr auf. Die Vögel singen wie sie gestern sangen. Nichts ändert diesen neuen Tagesablauf. Nur Du bist fortgegangen. Du bist nun frei und unsere Tränen wünschen Dir viel Glück.
Dear Rose, you and your family are in our thoughts. Greg enriched our lives. We will miss him dearly.
Doug and Heike

May 15, 2018
Dear Rose,
So sorry for your loss! May God's everlasting arms surroung you and your children. Love and prayers, Doris McCleary
Visitation

Friday, May 18, 2018
10:00 AM - 11:00 AM
St. James Catholic Church
505 Woodcrest Ave.
Lititz, PA

Map and Directions

Services

Friday, May 18, 2018
11:00 AM
St. James Catholic Church
505 Woodcrest Ave.
Lititz, PA

Map and Directions