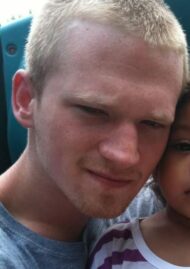 Vincent Michael Dull, 30
May 31, 2022
Vincent Michael Dull, 30, of Ephrata passed away May 31, 2022. Born in Ephrata, PA on February 4, 1992 he was the son of Lester M. Dull husband of Carrie E. Fultz and Julie J. Schoenberger, Step father Angel Soto.
He is survived by his daughter, Joey Huston; brothers, Jordan E. Dull, Skylar T. Lentz, Jared Fultz, Brandon Fultz, Jonathan Soto and sister, Cassie Soto. Also surviving is his cat, Budders.
Family and friends will be received from 6-7PM on Friday, June 10, 2022 at the Charles F. Snyder Jr. Funeral Home & Crematory, 3110 Lititz Pike, Lititz, PA 17543.
Leave a condolence on this Memorial Page
Condolences to the Family
June 10, 2022
Leste, Julie and Family,
Words can't express the sorrow I feel for your loss. May the sweet memories you share with Vincent warm your heart and heal your pain during this difficult time.
Lisa Lopez
June 10, 2022
Like I always told you that in your hate I find love. RIP bud words can't describe what we're all thinking. You'll be missed XO I guess heaven was in need of a hero. Until we meet again love Jamie Lee

June 09, 2022
I miss you Vincent so much, I feel like my heart is broken.You are such a loving kind hearted man. You acted tough but you were very soft hearted espcially for you baby girl and Budders. I will alway love you!
Love Aunt Audrey (your Audi)
June 08, 2022
I miss you my first born son I will always love ❤ you and carry you with me R ip you had a good heart I wish you were still here with me gone too soon
Julie Schoenberger
June 08, 2022
Can't believe this is true you have been in my life since the day you were born from growing up with my kids to becoming a adult and still being a part of our lives you always had a way to make people laugh , I pray for you and your parents and family, rest easy in heaven Vince!
Lori Ashley Tiffany Jason
June 08, 2022
you were a good perosn And step brother
Jonathan Soto
June 07, 2022
I still can't believe you're gone Vince. I'm going to miss you so much. Rest in peace my brother.
Stacie L Suriano
June 07, 2022
I love you Vinnie! I miss you so much, my heart is broken.
June 06, 2022
I love you Vincent and I will miss you.
Debra Shank
Visitation

Friday, June 10, 2022
6:00 PM - 7:00 PM
Charles F. Snyder Funeral Home & Crematory
3110 Lititz Pike
Lititz, PA 17543

Map and Directions