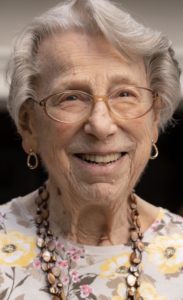 Ruth Marie Blumenschine Fiedler, 95
April 25, 2019
Ruth Marie Blumenschine Fiedler, age 95 of Lancaster, PA, formerly of Neptune, NJ, died April 25, 2019. She grew up in Newark, NJ, daughter of Marie Blumenschine. Devoted mother of four daughters and three sons-in-law: Donna Fiedler, Claire Fiedler and Wesley Barth, Gail and Fred Beyer, Jill and Edwin Heatwole; nine grandchildren and spouses: Patrick Derr and Heidi Gripp, Laura Derr, Jennifer and Ryan Parra, Kimberly and Graham McWhorter, Lauren and Brian Werner, Rick and Kate Beyer, Ginger and Steve Jenkins, Scott and Kristine Heatwole, Holly and Daric Schroen; 12 great-grandchildren, many nieces and nephews and great-nieces and nephews. She was preceded in death by her husband of 56 years, Edward Fiedler, sister Doris Muller, brother Arthur Blumenschine.
She was an active member of Neptune City Memorial United Methodist Church and then Hempfield UMC, Lancaster.
A memorial service will be held on Tuesday, May 7, 1pm at Eagle Commons, Woodcrest Villa, Lancaster, followed by a light reception. In lieu of flowers, donations may be made to Ocean Grove Camp Meeting Association, 54 Pittman Ave., Ocean Grove, NJ 07753 or The Salvation Army local chapter, or Hospice & Community Care, P.O. Box 4125, Lancaster, PA 17604-4125.
Leave a condolence on this Memorial Page
Condolences to the Family
April 28, 2019
OMG Donna sorry to hear about your Mom. Also my condolences to Laura & Patricks family. Boy when it rains it pours. See you on Tuesday in Ridley Park. How much more can your family take? How many people do you expect at Bob's memorial on Tuesday? Safe travel!
Trudy Horne
.
April 27, 2019
Yesterday I learned that our sweet Aunt Ruth passed away. The news kind of took my breath away since she was the last living relative of my grandparents generation. Aunt Ruth was one my favorites! I'm not sure I would have said that as a kid because you couldn't get away with anything in her presence. She was tough! I know I broke some rules at her house from time to time and she wouldn't hesitate to call me out. The rules applied to kids and adults equally. I kind of loved the fact that she would expect the same from uncle Ed and even my mother. She had a plan and expected everyone to follow it. Aunt Ruth truly cared about each of us. She asked the best questions and really wanted an answer. She had the best laugh and smile! The last time I had the opportunity to spend time with her was when my sister got married two years ago in Virginia. That week the family would often all hang out in the hotel lobby each morning. One of my favorite moments was when uncle Bob sat down next to Aunt Ruth and kind of started interviewing her in the hilarious way only he can. I have a picture of that moment but I wish I had recorded it. She shared some great stories! Living so close to her and uncle Ed as a kid was a gift. I'll miss her very much! Here are some photos I pulled together. https://www.facebook.com/andrewyb/posts/10157967312946789
Services

Tuesday, May 07, 2019
1:00 PM
Eagle Commons, Woodcrest Villa
2001 Harrisburg Pike
Lancaster, PA

Map and Directions