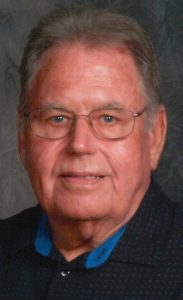 Robert F. "Bob" Hackman, 72
December 30, 2018
Robert F. "Bob" Hackman, 72, of Lititz went into the arms of his Lord on Sunday, December 30, 2018 at LGH. Born in Lancaster, he was the son of the late Richard and Elizabeth (Forney) Hackman. He married the love of his life, Janice M. (Breneman) Hackman on June 26, 1970 and shared over 48 years of marriage.
Bob was a 1964 graduate of Warwick High School and later attended HACC. He worked as a quality assurance manager at Case New Holland for several years and participated in the training program there.
He was a faithful member of St. Paul's Lutheran Church in Lititz.
Bob loved nature and gardening. He passed through all the time zones in the world and traveled extensively throughout the world including Antarctica and the Artic where he took part in Operation Deep Freeze while serving in the US Navy. He also enjoyed numerous trips to the Caribbean with his wife, Janice.
In addition to his wife Janice, he is survived by a son, Andrew R. Hackman, husband of Kristen of Macungie, PA. Also surviving are two grandchildren, Alyssa and Blake Hackman, and his brother, Richard F. Hackman, husband of Bonnie of Lititz. He was preceded in death by his daughter, Amy Lynn Hackman-Rupp and a sister, Betty Lou Williams.
A Memorial Service will be held at 11AM on Saturday, January 5, 2019 at St. Paul's Lutheran Church, 200 W. Orange St, Lititz, PA. Interment will be private. Family and friends will be received from 10-11AM at the church on Saturday. In lieu of flowers, contributions in Bob's memory may be made to the Amy L. Hackman-Rupp Scholarship Fund, c/o Fulton Bank, 3630 Rothsville Rd, Ephrata, PA 17522.
Leave a condolence on this Memorial Page
Condolences to the Family
January 06, 2019
I'm so sorry to hear about Bob's passing. It was a pleasure and very entertaining to work with Bob at Air Products. You are in my thoughts and prayers.
Barry Van Leer

January 05, 2019
Janice,
I was saddened to hear of Bob's death. I know he had a long struggle, and you struggled right along with him. I'll be thinking of you often in your time of grieving and healing.
January 05, 2019
I am so sorry to hear of your loss. I really enjoyed knowing both of you at LGH! You are a special woman, Janice. I will be thinking of you.
Love, Carolyn (one of Bob's nurses)
January 03, 2019
So sorry for your loss, Janice.
January 02, 2019
Sorry to hear of Bobs death! Judy messaged me with news. I am in NJ with my kids and won't return until Jan 6th and will try to call or see you as soon as possible. God Bless You and remember your work is done and you will be rewarded in Heaven no one could have taken better care of him!😘
January 02, 2019
Janice and Family,
I'm sorry to hear of your loss. The brief times I met and spoke with Bob he was very pleasant and I know he made Janice's world shine. Janice often spoke of their trips and activities they did together. Thank God you were able to share so many wonderful years and memories.
January 02, 2019
Janice and family,
I have known Bob since 5th grade at Rothsville School when we moved there in 1957. He was a faithful attendee of the reunions for the Class of 1964. Please know that you are in my prayers and ask that you feel the arms of Jesus holding you up at this time.
January 02, 2019
My deepest sympathies to your family. I know Bob will be missed greatly by everyone. Your family is in my thoughts and prayers.
Visitation

Saturday, January 05, 2019
10:00 AM - 11:00 AM
St. Paul's Lutheran Church
200 W. Orange St
Lititz, PA

Map and Directions

Services

Saturday, January 05, 2019
11:00 AM
St. Paul's Lutheran Church
200 W. Orange St
Lititz, PA

Map and Directions