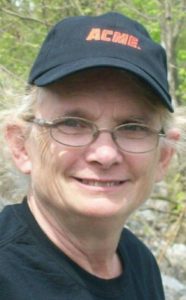 Mary M. Cooper, 62
December 15, 2018
Mary M. Cooper, 62, of Denver passed away unexpectedly on Saturday, December 15, 2018 at LGH surrounded by her loving family. Born in Lexington, KY she was the daughter of the late June and Anna Mae (Smith) Church. She was the loving wife of Rick Rightmire Jr. with whom she shared 30 years together.
Mary had just recently retired from Acme where she was the lead utility worker in the transportation department. She was loved by all she worked with during her 11 years she was working at Acme.
She was a firm believer in God and it was shown by the way she treated everyone. She especially enjoyed helping elderly people. Mary enjoyed being outdoors especially fishing alongside Rick. She also enjoyed working on cars and renovating anything in a home. She was a jack of all trades.
In addition to Rick, she is survived by her son, Jonathan E. Smathers, husband of Jennifer of Denver; daughter, Dream Hall of Welston, OH; stepdaughter, Tanya Rightmire of Blue Rapids, KS; Also surviving are 7 grandchildren, Leiana, Roman, Ethan, Nathan, Chasity, Selena, Patricia and 5 great-grandchildren; sister, Linda Nichols wife of Jim of Welston, OH; 2 nieces, Sharon and Melissa and tons of adopted families. She was preceded in death by her son, Henry Isaac Smathers.
A Celebration of Mary's Life will be held from 6-8PM on Friday, January 4, 2019 at the Charles F. Snyder Jr. Funeral Home & Crematory, 3110 Lititz Pike, Lititz, PA 17543. Guests should dress casually. Flowers will be received, contributions can also be made to the Children's Hospital of Philadelphia Foundation, P.O. Box 781352, Philadelphia, PA 19178-1352 or to the Cystic Fibrosis Foundation, 55 S. Progress Ave, Harrisburg, PA 17109.
Leave a condolence on this Memorial Page
Condolences to the Family
July 01, 2019
I am Mary's friend and ex-coworker from SC. Having worked with her at Limerick Nuclear Plant. I have been trying too call her and just saw this obituary for her.She was a wonderful person and will be missed by many people.Rest In Peace, My friend. Our Loss is Heaven's Gain.Love You Teresa Truett
February 11, 2019
this is my grandmother you will be missed and I love you
January 04, 2019
Mary was a wonderful friend and such a caring person. She always put everyone before herself. Very selfless. I didnt know her long, but I would have done anything for her. Rest easy, Mary. Save me a spot up there, girl.
Sandy Goodwin
January 04, 2019
she was one of the best friends I ever had. I will miss our talks and fun times together. She always made me smile, laugh, and she always saw only good in people . Miss her dearly
January 01, 2019
A kinder soul,I've never known.She loved her family, and found the best in every person she came in contact with. May she rest in the peace she so deserves.
December 27, 2018
Mary was a dear friend and will always hold a special place in my heart. She was a bright light in an otherwise Dark World. Take comfort in knowing her love will always shine on her family.
Services

Friday, January 04, 2019
6:00 PM - 8:00 PM
Charles F. Snyder Funeral Home & Crematory
3110 Lititz Pike
Lititz, PA 17543

Map and Directions