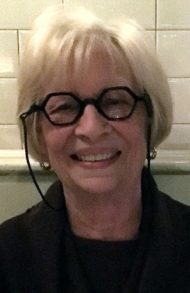 Marylou Givens, 84
March 17, 2019
Mary Louise Givens passed away on March 17th, 2019, in Lancaster, PA after sustaining a head injury from a fall earlier in the month.
Marylou was born in 1934 in Sayre, PA to Josephine (Gori) and Roscoe Evans. She graduated from Lewisburg High School. She received her college degree from Atlantic Christian College (now Barton College) in Wilson, NC and taught business in the Wilson County school system and technical college for many years. Marylou married Harrison (Huck) Givens in 1981, beginning a loving partnership lasting nearly 40 years. Huck's career led to years of living outside of the United States. As a couple they loved this life, having numerous adventures and making life-long friends wherever they lived. From Canada to Taiwan to Egypt to Italy to Hungary, Marylou brought compassion mixed with fun everywhere she lived.
They retired to New Bern, NC and eventually moved to The Mews at Homestead Village in Lancaster, PA in 2007.
At the age of 84, Marylou died as she lived, with her last activity in life being a delicious meal out on the town with her family. Food was one of her great passions. Whether cooking, dining out or shopping at the Central and Asian Markets she loved the adventure of trying different foods from various cultures. Always keeping her mind and body active, she was an avid reader, bridge player, and enjoyed Pilates and yoga. She was known for her kindness, her laugh, and her enthusiasm for life right up to the end.
She was pre-deceased by her parents and older brother, Joseph C. Evans. Surviving are her husband, "Huck", daughter Beth Rowland (Tommy), granddaughters Jordan Rowland and Emily Potter (Thomas), and great grandsons Carson and Grayson Potter. Her extended family is John Givens (Vicki), and their children Harrison, Hannah, Leah, Rachel, Sarah, and Mia; and Mary Elizabeth Sargent (Michael) and their children David, Eric, and William. She also leaves behind her beloved dogs, Beans and Sophie.
Following Marylou's wishes, instead of a service, there will be a celebration of life held at a later date. In the meantime, friends, family, and well-wishers are encouraged to toast a woman whose life was well lived.
We wish to thank the doctors, nurses, and aides in the Trauma Neuro Unit and 8th floor at Lancaster General Hospital for their professionalism and support. We would also like to give a special thank you to Hospice & Community Care in Mount Joy who helped her pass with dignity and grace.
Memorials may be made in Marylou's memory to Hospice & Community Care 685 Good Dr., Lancaster, PA 17604 or the Humane League of Lancaster County 2195 Lincoln Hwy E, Lancaster, PA 17602.
Leave a condolence on this Memorial Page
Condolences to the Family
April 20, 2019
Beth, while looking through a drawer for some card stock, I came across "Beth and Tommy Rowland" written on a sheeet of paper. My mother gave me these names after learning you had moved to Richmond, which was many years ago. I did a Google search on your names and your mother's obituary showed up. The Klaus family lived across from you in Doummar Court in the late 1950s to early 1960s. Your doting grandmother lived with you at that time. My mother was a very good friend of your mother's, loving your mother's adventuresome spirit and cheerful demeanor. They shared quite a few happy times before your family moved away. My parents moved to Florida in 1970 and your mother visited them at some point after the move. I was home from college and shared a room with your mom for a couple of nights. In the middle of the night, our cat jumped on your mom's bed which made her jump out of bed in total alarm. We had a laugh about that the next day. I am so sorry for your loss. One is never prepared for the loss of a mother. I wish you and your family peace and time to grieve. Love, Nancy Klaus Hall
March 30, 2019
Beth, I was so sad to read of MaryLou's death, but so glad to learn of her wonderful life. I know you all are heartbroken to lose such a loving and vibrant force in your lives. I think of you often and trust your family, faith and friends have given you wonderful support in your loss. Diana James / Wilson, NC
March 25, 2019
Huck, Katie & I were so sorry to hear about Mary Louise's passing and send our profound condolences. We feel very fortunate to have shared part of our lives with you two. You may remember that I was very involved with our business in Hungary from the beginning, with Purina. Then, to end up in New Bern NC with you was the icing on the cake. I know that all the great memories of your lives together will help you through this difficult time.
March 23, 2019
Oh Beth I am so sad for you! Your mother was such a good friend for a long time. I missed her after she left Wilson but glad she had such happy years after that. She and Huck came down to Islamorada some years ago and we had a nice dinner with them – the last time I saw her. George and I are thinking of you and family. Much love, Anne Stronach
March 22, 2019
Huck – so sorry to learn of MaryLou's passing – Mary and I send our sympathy to you and the family and will keep you in our thoughts and prayers.
Mary and Dick Sargent – Greenville, SC
March 22, 2019
To Huck, Beth, Tommy and the entire family,
My sincere condolences on the loss of Marylou. Although I have only known her for 12 years, I must tell you she was a wonderful neighbor and friend. I will miss the wonderful treats and meals she sent my way and the help she gave me whenever I needed it. Blessings to you all.
March 21, 2019
Dear Beth, I am so sorry to hear of your Mothers passing. I have wonderful memories of her. Such a class act. I remember visiting you when you lost your Dad and and she had come to help. Thinking of you and your growing family and hope you and Tommy are doing well. Keeping you in my thoughts and prayers. Much love Becky Gay and Stan Brantley.
March 21, 2019
So very sorry, Edna and I thinking about Beth and Tommy. Marylou was a great friend, we had a lot of laughs and she helped me through some tough times. Take care.
March 21, 2019
I am so sorry to hear of Marylou's passing. She was a wonderful neighbor to my parents. We always appreciated her wonderful dishes that she so thoughtfully shared!
March 21, 2019
We have memories full of joy and laughter from Budapest, to Bern, to Lancaster. Hank met Huck & Marylou first in The American Club in Budapest as we were transferring in from our life in Hong Kong. We immediately had many Asian experiences to relive together.
There's a new light in heaven ( and some raucous laughter) and we'll look forward to meeting again.
Our deepest sympathies to you her family.
Love and hugs to you, Huck.
Hank & Joan Erisman
March 21, 2019
To Marylou's family – Please accept my sincere sympathy for your loss. From my time as Marketing Director at Homestead Village, I remember Marylou fondly for her joyful spirit.
Susan Doyle
March 21, 2019
Condolences to you and your family. Only met Marylou once and her personality made you feel you have known her all your life! What a warm and great person. She will be missed.
March 20, 2019
We send our deepest condolences to Mary Lou's family. She will always be our Momma Lou. She was such a joyful person.
Love,
Bob and Reneé Nyberg