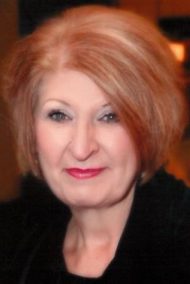 Marie J. Drossos, 64
June 14, 2017
Marie J. Drossos, 64, of Lancaster, passed away unexpectedly on Wednesday, June 14, 2017 in Boise City, OK.
She was the wife of the late Constantine G. "Gus" Drossos, who passed away in 1998. Born in Manhattan, NY, she was the daughter of the late Frank and Catherine Sorrie Dulmovits.
Marie had just recently retired last month as office manager at Fidevia, where she had worked for the past 15 years. She enjoyed her job at Fidevia and truly loved her coworkers. In years past, she had also been a homemaker and worked at Fulton Bank.
A 1970 graduate of Mother Cabrini High School in New York City, she also graduated from the John Jay College of Criminal Justice.
Always thinking of others, and always with a giving heart, Marie had a vibrant personality which drew others toward her. She loved to travel, was a great cook with many specialties and liked to swim. Her greatest treasure was her family, whom she loved dearly.
Marie was a member of St. Philip The Apostle Catholic Church.
She is survived by her son, James M. Drossos of Lancaster, her grandson Kody Drossos, her sister-in-law Mary Lou Drossos, and her cousins: Emma Dulmovits, Susan Stauffer, Jim Donnelly, Michele Yorke, Michael Drossos, George Drossos, Nicholas Drossos, and Jeannine Wright.
Friends will be received on Tuesday, June 20, 2017 from 2-4PM and 7-9PM at the Charles F. Snyder Jr. Funeral Home & Crematory, 3110 Lititz Pike, Lititz, PA. Friends may call again on Wednesday, June 21, 2017 from 10-11AM at St. Philip The Apostle Catholic Church, 2111 Millersville Pike, Millersville, PA, with the Mass to follow at 11AM. Interment in Millersville Mennonite Cemetery.
Leave a condolence on this Memorial Page
Condolences to the Family
July 10, 2017
I am a cousin of Marie, too. My name is Alice Sharie-Revelski and Marie was my dad, Joseph S.Sharie's niece. I still remember playing with Marie at our GrandMa's house in Portage Pennsylvania. I was shocked by her passing and my heart goes out to James. Alice Sharie-Revelski
June 22, 2017
You probably don't remember me. I took care of your dad Gus and became friends with your mom. I am sorry for your loss. Roseann romito
June 21, 2017
James, I am so sorry for the loss of your mom. I know that you will miss her greatly. I was fortunate to have the opportunity to not only work with her but to also become close to your family and am honored to have had her as my Matron of Honor in my wedding. We shared so many laughs and good times. I am so thankful for the memories I have. While I'm so disappointed that she was taken from all of us far too soon, I am comforted to know that she is with your dad; your mom loved & missed her dear Gus so much. RIP sweet, sweet Marie till we meet again.
~The life given to us by nature is short, but the memories of a life well spent is eternal~
Kristina
June 20, 2017
It was a privilege to know you Marie. Both you & James will always be a part of our family. Thanks for your open arms & that mischievous smile & laughter. I never once had a conversation with you where we didn't laugh our behinds off. I love you lady & I feel comfort in knowing that you're with Gus now. Rest In Peace.
June 20, 2017
Our heartfelt condolences to the family. Marie was a "one of a kind" lady. We loved her and will be sadly missed.
The boys from Lititz Watch & Jewelry
Ed, John and Bill
June 19, 2017
Marie was a rare lady. I will miss you. Rest In Peace my friend.
June 19, 2017
We will miss you dearly Marie. Your laugh was one of a kind. YOU were one of a kind.
RIP
June 19, 2017
Heaven is a brighter place now that you are there. Thank you for sharing your love with me and with so many others. Your life lives on in all of us.
Laura Cowburn
June 18, 2017
Marie was well-loved by her co-workers! She was so sweet and funny, and she was so joyful for others! She was deeply loved and will be greatly missed. My prayers will be with Marie's family during this difficult time. Love, Krysta
June 18, 2017
Rest In Peace , dear friend . You were like a grandmother to our son and are sorely missed . This is a huge loss not just for us but to others who knew you too .
Visitation

Tuesday, June 20, 2017
2:00 PM - 4:00 PM
Charles F. Snyder Funeral Home & Crematory
3110 Lititz Pike
Lititz, PA 17543

Map and Directions

Visitation

Tuesday, June 20, 2017
7:00 PM - 9:00 PM
Charles F. Snyder Funeral Home & Crematory
3110 Lititz Pike
Lititz, PA 17543

Map and Directions

Visitation

Wednesday, June 21, 2017
10:00 AM - 11:00 AM
St. Philip The Apostle Catholic Church
2111 Millersville Pike
Lancaster, PA

Map and Directions

Services

Wednesday, June 21, 2017
11:00 AM
St. Philip The Apostle Catholic Church
2111 Millersville Pike
Lancaster, PA

Map and Directions